Childhood friends set for US Open tussle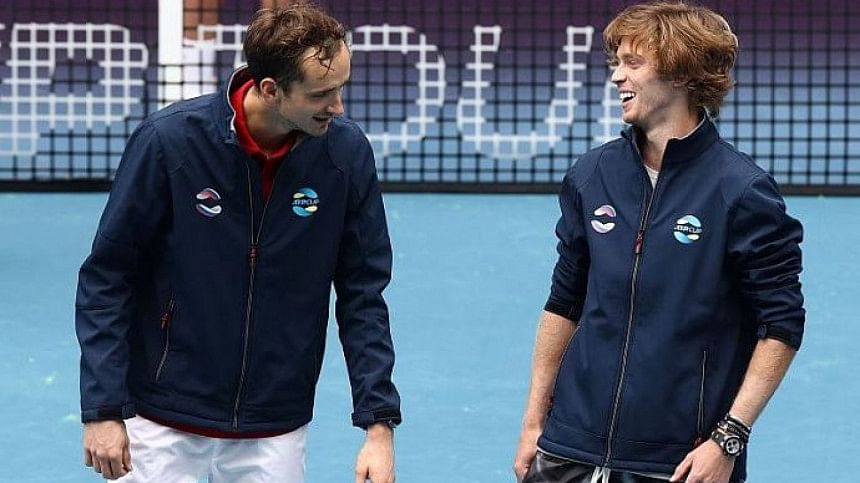 Daniil Medvedev expects his US Open quarterfinal with fellow Russian Andrey Rublev on Wednesday to be a real fight but said nothing will come between the childhood friends once the dust has settled.
Medvedev, the 2021 Flushing Meadows champion, reached the last eight with a 2-6, 6-4, 6-1, 6-2 victory over Australian Alex de Minaur and set up a meeting with Rublev who won 6-3, 3-6, 6-3, 6-4 against Briton Jack Draper on Monday.
The Russian duo have previously met seven times at the elite level, with Medvedev winning five matches including their latest encounter in the Dubai final this year.
"We're really close friends," Medvedev said. "We have a great relationship, even if on the court we're big competitors, so I do think one match, I say a fight, we can talk. Nothing is going to come between us to separate us in real life.
"We're really close. I mean, we share a lot of interests. It's great to have someone like this on tour because sometimes it isn't easy. You travel, travel, travel.
"To have a friend like this is great. But, again, on the court we both want to win."
Rublev said the friendship had become like a family bond after he was asked to be the godfather to Medvedev's daughter.
"We built our relationship because of tennis, but now it's already bigger than tennis. We know each other, I don't know, since we were maybe six or something," Rublev said.
"He's super honest, super relaxed. It's easy to communicate with him. He's very humble. At the same time, he's really funny. When you spend time with him, you always have fun."