Sabina and Co sign off campaign with Nepal draw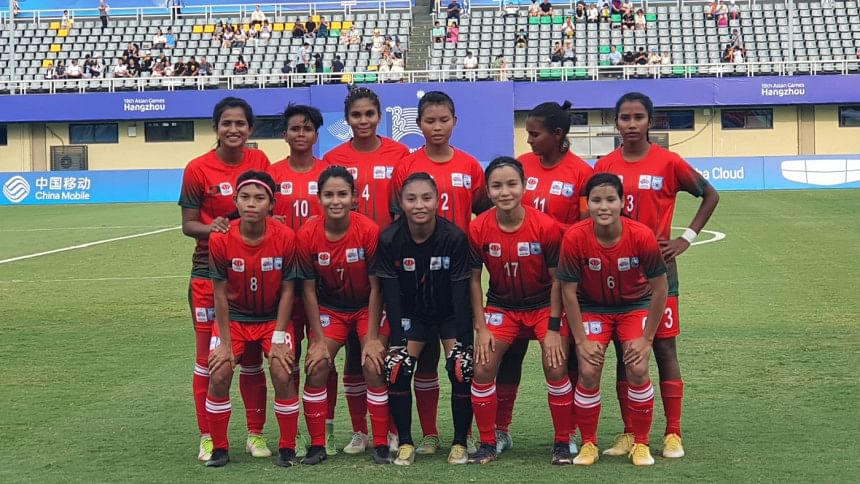 Bangladesh's women's football team finished their campaign with a 1-1 draw against Nepal today at the Wenzhou Olympic Sports Center.
The women in red and green entered the match on the back of two crushing defeats to Japan and Vietnam, hoping to finish their campaign with a positive outcome.
Bangladesh took the lead in the 44th minute, courtesy of skipper Sabina Khatun.
When it appeared that Bangladesh would beat Nepal again after winning the SAFF Women's Championship in Kathmandu, the Himalayan nation equalised in the 83rd minute through Rekha Poudel to make it three consecutive draws between Bangladesh and Nepal.
Hockey tastes first win
After two defeats at the hands of Japan and Pakistan, the Bangladesh hockey team achieved their first victory today, defeating Singapore 7-3 at Gongshu Canal Sports Park Stadium.
Bangladesh scored one goal each in the first and second quarters, with Pushkor Khisha Mimo and Milon Hossain scoring from open play, before Ashraful Islam converted a penalty shot to make it 3-0 in the third quarter.
Singapore responded by scoring two goals in two minutes to heat up the game, but the men in red and green extended their lead once more, scoring two more goals from Arshad Hossain and Rakibul Hasan to make it 5-2 with only nine minutes remaining.
Singapore's Hariraj Naidu subsequently scored his second goal, but Shonanur Rahman Sabuj converted two consecutive penalty corners to seal Bangladesh's triumph.
Siddikur off to a fine start
Siddikur Rahman got off to a good start in the Asian Games, shooting a seven-under-par 65 in the first round at West Lake International Golf Course. Siddikur finished the first day at 11th position out of 73 golfers, while Jamal Hossain finished 41st with a one-under-par 71.
Boxer Talha departs
Despite putting up a spirited fight against Saudi Arabian Khalid Abdul Aziz, debutant boxer Abu Talha was eliminated from the 51kg category of the Hangzhou Asian Games today at the Hangzhou Gymnasium.
Talha lost the pre-quarterfinals 1-4 points after winning the first two rounds by two out of five judges, but in the third and final three-minute round, all five judges opted for the Saudi Arabia boxer, who just avoided blows as a defensive strategy.
"In my first international meet, I tried to give it my all. The first two rounds were within my grasp, but the third round was out of my reach," Talha remarked after the match in the mixed zone.
Shooters continue to frustrate
Shooter Shakil Ahmed has failed to elevate his performance at the international level since winning gold in the South Asian Games in 2016. The Army shooter finished 40th out of 56 shooters in the Asian Games 10m air pistol event at Fuyang Yinhu Sports Center in Hangzhou. 
Shakil scored 564 out of 600, 14 points less than the last and eighth shooter, Indian Arjun Singh Cheema, who scored 578.
However, after a strong start, debutant Saker Ahmed finished 47th with a score of 560, while Sabbir Al Amin finished 53rd with a score of 556.
Following the disappointing individual results, Bangladesh finished 13th out of 14 teams in the 10m air pistol team event with a score of 1680, 50 points below than bronze medalists Vietnam. In the team event, India (1734) and China (1733) won gold and silver, respectively.
Sonia fails to progress
Sonia Khatun finished fourth in the 50m freestyle heat by clocking 30.11 seconds, placing the Bangladeshi champion 27th overall among 32 swimmers.