Ruman fails to make the cut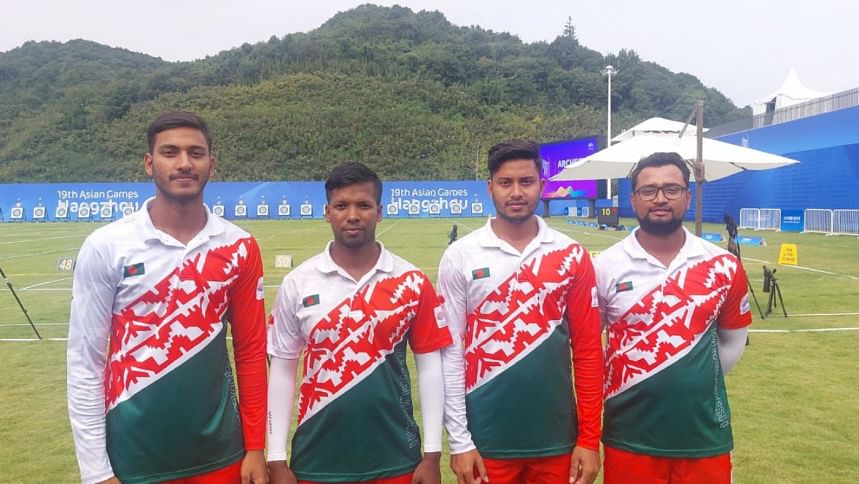 Archer Ruman Sana failed to make the cut on his return to the international scene, failing in the to secure a place in the men's individual recurve event as only top two archers from each country were allowed into the elimination round.
Ruman, with a score of 648 points, however, made it to the recurve team (1963) event in which Sagar Islam (662) and Ramkrishna Saha (653) will also participate. Hakim Ahmed Rubel (648) was eliminated from all events after finishing bottom among the four Bangladeshi archers. Bangladesh men's team will play in the elimination round of individual and team events today.
"I was a bit nervous after coming into the international scene following an 11-month break but I am happy to have bounced back in the second spell as the coach helped me a lot to concentrate on my game," said Ruman.
Sagor Islam said, "Expectation was a bit higher than what we scored. There is high expectation to win medals and I will try to do my best in the elimination round."
Siddikur finishes 14th
Golfer Siddiqur Rahman finished 14th in the men's individual golf event after settling for 13-under-par (275) at the close of the fourth and final round at the West Lake International Golf Course yesterday.
Chaichi Kho of Hong Kong grabbed the gold medal with 27-under-par while Sungjae of Korea and Chien Yao Hug of Chinese Taipei won silver and bronze medals respectively after playing 26-under-par and 24-under-par respectively.
"My expectation was to play my own game. I wanted to do a bit better as I thought playing 20-under-par would be good enough to become champion, but the gold winner played 27-under-par which was my beyond imagination," Siddiqur said.
Siddiqur first played in the Asian Games in 2006 as an amateur golfer, finishing ninth. This time the local organising committee made the golf event strictly for professionals.
Kabaddi team start campaign today
Bangladesh men's Kabaddi team are all set to begin their campaign in Hangzhou Asian Games by taking on Japan in one of two matches of Group A where India, Thailand and Chinese Taipei have also been placed.
Group B comprises Iran, South Korea, Pakistan and Malaysia.
Bangladesh failed to qualify through the group stages in the last three editions following their bronze-medal feat in 2006, but the men in red and green now have a good opportunity to play in the semifinals.
"The other team may seem apparently easier, but we have strong teams like India, Japan, Chinese Taipei and Thailand. However, we are determined to progress to the semifinals," said captain Tuhin Tarafder.
Chess team taste first victory
After losing to Iran and Kyrgyzstan in the first two rounds, Bangladesh chess team tasted their first victory by beating Hong Kong yesterday. GM Enamul Hossain beat FM KWD Lam, Fahad Rahman beat WK Kwong and GM Ziaur Rahman beat CM NM Nissinen. GM Niaz Murshed, however, drew against Y Li in the third round match.