Golfer Siddiqur loses momentum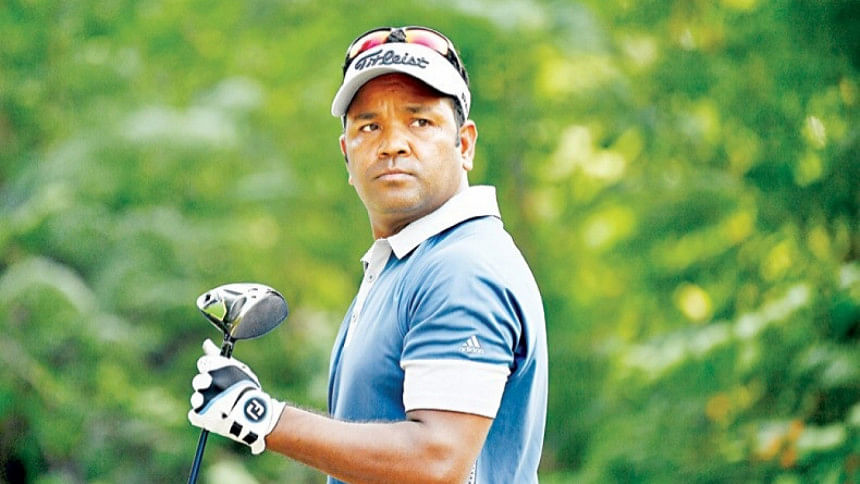 Siddiqur Rahman failed to maintain his first-round momentum into the second round of the Asian Games' individual golf event at West Lake Golf Course on Friday.
Siddikur, who was 11th overnight, started the day with a bogey but bounced back with two birdies in the front nine. The ace Bangladesh golfer kept mixing birdies and bogeys to eventually settle for an even-par score for the day, finishing with a total of 137 after two rounds.
Siddiqur is placed 25th, while compatriot Jamal Hossain stands 39th with an overall score of 143.
Fencing team eliminated
Bangladesh today suffered elimination from the first round of the fencing women's sabre team event in Hangzhou Dianzi University Gymnasium after falling 45-17 to superior Hong Kong.
SA Games gold medallist Fatema Mujib, Roksana Khatun, and Farjana Easmin represented Bangladesh, with Nipa only putting up a good fight against Wing Kiu Chu in one of the three games but ended up losing 5-4.
Swimmer Sonia produces a mixed bag
Sonia Akhter finished 27th out of 32 swimmers in the 50m butterfly event after she failed to match her personal best timing at the Hangzhou Olympic Sports Centre Aquatic Sports Arena today.
The Army swimmer, however, improved her timing in the 50m freestyle, recording 30.11 seconds, which was 00.11 less than what she had clocked during the 2022 Commonwealth Games.
"I am happy with my timing because I bettered my timing in freestyle on the back of only five-month training," said Sonia.
Shooters continue to disappoint
In the women's 10m Air Pistol event yesterday, Anjila Amjad Antu, Fahmida Alam, and Armin Asha finished 33rd, 44th, and 53rd out of 56 shooters, respectively, and their combined points resulted in to Bangladesh finishing 13th out of 14 teams with a score of 1670. China (1736), India (1731), and Chinese Taipei (1723) won gold, silver, and bronze medals.
The men's 50m Air Rifle team event saw Bangladesh finish last among 14 participating nations following a score of 1705. Robiul Islam (571), Abdullah Hel Baki (570), and Shovon Chowdhury (564) finished 34th, 36th, and 42nd among 54 shooters, respectively. India (1769) won gold, while China (1763), and Korea (1748) bagged silver and bronze medals, respectively.