Bangladesh unbeaten group champions in Bangabandhu Kabaddi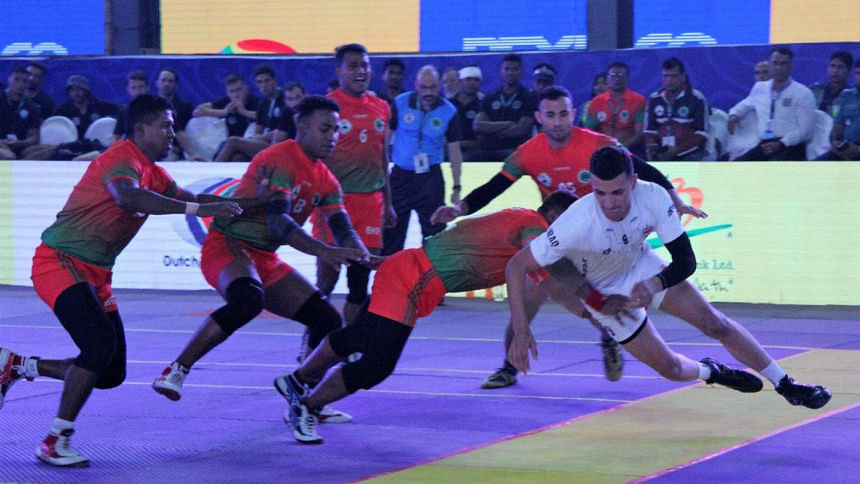 Two-time defending champions Bangladesh emerged group A winners with a 49-33 points victory over Iraq in the Bangabandhu Cup International Kabaddi on Saturday.
This was Bangladesh's fifth win in five matches and they will face the runners up of group B in the first semifinal on Monday.
Iraq, on the other hand, will make the final four if they beat England tomorrow.
Bangladesh had a slow start but gradually regained the rhythm with overall teamwork. The first five minutes saw some neck-and-neck duels but Bangladesh inflicted the first all-out or lona in the sixth minute. Experienced raider Arduzzaman initiated efficient attacks while Tuhin Tarafder and Mizanur Rahman were witty in their raids.
Iraq skipper Sabir Aloi Sari created some headache for Bangladesh defence with his height and long-limbed kicks. In the 16th minute, Bangladesh were reduced to three against Iraq's seven. But a super raid from Mizanur saw three Iraqi players out and three Bangladesh players were back into the court. Bangladesh led the first half 28-13.
After the change of ends, Bangladesh concentrated on maintaining the lead with a cautious approach. Tuhin and Arduzzaman both scored nine points each but Tuhin was adjudged man of the match.