Bangladesh lose against Pakistan in Asian Games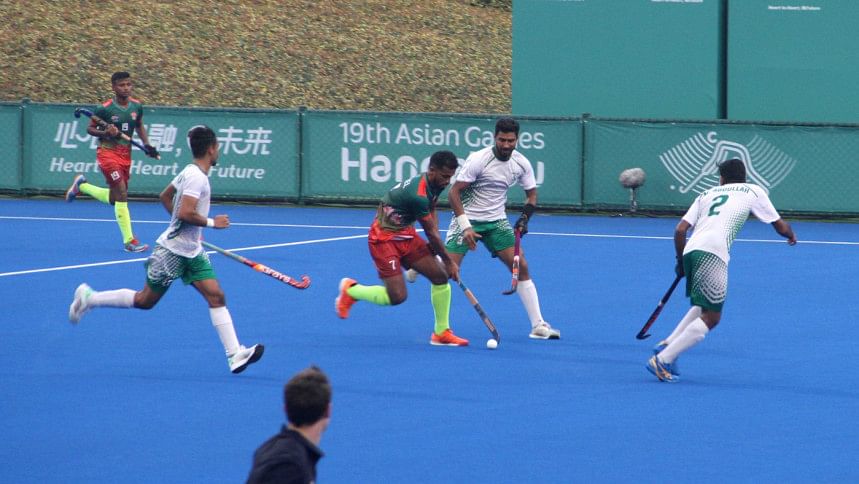 Bangladesh hockey team suffered a 5-2 defeat at the hands of Pakistan in their second match of the Asian Games at the Gongshu Canal Sports Park Stadium on Sunday.
Coming into the contest on the back of a 7-2 drubbing against Japan in their first match, Pakistan pressed hard to break the deadlock but Bangladesh the defence comprising Rezaul Karim Babu, Aminul Islam, Ashraful Islam and Farhad Ahmed Shetu frustrated Pakistan in the first quarter, foiling a number of Pakistan attacks. Pakistan didn't help themselves either as they missed a couple of easy opportunities.
Bangladesh then took the lead against the run of play from a penalty corner with Pushkor Khisha Mimo changing the direction of a fierce hit from Ashraful Islam in the 19th minute that found its way to the back of the net. But Bangladesh gave away the lead in the 30th minute following a defensive blunder from Babu that saw Pakistan's Afraz level the margin.
After resumption, Bangladesh failed to keep up the momentum and conceded two goals from Shahzaib Khan and Muhammad Ammad in the third quarter. 
Milon Hossain reduced the margin with a reverse-hit in the fourth quarter to raise the hope to snatch a point but Pakistan wrapped up the proceedings by converting two penalties in the 48th and 57th minutes respectively.
"I think we played a very good match. We had a good opportunity to do something had we played a bit better and held the lead," said defender Ashraful Islam adding that Pakistan won the match due to their vast experience of playing international matches.
Striker Mimo believed the lack of practice matches had caused his side to lag behind.
"Though we have taken good preparation and had good fitness, the lack of practice matches let us down against Pakistan," said Mimo.
Shooters finish ninth
Bangladesh comprising of Robiul Islam and Shaira Arefin finished ninth among 21 nations in the mixed 10m air rifle event at the Fuyang Yinhu Sports Center.
The duo managed to score 625.8 in the qualification round, with Robiul managing 311.5 and Shaira scoring 314.3. 
China bagged gold beating Uzbekistan while Kazakhstan and South Korea won bronze medals beating Iran and India respectively.