Bangladesh emerge unbeaten champions in U-23 volleyball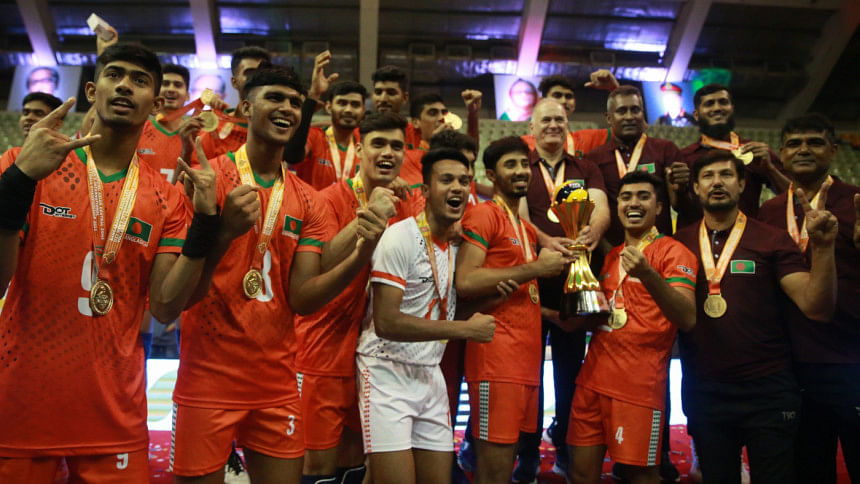 Bangladesh emerged unbeaten champions in Bangabandhu Asian Central Zone U-23 Men's International Volleyball Championship with a nail-biting 3-2 sets win over Kyrgyzstan in a pulsating final at the Shaheed Suhrawardy Indoor Stadium in Mirpur on Monday.
Bangladesh beat the Central Asian nation 25-18, 15-25, 22-25, 25-19 and 18-16, thanks to a strong comeback from the charges of Iraninan coach Alipour Aroji.
The hosts, who had beaten Kyrgyzstan in 3-1 sets in a group match, got off to a fine start by outplaying Kyrgyzstan in the first set with a brilliant performance from Sadi Mohammad Shafin, Titas Ahmed, Ratul Halder and Redwanur Rahman but the boys in red and green lost the momentum in the next two sets as they were erratic in defence, smashing and failed to cover the gap.
With a good number of fans cheering the home team from the gallery, the boys in red and green dominated the fourth set from the beginning and notched the set 25-19 to level the match.
Though Bangladesh were leading from the beginning and were 8-3 at one stage, the fifth and final set was more exciting with both the teams forcing two deuce before Bangladesh won the final set 18-16 to lift the trophy for the first time at this level.