Baku defeat 'triggered' Verstappen's record run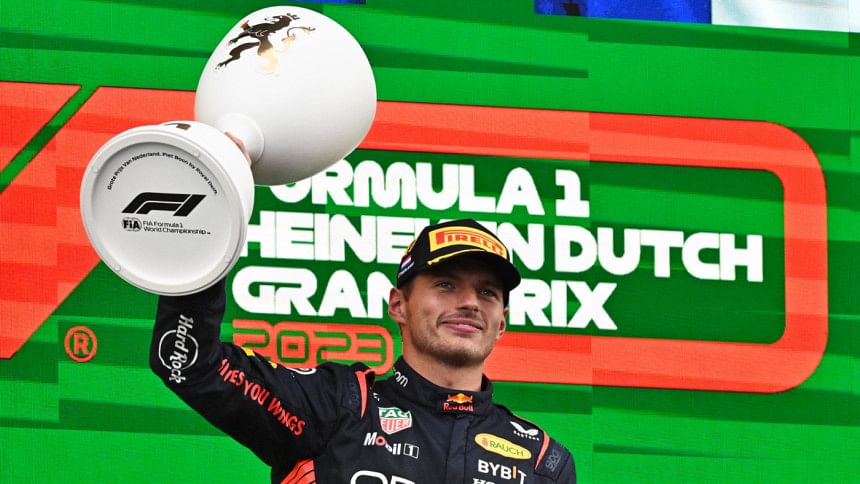 Red Bull's runaway Formula One leader Max Verstappen credited a rare defeat for setting in motion a record-equalling run of nine wins in a row.
The Dutch driver, victorious for the third year in a row at his home race on Sunday, said the Azerbaijan Grand Prix in Baku in April was key to his subsequent success.
He finished second then to Mexican team mate Sergio Perez, the last time he has stood lower than the top step of the podium.
From Miami in May he has been on another level to his rivals and on Sunday he moved 138 points clear of Perez with nine races remaining.
"I think I learned a lot from the race in Baku how to do some things with the car, how to set it up," Verstappen told reporters at Zandvoort.
"Of course I didn't win that race in Baku but I actually really tried a lot of stuff and different tools in the car and that's why throughout the race it was a little bit inconsistent but at one point I got into a good rhythm with what I found.
"Then I damaged my tyres a bit too much but I was like 'OK, that's quite interesting for the next races' and I basically implemented that and it has helped me on every track," added Verstappen.
Sunday's win was possibly the hardest so far, with torrential rain throwing up potential dangers and the race halted and then re-started after a long delay with seven laps remaining.
The only other driver to win nine races in a single season was four times world champion Sebastian Vettel, also with Red Bull in 2013.
"It was probably one of the more difficult races to win, but nine in a row is something I never even thought about," said Verstappen.
"I'm very happy with that but I'm in general very happy to win here in front of my home crowd."
Red Bull boss Christian Horner, whose team have now won 14 races in a row and look increasingly like becoming the first to go through a season unbeaten, said it was an astonishing achievement.
"I think quietly he's very proud of what he's doing and achieving," he said.
"To win nine in a row is insane. And (for Red Bull) to have done it in the same team with another driver is something that I don't think any of us could have ever envisaged."