Irregularities mar school athletics championships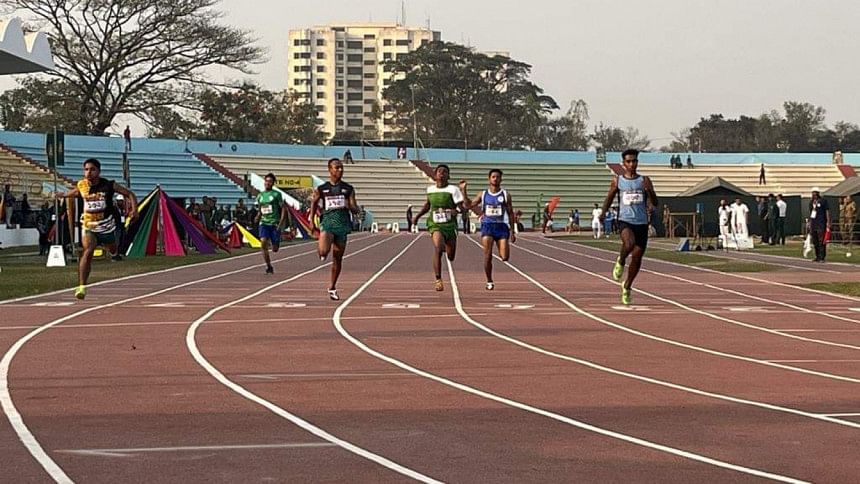 Mohammad Shakhawat Hossain from Chandpur won a silver medal in 1500m run for Khulna Division in the newly introduced Sheikh Kamal Inter-School and Madrasa Athletics Championships which ended in the capital on Tuesday.
Hossain was supposed to represent Chittagong Division, instead the Class-10 student was fielded by Khulna Division manager Sheikh Benazir Ahmed.
It is just one instance among 34 allegations against seven out of eight divisions that took part in the two-day final phase after taking part in upazila, district and divisional rounds.
Only Chittagong Division did not have any allegation against it, but the rest allegedly adopted unfair means such as fielding ineligible athletes, changing athletes' bib numbers, fielding senior athletes in juniors' events and participating without age-verifying certificates or educational testimonials.
The irregularities eventually forced Bangladesh Athletics Federation (BAF) halt distributing medals and cash awards on the first day after it had already those for eight events out of 32.
Some 390 athletes, including 188 female athletes, took part in the two-day meet.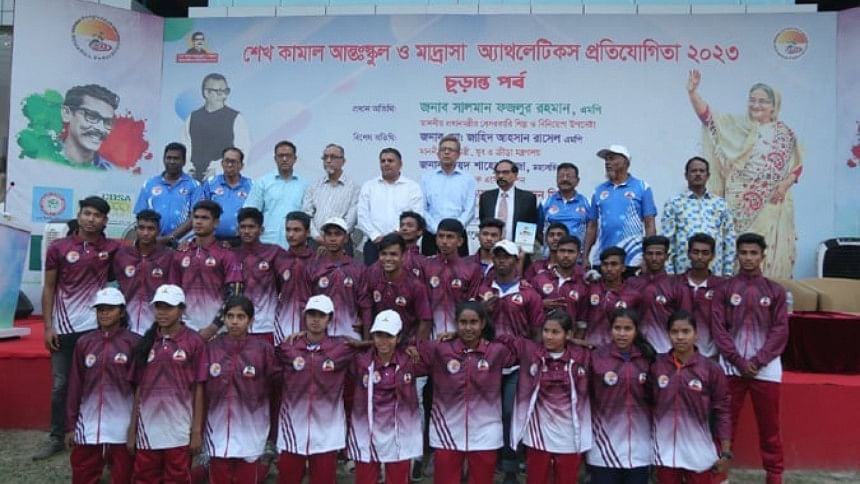 "We received five to six allegations in writing, most of which are against Khulna Division. Shakhawat Hossain stated that he is from Chandpur while Sonali Khatun, who won a silver medal in 1500m run, claimed that Khulna Division replaced her in 800m run with Ruma Khatun, who did not even participate in district and divisional phases," BAF general secretary Abdur Rokib Montu told The Daily Star on Wednesday.
As per bylaws, two of the top three finishers from each event in the divisional phase competitions were allowed to take part in the final round but the divisional sports associations doctored documents to get results.
"During the managers' meeting on the final day, we decided not to distribute prizes among the winners until we got testimonials of all the participants. The divisions did not provide us the testimonials despite repeated appeals," Montu said, further claiming that they had enough monitoring, which is why they found the irregularities.
Asked why Khulna fielded athletes from other divisions and changed bibs of athletes, the divisional sports association's general secretary SM Mortaza Rashidi Dara said, "The coach and manager told me that Shakhawat is residing in Khulna as his father works there, but I don't know whether he studies in Khulna. I will ask the coach and the manager about it."
"To be honest, we didn't get the winners' list at the divisional phase and the manager and the coaches prepared it by hearing from the players, so they might have made mistakes," Dara, also a BAF vice-president, said. "It is better not to make school athletics questionable over one or two mistakes."
Khulna Division's coach Muradul Islam said, "It is really tough to verify the testimonials because the athletes are coming from different districts. Besides, we just guided and trained the athletes as per the players' list the divisional sports association provided us."
Dhaka Division' representative Rezaul Karim said, "As it was not clearly mentioned in bylaws to submit testimonials before the final phase, we did not do it. But today (Wednesday), we submitted 10 testimonials out of the 11 that BAF raised questions about."
However, BAF GS Montu said that they have found a good number of talented players through the championships and they will continue the championships in coming years and provide advanced training to selected athletes.