'You people can create hype, I'll focus on the match'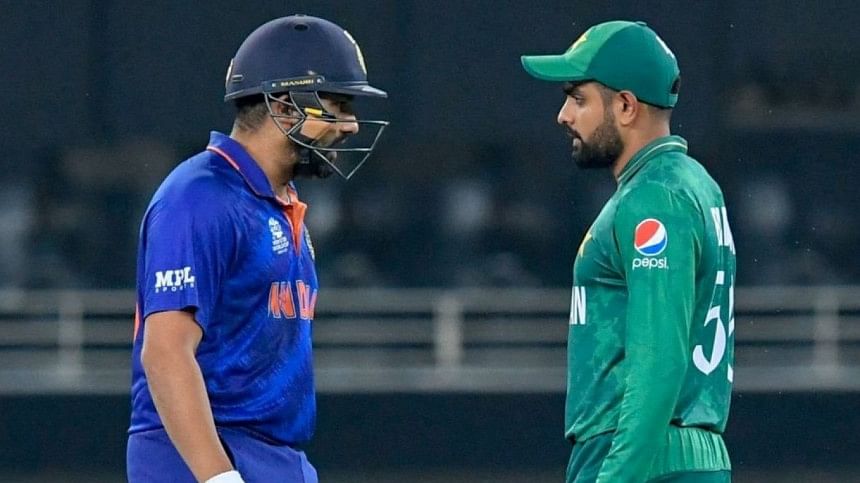 India skipper Rohit Sharma believes the match against Pakistan at the Asia Cup is 'just another game' and will not let past results dictate on how they approach their arch-rivals at the tournament.
The last time India met Pakistan in a T20I was the 2021 ICC Men's T20 World Cup, where they were thoroughly beaten with Pakistan romping to a 10-wicket victory.
While the loss was a brutal blow to his team, Rohit does not want to dwell on the past.
"The mood in the camp is buzzing. It is a fresh tournament. New start. No point thinking about the loss. We need not think what happened in the past. We also want to move in the forward direction. It is always challenging to play Pakistan but what is important for us is what we want to achieve together than thinking about the opposition," Rohit told reporters on the eve of their big Asia Cup clash against Pakistan.
"You people can create the hype, I'll focus on the match"
With the 2022 T20 World Cup less than two months away in Australia, India are looking to lock their final 15 for the tournament. The T20 Asia Cup offers them the ideal opportunity to test what works and what does not.
"We have decided that we will try out a few things and some would work, some won't. But no harm in trying and only if you try, will you know for sure what works and what doesn't," he said.
"If we get a chance to try, we need to try combinations. We will keep on experimenting and we should not be scared to find new answers, whether it is batting or bowling combinations.
"We have got a lot of answers in the last 8-10 months. When the T20 World Cup starts, we will see what needs to be done," he added.
Rohit also addressed Virat Kohli's struggles with mental health but is confident in the right-hander's ability to bounce back and get back to his usual self.
"We do talk about mental health. It has been difficult for a lot of players not just Virat but for a lot of players who have gone through hard times mentally since Covid struck. Staying in bubbles not being able to go outside. Some of the guys find it difficult. And there is nothing wrong with it.
"As far as I'm concerned, I found him in absolutely good touch. He is back after a month-long break, and I didn't see him doing anything extraordinarily different."