'You can tell from their eyes that they want to dominate'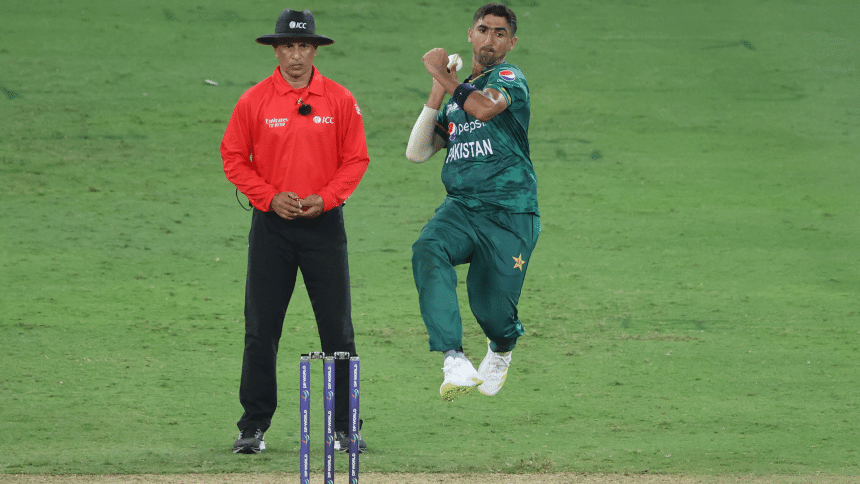 India and Pakistan do not meet each other outside multi-nation tournaments and when they meet in a tournament as big as the Asia Cup, cricket fans around the world have their eyes glued to such fixtures. Officiating such fixtures that feature stars to light up any occasion and doing so without any controversy is a rare thing. Bangladesh's Masudur Rahman did just that during this Asia Cup. He talked to The Daily Star's Abdullah Al Mehdi on representing Bangladesh in such big matches and about other things. Excerpts of the interview are as follows:
The Daily Star (DS): Even as Tigers are out of the Asia Cup, you are representing Bangladesh by officiating in big matches. Does that feel special?
Masudur Rahman (MR): Truth be told, it feels amazing. I have been able to officiate in two India-Pakistan matches and was able to complete both matches successfully. Officiating in two big matches is special and being able to do that successfully is satisfying. Our names have Bangladesh behind it and us doing well also means its Bangladesh that is doing well. So considering everything, it's a good time for us and we are enjoying ourselves. At the same time, we are realising that it's difficult to maintain this success and we are focusing on that.
DS: Did you receive congratulations for your performances in these big games?
MR: Everyone who is here appreciated us and also my colleagues Tanvir [Ahmed], [Sharfuddoula Ibne Shahid] Saikat. Aleem Dar texted me and David Boon as well. ICC messaged me and also the BCB. We never expected that something like this would happen. It just happened suddenly as if a U-turn.
DS: Umpiring in the country has often been maligned. Do you think your performances might change such perceptions?
MR: Everyone now feels that Bangladesh have developed a lot. Shakib [Al Hasan], Tamim [Iqbal] and Mushfiqur [Rahim] have done so well individually and performed that the whole world knows them. In a similar way, if we, the umpires do well in this sector, which has often been overlooked, we will get the respect we deserve.
This tournament is a big challenge for us and if we can end on a good note, we can get even better assignments in the future. If we officiate the matches successfully, it will change the people's perception regarding the country's umpires. It will change the thought process of those who want to come into umpiring.
DS: ICC using local umpires during the pandemic in bilateral series helped?
MR: That was the main turning point. After the pandemic situation improved, we officiated in seven consecutive series and the feedback we got from the ICC and the visiting teams turned things around. From that point on, ICC's perception regarding the country's umpires changed. ICC had the perception that Bangladeshi umpires are weak and did not have the ability to control matches but only focused on decision making.
The ICC has come off those sentiments. After the pandemic we got assignments consecutively. Saikat got women's World Cup, me and Gazi got U-19 World Cup, Gazi was sent to do World Cup qualifiers while I went to Canada for 50-over pre-qualifiers. Tanvir went to Asia Cup U-19 so we have been getting assignments since the pandemic. We know ICC puts emphasis on star player handling and controlling matches rather that decisions.
DS: What was your experience regarding making on-field decisions in the India-Pakistan fixtures?
MR: Those of us who were on-field umpires, discussed how difficult it was to give caught-behind due to the stadium noise unless there is a big deviation due to the intense noise. We tried to go by our gut feeling and give it our all.
We knew that if we could take control of the field, even if we made one or two wrong decisions, DRS is there to overturn them. That way, it doesn't affect the result of the game. What would have an effect is if I miss a wide delivery, one-bounce signal or a beamer. These kinds of things, which can't be overturned with DRS, impacts the ultimate result of the game. Our focus was on such small things so that we miss as little as possible. We are human beings, neither angels nor the devil and there is no guarantee we won't make mistakes so our plan was to not make those small mistakes.
For instance, if the umpire missed the wide in the second-last over during the Bangladesh-Sri Lanka game, then five runs would have been saved and the four would not happen.
DS: There was a decision regarding Asif Ali when the snicko-meter appeared to detect a slight disturbance and Rohit Sharma was talking to you…
MR: The conversation between us was done with humour. First, Hardik Pandya came and then KL Rahul. The decision was pending and they asked what I thought. I said that I thought it was not out and that's the decision I gave. After the review and the decision, Rohit came to me to say 'umpire, think there was a spike'. I told him that there was a gap between the gloves and the ball and the spike could be coming from anywhere. We were also discussing the slow over-rate.
DS: What is the body language like in highly-competitive players in such tight matches?
MR: In our domestic matches, if you miss a wide or no-ball, you will know even from miles away what happened since the side the decision goes against does something that catches everyone's attention. They will resent and say 'you lost us the match' and a lot more. The body languages of the India and Pakistan players were very respectful. When they have questions regarding a decision, they ask to confirm. If you can make them understand what happened then they will not say anything but you can tell from their eyes that they want to make their presence felt and dominate. At that point it's up to the umpire on how he wants to officiate the game.
DS: Any experience particularly interesting or fun for you during the game?
MR: After the three overs of penalty for both sides in the first game, whenever there was a delay the fielding side was saying that 'umps you have to give allowance' or they would point to an opposition player, saying 'see, he is delaying'. That's all nothing too significant though.
In the first game, when I gave Fakhar Zaman out caught behind, Dinesh Karthik asked after the over if I was certain of a noise since he didn't hear anything. I told him that I heard a noise and that's why I gave the decision. Gully and cover fielders appealed even though bowler was half-hearted but the batsman knew.
DS: If you were to give a message to ones who want to be umpires, what would it be?
MR: My message will be that the umpires must not bother about their capabilities. Those who make it do so because they acquired a level whether it's a third division game or a premier league game. Simon Toufel once told me that 'to be a good umpire, you have to be a good human being first.' You have to be honest first and you will make your own place accordingly.
After getting the Asia Cup assignment, Gazi and I discussed that if Bangladesh make the final then that's one thing. If they don't, either of us should make the final. Waiting for the final now and I want to officiate with my performances so far. If one of us makes the final, it will not be about representing ourselves but Bangladesh.