Messi tells Aguero to wear his No. 10 shirt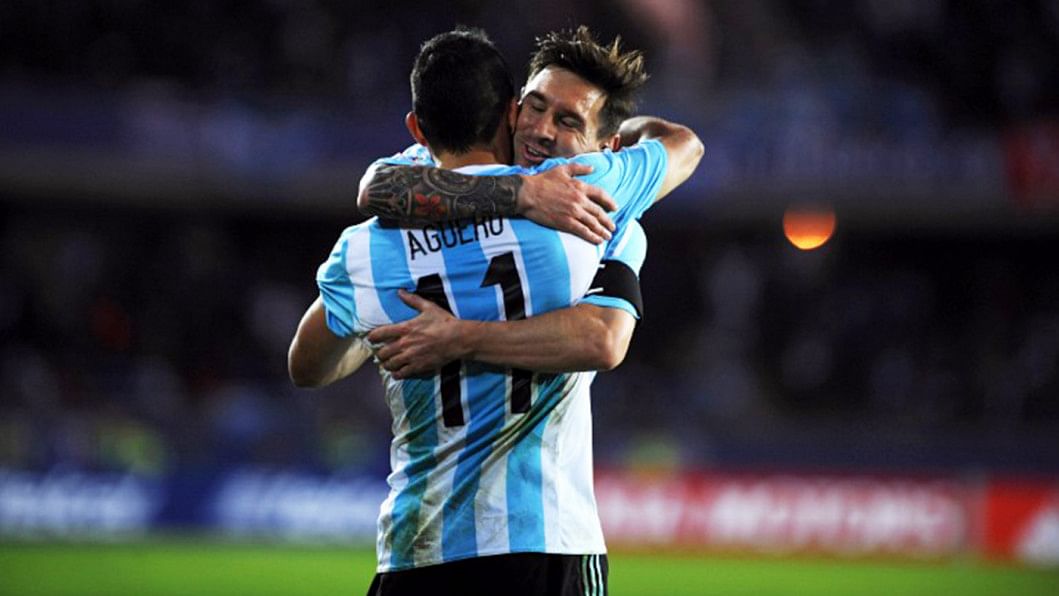 Sergio Aguero will adopt the No. 10 shirt for Argentina while it is left vacant due to the injury of its usual wearer, Lionel Messi.
Messi suffered a knee injury last month  and will not take up his usual role as Argentina captain when the Albiceleste take on Ecuador on October 8, Thursday in the first of two CONMEBOL World Cup qualifiers.
"I spoke to the kitman and he told me it is obligatory -- someone has to use it because the numbers go from 1 to 23," Aguero told the Manchester City website.
"I wore it for the first time against Bosnia, in a friendly in the United States, and Leo said: 'When I am not around, Kun has to use it.' Then he started to send me messages: 'Are you going to wear it? You're not going to chicken out?'
"Now every time he is absent it is up to me to wear it. I am happy to pull on the shirt, but it obviously belongs to him."
Messi is also a doubt for the matches against Brazil and Colombia in November.
"It is a bit strange because Leo has always been here with us, but these things happen in football, we have great players here and we can do well without him," Aguero said.
"Obviously it is different without him but we can still make a good start.
"Messi is Messi, he is irreplaceable. But there is a great team here which can make his absence felt less sharply. Now the key is winning, picking up three points. We are playing at home, it is a long time since Argentina has seen us and we have to play well from the start to gain confidence."
Aguero, who scored five goals in 20 minutes to enter the record books in Manchester City's 6-1 win against Newcastle on Saturday, spoke about his feat.
He also acknowledged that he actually played with a slight injury.
He added: "I was coming from a blow to the hip against Borussia Monchengladbach which caused it to load the adductor, and that is the trouble that I have now.
"Then I recovered those two days later and played Saturday with some discomfort.
"But my manager Manuel put together a team to go out and play, and I did not move the area much, and that helped me.
"These kind of moments only come along once. Sometimes they don't go in. It's on days like these that they all count."
Argentina host Ecuador in Buenos Aires on Thursday before facing Paraguay in Asuncion on October 13.