Bangladesh Premier League 2014-15
Manyavar BPL's title sponsor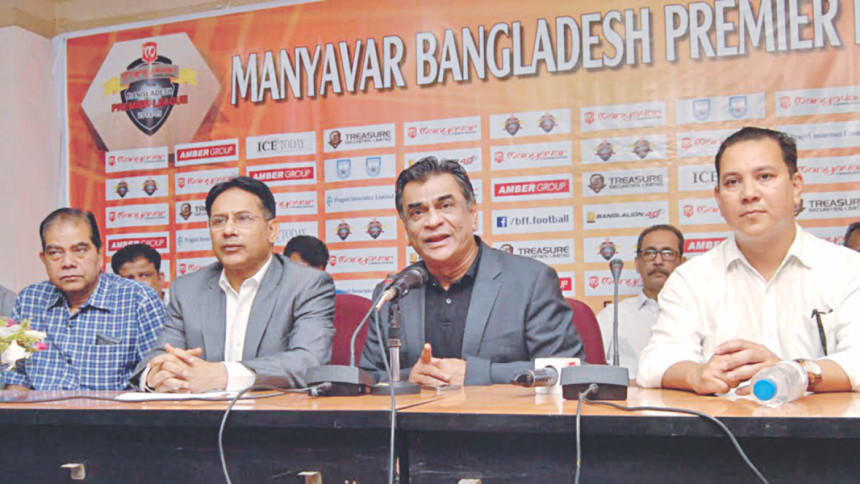 Manyavar, an Indian traditional men's wear manufacturer, has earned the rights as title sponsor of the 2014-15 Bangladesh Premier League.
Besides them, KFC, Pragati Insurance, Amber Group and Treasurer have joined the country's professional football league as co-sponsors.
The Bangladesh Football Federation (BFF), which had to struggle to find a sponsor in the last edition, ensured the sponsorship deals two days before the start of the eighth edition, which begins from Tuesday.
Although the BFF did not disclose the financial details of the sponsorship deals, it was learnt that combined amount from the sponsors will only cover one-third of the total budget of Tk 5 crore, which includes appearance fees of Tk 2.75 crore for the 11 participating clubs.
"We are grateful to all those who have come forward to sponsor the Bangladesh Premier League. We need you because you (sponsors) are important cogs of developing our football. And if you continue your support to football, I'm sure that our country's football is bound to go forward," said BFF president Kazi Salahuddin, while he was introducing the sponsors at the BFF House yesterday.
"I first want to thank BFF for giving us an opportunity to be involved with football. We have brought the Manyavar brand in Bangladesh for last three years and we want to promote Manyavar in Bangladesh with the association of football," said Manyavar's Bangladesh distributor and Vintage Denim Ltd's managing director Imran Islam Chowdhury.
BFF senior vice president Abdus Salam Murshedy, BFF general secretary Abu Nayeem Shohag and representatives of other co-sponsors and members of the professional league committee were among others present during the occasion.