Lewis Hamilton on pole position at Monza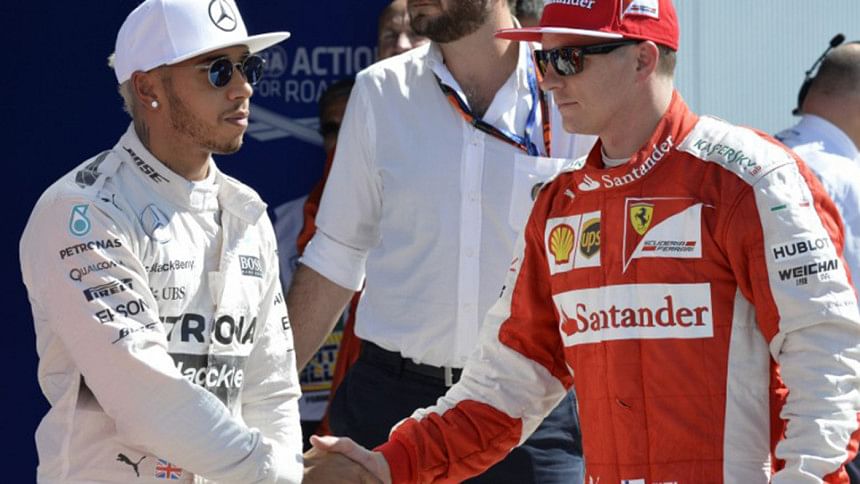 Lewis Hamilton eased to his 11th pole position in 12 races this year as he dominated qualifying at the Italian Grand Prix in his Mercedes.
The world champion's team-mate and closest title rival, Nico Rosberg, was fourth, beaten by both Ferraris, Kimi Raikkonen ahead of Sebastian Vettel.
Rosberg had an older specification engine after a problem with the newer one that had been in both cars.
Williams drivers Felipe Massa and Valtteri Bottas were fifth and sixth.
Force India's Sergio Perez took seventh, split from team-mate Nico Hulkenberg by Lotus's Romain Grosjean.
Sauber's Marcus Ericsson, who is under investigation for impeding Hulkenberg, was 10th.
Hamilton will be looking for his seventh victory this year in Sunday's race - which takes place at 13:00 BST, with live commentary on the BBC Sport website from 12:00.
Both Mercedes and Ferrari introduced engine upgrades for Monza, a track whose long straights ensure the highest full-throttle percentage of any track on the Formula 1 calendar.
Hamilton used his new spec engine to impressive effect, setting the pace in every practice session and all three parts of qualifying.
But Rosberg was forced to swap back to the older spec engine he used at the last race in Belgium after an unspecified problem was found in his new power-unit after final practice.
And it remains to be seen whether this was decisive in the German being unable to beat the Ferraris in qualifying.
It is a major blow to Rosberg, who heads into the race already 28 points behind his team-mate in the drivers' championship.
Raikkonen, who was handed a new contract by Ferrari before the Belgian Grand Prix, rewarded the team by beating his four-time champion team-mate by 0.054secs, as Ferrari chairman Sergio Marchionne watched from the pits.
After Rosberg's engine problem, there will also be question marks about whether Hamilton's unit might hit trouble during the race.
Hamilton said: "I'm really happy - but my Spa lap was better."
He added that there were no concerns with his engine "as far as I'm aware".
Raikkonen said: "In the end, the car turned out to be pretty good in qualifying conditions. This is our best qualifying as a team this year and we will try to give it a good go tomorrow."
Vettel said: "It is going to be a tough race tomorrow - these guys [Mercedes] have some serious pace in the race."
Two teams who ought by reputation and budget to be fighting it out with Mercedes and Ferrari at the front will instead be at the back, Red Bull and McLaren joining the junior team Toro Rosso in having grid penalties for both drivers as a result of using more than the permitted number of engine parts.
The full extent of the penalties is yet to be revealed, but Red Bull's Daniel Ricciardo, who qualified 16th - a place behind team-mate Daniil Kvyat - said he expected to be at the back of the grid.
The McLarens qualified 16th and 17th, Jenson Button 0.096secs ahead of Fernando Alonso after the Spaniard hit traffic on his final lap.
The pair had been the other way around, with Alonso this time 0.033secs ahead after their first runs, as the two former champions' very tight qualifying battle continued this season.