Lewis Hamilton on pole for Belgian Grand Prix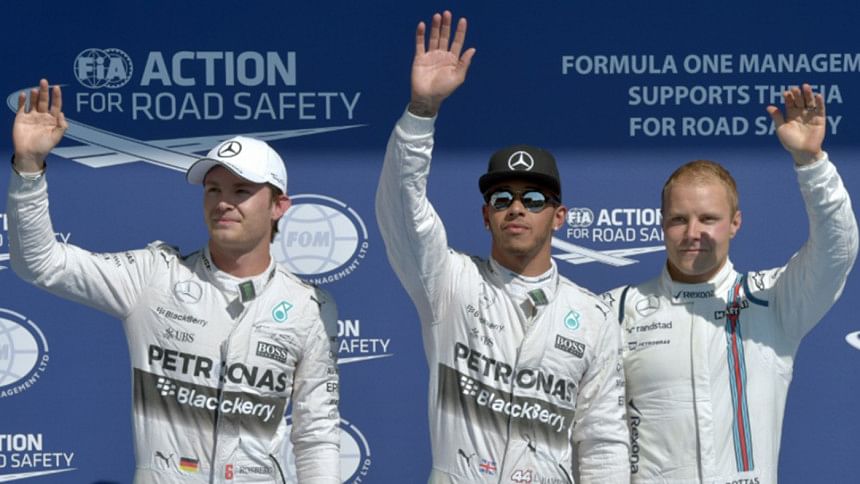 Lewis Hamilton delivered a flawless lap to claim his sixth consecutive pole position on Saturday when he dominated qualifying for Sunday's Belgian Grand Prix.
The 30-year-old Briton clocked a stunning final lap in the closing seconds of a tense and thrilling qualifying session in one minute and 47.197 seconds to outpace Mercedes team-mate German Nico Rosberg by nearly half a second.
It was the 48th pole of Hamilton's career, his 10th this year in 11 sessions and his third at the majestic Spa-Francorchamps where he has suffered ill-fortune in the past, notably when he was penalised and relegated to third after winning the 2008 race on the track.
He is the first driver to record six successive poles since seven time champion German Michael Schumacher with Ferrari in 2000-01, when he reeled off seven in succession.
"I am really happy today with the performance of the car and team," said Hamilton, who last won at Spa in a McLaren in 2010.
"They have been doing a fantastic job and the car has been feeling great and it is a circuit where, if you get the right balance, it is one of the most fun to drive.
"My last two laps were my best of the weekend and Nico was very close. I am conscious that pole is the best position, but it is a long race with a long run to Turn Five, but I am just happy to be here today."
Rosberg, recovered from the shocking high speed tyre failure that sent him into a terrifying full spin during Friday's second free practice session, fought hard to end Hamilton's supremacy, but without avail.
The 30-year-old German, whose wife Vivian is expecting their first child, is 21 points behind Hamilton in the title race with nine races remaining.
"For sure I'm disappointed," he said.
"I lost it a bit this morning in free practice, but then I got the balance back for qualifying -– thanks to the team -- but Lewis was too quick in the end and he found quite a lot extra that I didn't have in my pocket.
"But I still have high hopes. It is a long run to Turn Five with great opportunities to overtake and we have a new starting system."
Hamilton, who has looked vulnerable at the start in recent races, said: "The team have done a lot of analysis. All this weekend, we have been working on the start so we are as prepared as we can be.
"We feel relatively good about it and hopefully it provides an exciting start for the fans."
Italian tyre suppliers Pirelli completed an overnight investigation into the cause of his accident and concluded that there was nothing wrong with the integrity of their tyres.
They said the failure was caused by a puncture created by unidentified external debris.
Finn Valtteri Bottas was a surprise third fastest for Williams ahead of Frenchman Romain Grosjean of Lotus, who faces a grid penalty yet to be confirmed after a change of power unit parts, and Mexican Sergio Perez of Force India.
Bottas, who had been strongly linked with a move to Ferrari before fellow-Finn Kimi Raikkonen was re-signed, said: "It's good to be back in the top three!
"We knew after practice that there was so much more we could do if we put everything together. We got the balance finely tuned for qualifying and the car felt really good."
Australian Daniel Ricciardo was sixth for Red Bull ahead of Brazilian Felipe Massa in the second Williams, Venezuelan Pastor Maldondo in the second Lotus.
Four-time champion German Sebastian Vettel, was a disappointing ninth for Ferrari as they prepared for their 900th Grand Prix, ahead of Spaniard Carlos Sainz of Toro Rosso.