Kohli was born to lead: Gavaskar (video)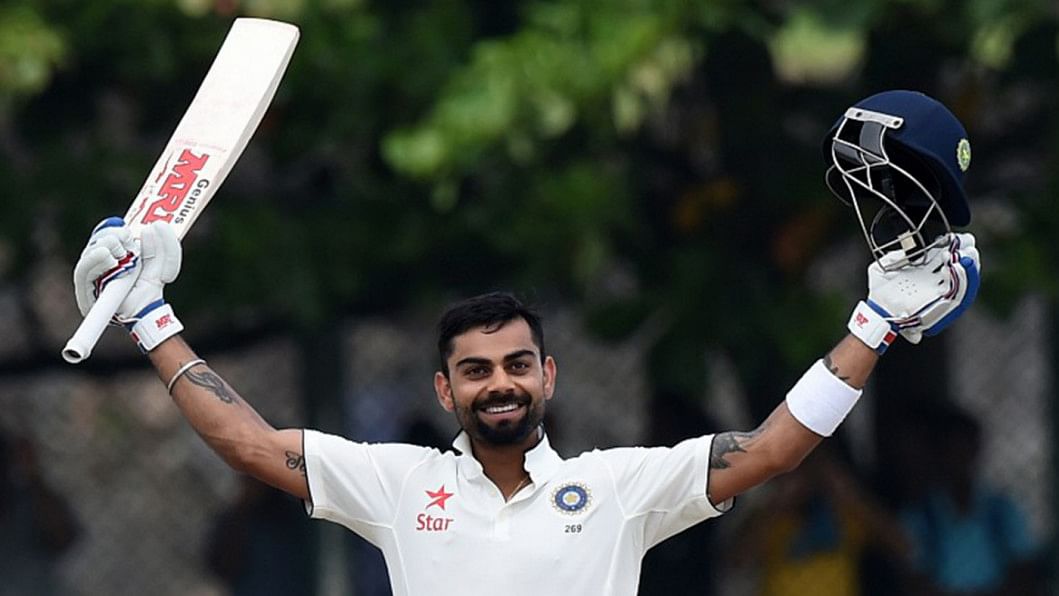 Former captain Sunil Gavaskar on Thursday described Test skipper Virat Kohli as someone born to assume leadership role and hoped he will live upto the expectations of the people.
"He (Kohli) was born to lead. He led the under-19 team, and even as a player he was looking to learn from others."
"That is the big plus about Kohli that he learning. He makes mistakes, all of us make mistakes."
"But there is so much optimism with him becoming the captain, something which scares you. There is so much of expectations from the young man, it is sometimes scary but he will be upto it," Gavaskar said.
Kohli on Thursday scored 103 runs and shared a 227-run partnership with opener Shikhar Dhawan (134) for the third wicket as India posted 375 all out, taking a substantial 192-run lead in the first innings of the first cricket Test against Sri Lanka at Galle.
Sri Lanka were reduced to 5 for 2 in two overs in their second innings and Gavaskar said the hosts won't be able to save the match anymore.
"I don't think they will be able to recover. They might be able to save an innings defeat if they bat well and get a few partnership."
"Otherwise, I don't think they will be able to save the game. Only the weather can come to their rescue or else I think India is going to win with plenty of time to spare," Gavaskar said.
"I hope it is a three day thing. But Sangakkara is there and if he plays the innings of his life then it might stretch to the fourth day," he added.
Asked about Kohli's ploy to open bowling with spinners R Ashwin, Amit Mishra and Harbhajan Singh, Gavaskar said: "It was top class thinking.
I thought the way Ashwin was bowling, this is what he would try, Ishant at one end and Ashwin at other end.
But with only four overs to go, he went with the spinners because in case it didn't work, the ball with still be hard enough for the new ball bowlers today.
"I think it is a tremendous move. Yesterday he might have missed a chip but that is the beauty of Virat Kohli, he keeps learning all the time," he told NDTV.
Asked if Sri Lanka missed their skipper Angelo Matthews, who could not turn up to bowl as he had flu, Gavaskar said: "Yes, absolutely. When you lose your skipper, you lose direction.
"When the main man is not there, it does affect the team. Because they seemed bereft of ideas when Dhawan and Kohli were batting. But by the way Kohli and Dhawan were batting, I don't think even his presence would have mattered," said the former captain.
Talking about Shikhar Dhawan, who got a couple of reprieves during his innings, Gavaskar said: "A century is a century. As a batsman, you get one chance often but he got a couple of chances yesterday."
"When you get chances, you make the most of it and that's what he did. He went from 100 to 134 and at the end of it, these extra runs will make a difference between India batting in the second innings or batting for chasing not too many."
Down the order, wicketkeeper-batsman Wriddhiman Saha, scored a steady 60 before being getting out in a debatable dismissal. Gavaskar said: "He (Saha) had this opportunity and he recognised it to do something."
"With the pitch playing a bit easier and Sri Lankan bowlers apart from (Tharindu) Kaushal not able to turn, he applied himself there and again those extra runs matter."