Trivia of West Indies and Pakistan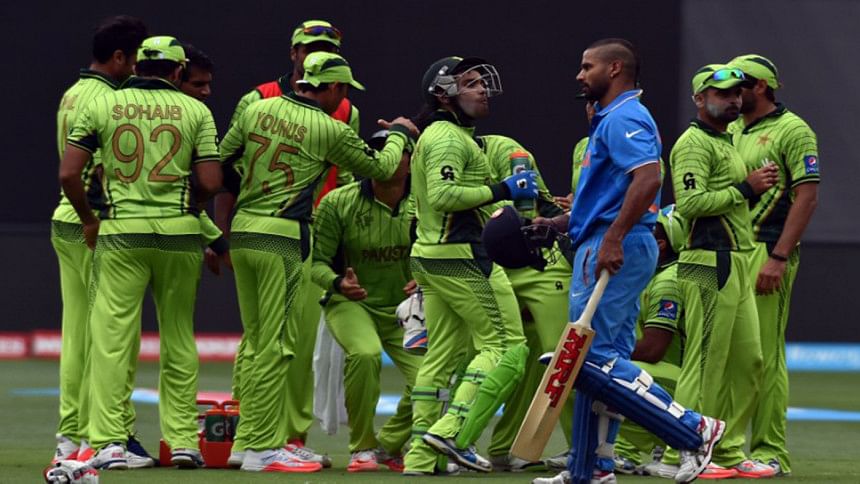 Trivia of the Teams in Action
6: World Cup games West Indies have won against Pakistan out of the nine played between them so far. In the last ten games between the sides, however, the contest has been more even with Pakistan winning five and West Indies four, and one match ending in a tie.
8: matches Pakistan have won out of the last ten ODIs against West Indies while chasing a total. In the last 10 ODIs against top eight sides in which they have batted second, Pakistan have been most successful against West Indies.
5-13: Pakistan's win-loss record against the top ODI teams since 2014. Their win-loss ratio of 0.38 is only better than Zimbabwe's, who have lost 12 of their 13 games since 2014. West Indies have done slightly better against the Test teams, having won seven of their 17 matches.
-12.81: The difference between Pakistan's batting and bowling averages in ODIs since 2014 - the second highest among teams. Only Zimbabwe have let their batting and bowling averages drift apart in the wrong directions by a greater extent. Pakistan are the only team in this World Cup with a bowling average of greater than 40 and a batting average that has stayed below 30. West Indies are not far behind, with a negative difference of 5.83.
7: Number of wickets West Indies' bowlers have taken during the batting Powerplay in 14 innings - the least among the top teams in ODIs since 2014. They have conceded an average of 65 runs per wicket during these overs. Their economy of 6.59 in the Powerplay is also among the worst. In comparison, Pakistan are the most economical bowling unit in these overs with an economy of 5.35 and 18 wickets at an average of 26.11.
61:  Runs Chris Gayle has scored against Pakistan in his last five innings against them. He has hit only eight boundaries in the 105 deliveries he faced in these five games. Gayle is going through a lean patch with 18 ODI innings since his last hundred - against Sri Lanka in 2013. Since then, he has scored 270 runs at an average of 15, including a solitary fifty against Bangladesh.
9:  Fifties Misbah-ul-Haq has hit against West Indies in 15 ODI innings. Misbah has scored 684 runs at an average of 76.00 against them. Umar Akmal, too, has done well against West Indies with 287 runs in nine innings at an average of 57.40 and a strike rate of 105.12.
9: Number of fifty-plus scores by West Indies top-order batsmen (No. 1 to No. 3) - equals the least by any of the top teams in ODIs since 2014. Zimbabwe also have nine fifty-plus scores from their top-three batsmen but have played one match less.
8.18:  Pakistan's economy in the last ten overs in ODIs since 2014. Among teams in this World Cup, only Zimbabwe leak runs at a faster rate, at an economy of 8.75 runs an over. Even in their last game in which Pakistan bowled excellently in the last five overs, they had conceded 56 runs between overs 41 to 45 for an overall economy of 8.3 in the last ten overs. Pakistan will be up against a team with the second-best scoring rate in the last ten overs: West Indies' scoring rate of 8.51 in these overs is second only to New Zealand's 8.84 in ODIs since 2014.