ICC Cricket World Cup 2015
Who will triumph?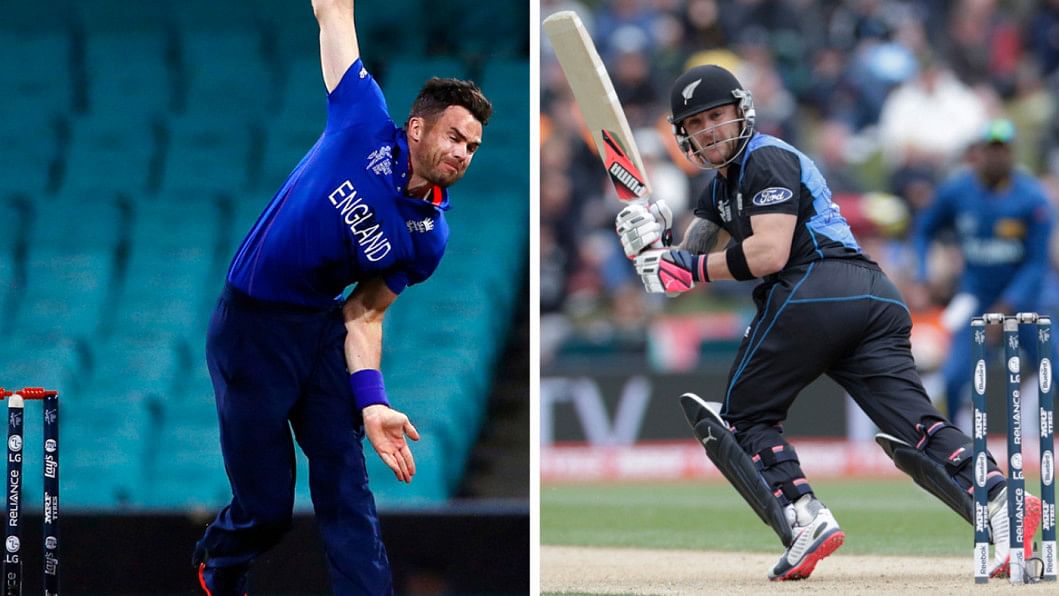 Brendon McCullum
Brash, brutal and brilliant to watch, Brendon McCullum can bruise bowling attacks like few other men in international cricket. A wicketkeeper-batsman, McCullum has been used throughout the New Zealand batting order, but whenever he arrives at the crease it's impossible to look away. He muscles balls over both sides of the field and was responsible for getting the IPL off to an electrifying start, lighting up the tournament's first match with 158 and showing what the format had to offer.
Playing role: Wicketkeeper batsman
Batting style: Right-hand bat
Bowling style: Right-arm medium
Fielding position: Wicketkeeper
Current ODI Ranking: 30
Highest Ranking: 9 - ( 23/02/2013 )
Highest score: 302 (Tests) 166 (ODIs) 123 (T20Is)
Best bowling: 1/1 (Tests)
Last three performances: 15 runs, 65 runs, 59 runs
James Anderson
James Anderson has proved himself as one of the most skilful and prolific fast bowlers in England's history. His talents have been particularly apparent in Test cricket where his command of swing bowling, especially on his home grounds, has been the stuff of artistry, bearing comparison with any swing bowler in any age. He has been an integral part of three victorious Ashes campaigns and finished the 2014 English summer only four wickets short of beating Ian Botham's England Test-wickets record of 383. His one-day career has also been more productive than at one time seemed likely as he gradually became adept at bowling in a more defensive fashion.
Playing role: Bowler
Batting style: Left-hand bat
Bowling style: Right-arm fast-medium
Current ODI Ranking: 4
Highest Ranking: 3 - ( 16/07/2013 )
Highest score: 81 (Tests) 28 (ODIs) 1* (T20Is)
Best bowling: 11/71 (Tests) , 5/23 (ODIs) 3/23 (T20Is)
Last three performances: 8 runs – 0/67, 2/42, 5* runs – 2/38