ICC CRICKET WORLD CUP 2015
Who will dominate proceedings?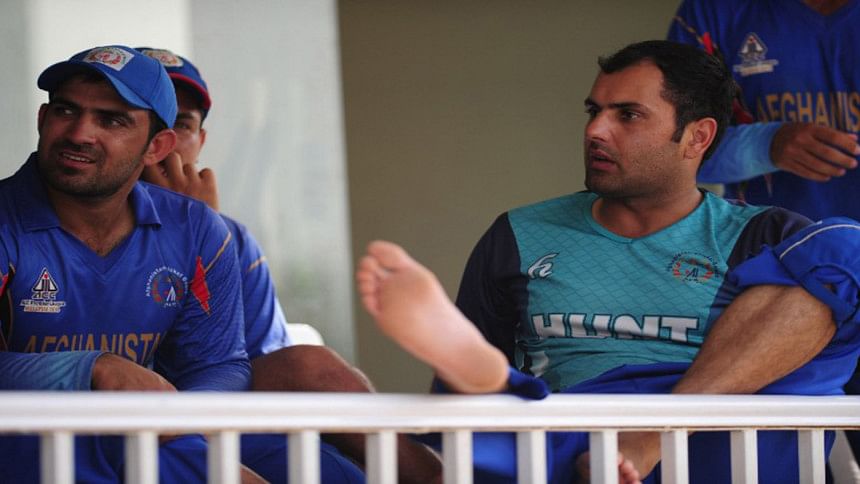 Mohammad Nabi
Mohammad Nabi hails from a well-to-do family that moved to Peshawar in Pakistan, seeking a safe haven from the Soviet War in Afghanistan. An efficient allrounder - a strong middle-order batsman who can bowl flighted offspin - Nabi's rise, like Afghanistan's, has been staggering. He has been at the centre of the side since their time in the ICC's World Cricket League Division Five, from where Afghanistan began their rise to the international stage.
Batting style Right-hand bat
Bowling style Right-arm offbreak
Current ODI Ranking: 31
Highest Ranking: 30 - ( 10/01/2015 )
Highest score: 77 (ODIs) 46 (T20Is)
Best bowling: 4/31 (ODIs) 3/23 (T20Is)
Last three performances: 44 runs – 1/58, 30 runs – 2/43, 1 run – 1/62
Tillakaratne Dilshan
With his relentless aggression, strong wrists and natural timing, Tillakaratne Dilshan is one of the most exciting batsmen in the game today. He is technically sound, but, much like Virender Sehwag, he uses the defensive option only as a last resort, after all the attacking alternatives have been explored. He loves to make room and thrash the ball through the off side, but the stroke that bears his signature more than any other is the one he developed for the 2009 ICC World Twenty20 - the eponymously named "Dilscoop" shot over his head, which confounded bowlers and experts alike.
Playing role: Allrounder
Batting style: Right-hand bat
Bowling style: Right-arm offbreak
Fielding position: Wicketkeeper
Current ODI Ranking: 5
Highest Ranking: 3
Highest score: 193 (Tests) 160* (ODIs) 104* (T20Is)
Best bowling: 4/10 (Tests) 4/4 (ODIs) 2/4 (T20Is)
Last three performances: 24 runs – 0/35, 1/27, 100 runs
Virat Kohli
A typical modern-day cricketer, Virat Kohli plays his game aggressively, bares his emotions loudly in public, yet retains the element of maturity that forms an integral part of every good and great player. Anil Kumble said he had thought hard before calling Kohli the best under-22 player in international cricket - that would rate as perhaps the best compliments he has received. It is also proof of Kohli's transformation as a player.
Playing role: Middle-order batsman
Batting style: Right-hand bat
Bowling style: Right-arm medium
Current ODI Ranking: 3
Highest Ranking: 1 - (30/10/2013)
Highest score: 169 (Tests) 183 (ODIs) 78* (T20Is)
Best bowling:  1/15 (ODIs) 1/13(T20Is)
Last three performances: 107 runs, 18 runs, 8 runs
AB de Villiers
A batsman of breathtaking chutzpah and enterprise, as well as the skills and the temperament required to back up his creative intent; a fielder able to leap tall buildings and still come up with the catch; a wicketkeeper who is perfectly at ease donning pads and gloves;  a fine rugby player, golfer, and tennis player. All AB de Villiers needs to show off his abundant gift is a ball. Just about any ball will do.
Playing role: Wicketkeeper batsman
Batting style: Right-hand bat
Bowling style: Right-arm medium
Fielding position: Wicketkeeper
Current ODI Ranking: 1
Highest Ranking: 1 - ( 30/05/2010 )
Highest score: 278* (Tests) 149 (ODIs) 79* (T20Is)
Best bowling:  2/49 (Tests) 2/28 (ODIs)
Last three performances: 25 runs, 24 runs, 19 runs