Match Preview: Australia vs England
Australia aims to avoid repeat of 1992 experience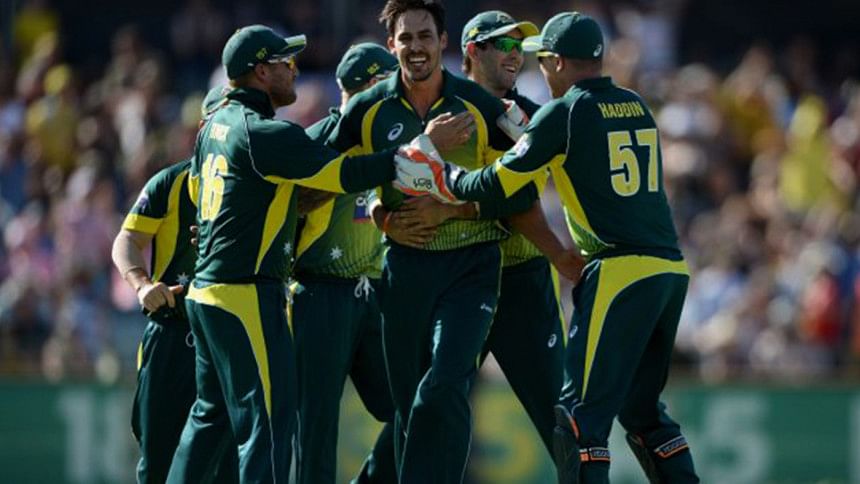 Of six previous meetings against England in World Cup competition, Australia has won four, including the final in 1987. But as it heads into what is the opening game for both teams, in front of a capacity crowd of 90,000 at the Melbourne Cricket Ground, it's one of those losses that will make Australia wary given its status as pre-tournament favourite.
Back in March 1992, Australia was hosting its first World Cup. After a poor start to the tournament, it went to Sydney and a match against England knowing that victory was almost imperative. Instead, it lost by a wide margin of eight wickets. Ian Botham, who followed up his 4 for 31 with a 77-ball 53, was the wrecker-in-chief. A few days later, Imran Khan's cornered tigers pushed Australia through the trapdoor.
Only one team, India in 2011, has ever won a World Cup final on home turf, but George Bailey, who was nine years old when Allan Border's team fluffed its lines, preferred to focus on the positives rather than on the weight of expectation.
 "I am looking forward to the fact that we get some home comforts, enjoy some home support, and embrace the opportunity of having a World Cup at home," he said. "We've spoken about it being an opportunity that you are born into. It's pot luck. There have been some amazing Australian sides that have won World Cups all over the world, and some amazing Australian players that never had the opportunity to play one at home. You can view that as pressure ... or a wonderful opportunity and 'What an honour'. That's certainly the way we're trying to approach it."
For England, who hasn't won a knockout game in the competition since 1992, when it made the final, the challenge is to prove that it has the players to upset the best on any given day. "It's a big game for both sides, something we're really looking to," said James Anderson, who will be playing his fourth World Cup. "I've played here a few times before and I know all about the atmosphere 90,000 people can create. As a cricketer, you want to play in games like this, you want to play in front of big crowds and show off your skill and talent in front of them. Hopefully we can do that tomorrow.
 "We're guessing the majority will be against us and that's something we're prepared for. But we've played here in a Test in front of 90,000 on Boxing Day and, if we start well, we know we can quieten most of them. It's all about starting well and enjoying the occasion. It's something we've got to try and soak up and really enjoy."
Australia has dominated the rivalry since Mitchell Johnson's pace broke the Ashes open in late 2013. Anderson, however, was confident that England also had the bowlers to do some damage in helpful conditions. "The pitches we've played on so far have been a bit of a mixed bag," he said. "There have been a couple of quick ones, but also slow ones, so hopefully we can make an impact as bowlers. Certainly, all our bowling group have been talking about is how to take wickets and be aggressive throughout the innings."
What England don't have is the same raw pace that Australia do, with Johnson, Mitchell Starc, Josh Hazlewood and Pat Cummins all capable of bowling over 140kph. "It's amazing come game time," said Bailey with a smile. "It's horrible at training. I, for one, can't wait for the actual game to start so at least I can direct it rather than just cop it.
"They're a pretty special group of bowlers who, if they work as well as we certainly hope they can throughout this tournament and as well as they have at different times, could be a real difference. A lot of people have talked about death bowling and powerplay bowling. We certainly feel like with our attack, we can do a lot of damage up front and kill games off, which is just so exciting."
Rain and storms are predicted for Saturday, and no one's quite sure how the drop-in pitch will behave. "I actually find the drop-in wickets quite difficult to read, so that will be a bit of a challenge," said Bailey, who will relinquish the captaincy once Michael Clarke returns from injury. "We will draw on local knowledge from 'Finchy' (Aaron Finch) and Co., who will know more about the wicket, but you can get a bit of everything here."
With so much of the emphasis on multi-skilled players, Australia will need to choose between Hazlewood and Cummins for the third-seamer's role. Both are wonderfully exciting talents, but Hazlewood's ability to land it on a sixpence is likely to make him the chosen one. As for England, it might finally have lost patience with Ravi Bopara. If that is the case, Gary Ballance will take his place at No.6. Neither side is likely to pick a specialist slow bowler, with Glenn Maxwell – who took 4 for 46 in the recent Tri Series final against England – and Moeen Ali filling in that role.
Since losing an ODI series 4-0 in England in June-July 2012, Australia has won eight of the last ten games between these two great rivals. But Bailey, for one, would not countenance any talk of complacency. "I think England have made some really positive changes to the way they play and their structure, and I personally think they look really dangerous," he said. "I don't think they rely too heavily on one or two players."
A loss here won't cripple either team's chances. But after what happened in 1992 – when Australia started with losses to New Zealand and South Africa – Bailey and his teammates will be keenly aware of the M word – momentum. Win this, and the prospect of returning to this storied venue on March 29 will seem a lot less daunting.
Teams:
Australia (likely): David Warner, Aaron Finch, Shane Watson, Steve Smith, George Bailey (capt), Mitchell Marsh, Glenn Maxwell, Brad Haddin (wk), Mitchell Johnson, Mitchell Starc, Josh Hazlewood.
England (likely): Ian Bell, Moeen Ali, James Taylor, Joe Root, Eoin Morgan (capt), Gary Ballance, Jos Buttler (wk), Chris Woakes, Stuart Broad, James Anderson, Steven Finn.
Copyright: ICC Development (International) Limited