ICC CRICKET WORLD CUP 2015
Sounds of silence for edgy Bangladesh
Bangladesh are used to the roar of an expectant crowd - even in Canberra and Melbourne they had a taste of that - but Nelson will provide a very different environment for a crucial match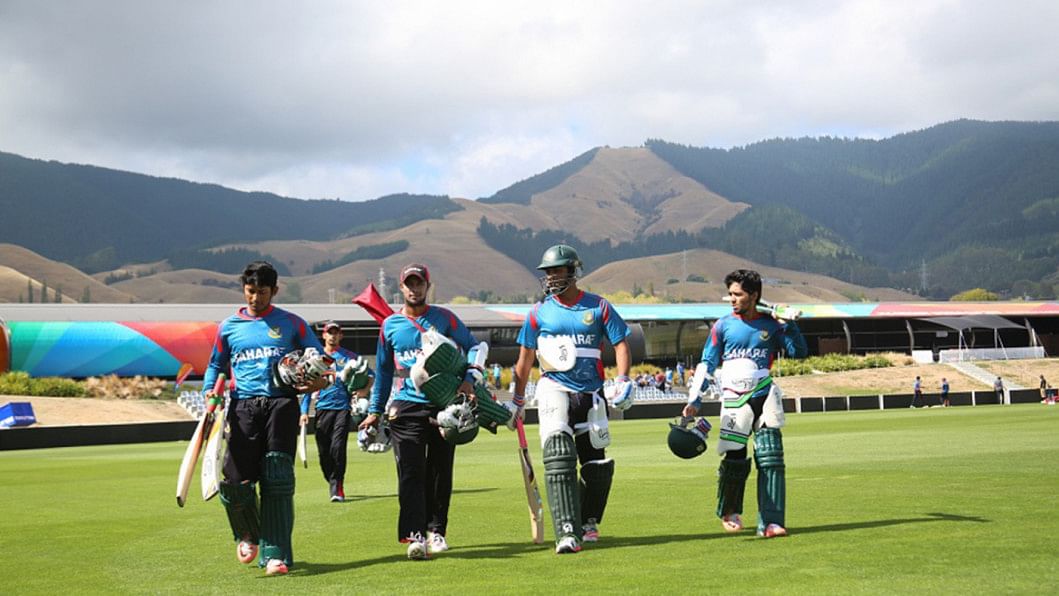 The only sound one could hear after the crackle of the ball hitting the bat was crickets and other bugs. It was followed by a chuckle from the batsman, Mushfiqur Rahim, as he thumped ball after ball practicing at the pitch that was used in the two previous games at the ground. All sounds in Nelson's Saxton Oval have an individuality. Noise, the kind that keeps buzzing across the subcontinent, is probably an alien concept here.
Mushfiqur was alone in the middle taking throwdowns from Richard Halsall, the fielding coach, not far from the cameras focused on him, but thousands of miles away from Dhaka. In some sense, Nelson is anti-Dhaka, which is probably a welcome change for the team that has felt that passionate support back home uplift them in good times, while crush them at times when things do not go right.
You heard that roar in Canberra when Mashrafe Mortaza won the toss. The likelihood of that happening in Nelson on Thursday is remote.
"Playing in Bangladesh, definitely a different atmosphere," Mashrafe said. "People come and support. Yes, there is some pressure but we enjoy that. You know playing in Bangladesh is always enjoyable and yes definitely in Nelson we won't get that support but it happens. Hopefully we play our best cricket and people will support from back home."
What the serenity will not hide though is the importance of the game for Bangladesh. Their opener against Afghanistan threatened to slip through the fingers before Shakib Al Hasan and Mushfiqur rescued the innings, a washout against Australia handed them a welcome bonus, but the hit they took against Sri Lanka in Melbourne showed there was a heavy price to pay for letting your guard down.
"Yeah, we expect to win. When we lost, we also lost some confidence," Mashrafe said. "So this is an opportunity to win this match and go with some confidence into the game against England."
Halfway through the group stage, the teams are always going to have one eye on the points table. Sitting on three points with three games remaining, Bangladesh need to win this to keep their chances of qualification to knockouts alive. They are expected to beat Scotland but consider the challenge:
Bangladesh's second ODI win came against Scotland, but they are the only Test-playing nation to drop a game against Scotland - a T20 three years ago.
It is the first time in five years they are playing in New Zealand.
Among the Test-playing nations, Bangladesh are one of the sides who could crumble in alien conditions fairly easily.
Scotland, on the other hand, have played all their matches in New Zealand. And that's not only it. They had another tour to the country earlier in the season.
If they overcome these tricky corners, then they need to beat either New Zealand or England. It is easier to see which opposition Bangladesh would be targeting, one they beat in the previous World Cup. Asked whether Scotland and England posed the same threat, Mashrafe took time to answer but said the team did not want to look to far ahead.
"Still, England is a better team," he said. "They have a great chance as well. I think next match is really important but first, we need to play well against Scotland and then think about the later one.
"If we can win this match, we have two chances till the game against New Zealand," he said. "If we lose this one, then we have only one."
The pitch at Saxton Oval is going to aid batsmen, like it did in the previous two matches. But Mashrafe was more concerned about the fast bowlers who took a battering against Sri Lanka. "I think they will feel better on this pitch and bowl well," he said. "We are really thinking how we can play our best cricket, win this match and go through. It is true that Scotland have played most matches here, and it will help them, but we are ready."
Ready, Bangladesh may be, but relaxed, they are not, even when a quiet Nelson coaxes everyone to be. "It's an international game, you can't be relaxed," Mashrafe said, before adding, "maybe only after you start well."