ICC Cricket World Cup 2015
Bangladesh look for possible NZ loopholes
While New Zealand have proven to be the best side in Group A, Bangladesh, their next opponent, might have a few plans for them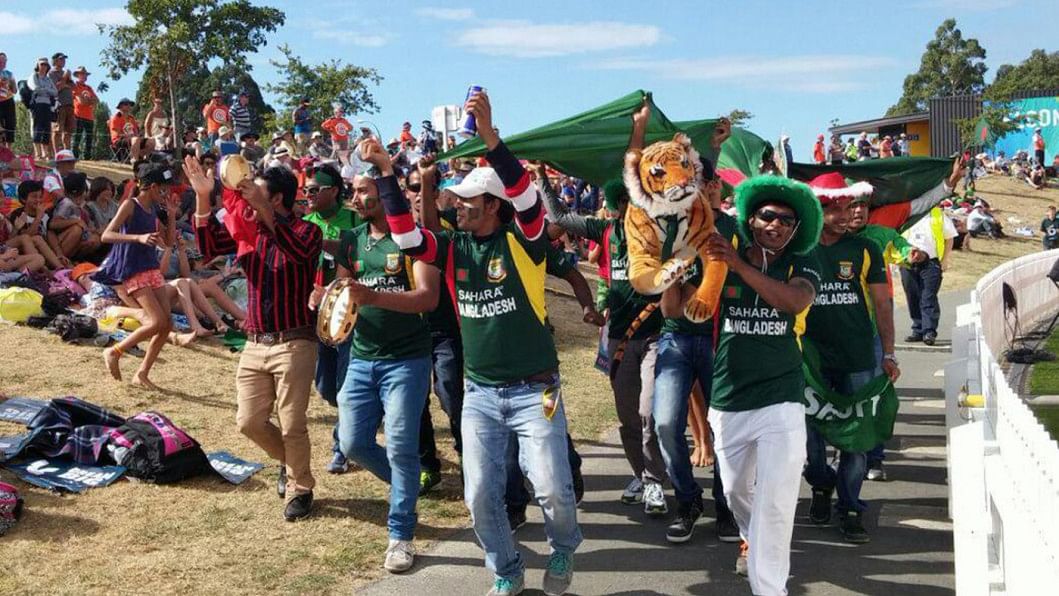 New Zealand dominate the leading wicket-taker positions at the World Cup. Tim Southee and Trent Boult are tied for top spot on 13 apiece with Daniel Vettori slotting in just behind on 12.
Luke Ronchi has been in prime position to see their success and has bagged himself eight dismissals along the way. He has a pretty simple outlook on his job - "If I catch it, it's good; if I miss it's not so good - and has savoured the experience of watching his team-mates dissect the opposition five games out of five.
"Every game one particular bowler seems to be doing really well, it's not the same one carrying everyone," he said. "It's the consistency and self-belief which has just grown and grown. It's probably the most consistent bowling attack I have kept to. It's been a lot of fun. I've got the best seat in the house.
He has especially enjoyed the up-close view of Vettori in action as he has expertly kept batsmen quiet most notably against Australia before taking 4 for 18 against Afghanistan in Napier which included his 300th ODI wicket.
"Dan doesn't turn it as much as he used to which is a good thing for me, I don't have to worry about that much. It's always hard work keeping to any spinner, but to be able to see what a batsman is trying to do and what Dan is trying to do is pretty cool. You can see he's trying to work batsmen out."
Ronchi's second skill, his batting, has had a limited impact on the tournament so far, largely due to the dominance of the team. He began with a useful, unbeaten 29 against Sri Lanka but since then has made 12 against Scotland and 6 against Australia when he had a chance to seal the match before it became an edge-of-the-seat thriller. "If I'm not batting we are doing really well," he said.
A victory against Bangladesh would make it the first time New Zealand have progressed to the knockout stage of a World Cup unbeaten. On home soil they have won all their matches against Bangladesh, but in their conditions it has been a different story with the most recent trip, in 2013, including a 3-0 reversal in the one-day series.
On Friday they will reacquaint themselves with Rubel Hossain who claimed 6 for 26, including a hat-trick, in the first match of that series and took 4 for 53 against England in Adelaide. "They've been playing some good cricket, we'll have to be on the money," Ronchi said.
However, despite the success of the quicks against England, spin will remain a central part of Bangladesh's game plan. Ruwan Kalpage, their spin bowling coach, who recalled taking his first ODI wickets for Sri Lanka on the ground during the 1992 World Cup, even hinted at the prospect of tackling the threat of Brendon McCullum with spin.
"He has not had to start against spinners," Kalpage said when asked about the prospect of quelling the onslaught. "It will be tough for us but we have plans for him as well. I'm pretty sure it will help the spinners."
There was also confidence that they would be able to tackle Vettori whose economy and incisiveness has been a key double act in New Zealand's success behind the two new-ball quicks. But from a fellow spinner, there was also mutual respect.
"He has shown he is one of the best bowlers in the world," Kalpage said. "I think he has been more effective against right-handers but we have a good mixture in our top order so it will be a good test for him."
Kane Williamson was absent from New Zealand's training session on Wednesday after being one of the players struck down by a sickness bug that also laid low Vettori and Grant Elliott after the match in Napier. Williamson is expected to practice on Thursday and be available for the match. Tom Latham, one of the four players not to have appeared during the tournament, is the reserve batsman in the squad.
Adam Milne was also given a very light day after needing treatment on his right shoulder following the diving catch he took against Afghanistan.