ICC Cricket World Cup 2015
Tigers chase fearless cricket at daunting MCG
Bangladesh vs India, World Cup 2015, 2nd QF, Melbourne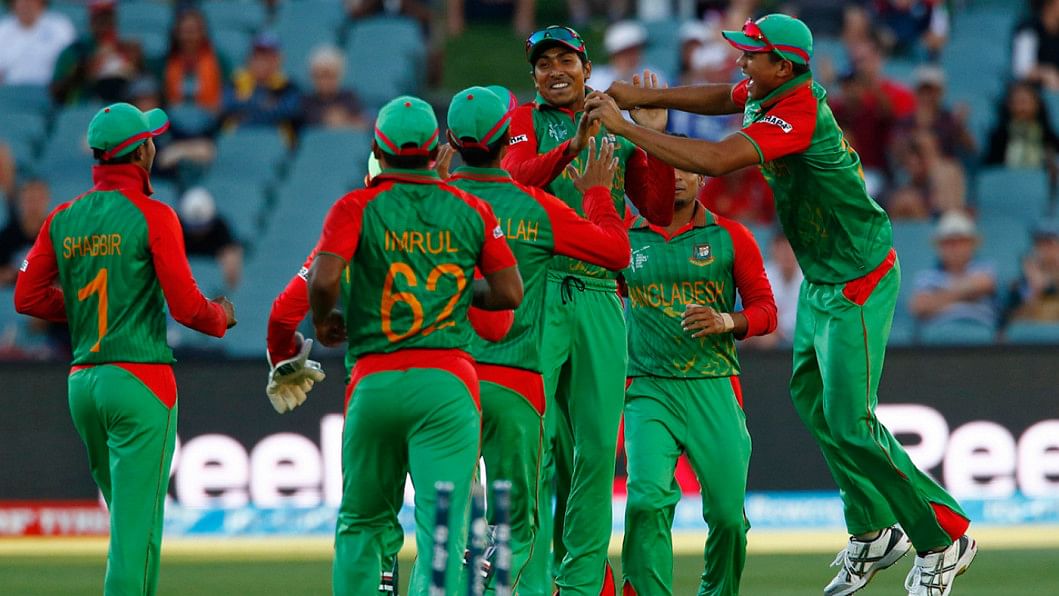 Bangladesh will make their World Cup quarter-finals debut having played "fearless" cricket, most notably in a tricky first game against Afghanistan and in the tall chase against Scotland. On Thursday the fear factor will come not only in the form of the opposition, an Indian team on a record winning streak, but also in the physically intimidating vastness of the MCG.
Bangladesh's fielding imploded spectacularly against Sri Lanka in their first outing at the ground as they realised the scale of the field for the first time in a match situation. On Thursday, though, they must face stage two of the MCG challenge - the huge and vocal Indian support in the stands. It's an experience to unnerve the best - ask South Africa, who cracked in this situation a month ago.
Bangladesh are used to noise, as anyone who has been to a match in Mirpur will testify, and they have had a strong following at their matches here. But India at the MCG, replete with the Bollywood beat, will be akin to playing at Eden Gardens. "To get over 50,000 people in Australia… the atmosphere that gets created. It starts from the warm-ups and after the national anthem, it just multiplies," MS Dhoni had said crediting the crowd after the win against South Africa.
Bangladesh have only ever played three matches against India in India, the last one back in 1998 - before they were granted Test status. It will be up to Mashrafe Mortaza and Shakib Al Hasan, the only players to have played in India as part of the Kolkata Knight Riders, to not only be the leaders on the field but also motivators to infuse a sense of calm.
Shakib's shrewdly elliptical response on playing in such a hostile atmosphere - "I have no experience, so how do I know how challenging it is?" - indicates Bangladesh are in the right frame of mind before the big game.
A lot has to do with the confidence that has come from achieving their goal of making it to the quarter-finals, against pre-tournament conventional wisdom. There is a reason for it. In the decade and a half of playing top-flight cricket, Bangladesh have hardly caused any ripples.
The MCG library, which boasts of having on its shelves every book on cricket written in English language, doesn't have a book on Bangladesh cricket. Its display-shelf of books written around World Cups has some striking covers - Arjuna Ranatunga flanked by armed commandoes after the win in Lahore, MS Dhoni's legendary strike at Wankhede - but only one with a picture of a Bangladesh cricketer.
Raiders of the Caribbean is not a book about Bangladesh though; it is about Ireland's successes in the 2007 World Cup and the picture shows the then Bangladesh captain Habibul Bashar being bowled by Trent Johnston. But it's the title of the book that represents one of the high points of Bangladesh cricket, their defeat of India in Port of Spain.
Bangladesh have made slow progress in the eight years since but are arguably stronger now. The leading performers in that game - Shakib, Tamim Iqbal and Mushfiqur Rahim with half-centuries, and Mashrafe with a four-wicket haul - are also the only members from that game in the current team and they form the core of the unit. If Bangladesh are to surprise India again, their shoulders will have to equally bear the weight.
For India, MS Dhoni is the only common link to that 2007 game. However, that particular match was the harbinger of sweeping changes that have redefined not only Indian cricket but also the structure of cricket worldwide. So while Bangladesh have improved, India have fortified their position in one-day cricket even more. "On paper, India are stronger than Bangladesh and no one has any doubt on that," Shakib said. "But it's a one-off game. If we have a good day and they have a bad day, you never know."
There haven't been many good days for Bangladesh in the last eight years. Last year, a damp afternoon in Dhaka was shaping up like a dream before it turned into a nightmare. The only other time Bangladesh managed to beat India after 2007 - March 16, 2012 - it was the same quartet that came together; Mashrafe took 2 for 44, Tamim scored a carefully constructed 70 while Shakib and Mushfiqur blasted 49 and 46 not out.
All four have been in good form in this tournament but neither of the three is the leading batsman for the team, nor is Mashrafe the leading wicket-taker. Mahmudullah is eyeing a hat-trick of centuries, Soumya Sarkar had added class to the top order, Sabbir Rahman had brought solidity and explosiveness in the lower middle order, while Rubel Hossain and Taskin Ahmed are striking regularly. "You could count probably two or three performers in the previous World Cup," Shakib said. "It's a good sign for Bangladesh cricket that so many cricketers are contributing for the team."
India are on a roll at the moment, but it's the same team that couldn't win a game two months ago.
If Bangladesh players perform in perfect sync, the code to breaking India could possibly be cracked. Bangladesh will need to believe that the dream - as one of the reporters said - to play Pakistan in the semi-final on March 26, Bangladesh's independence day, is one that can be achieved. One good day of fearless cricket is all they need.