ICC Cricket World Cup 2015
Australia haul 275-run victory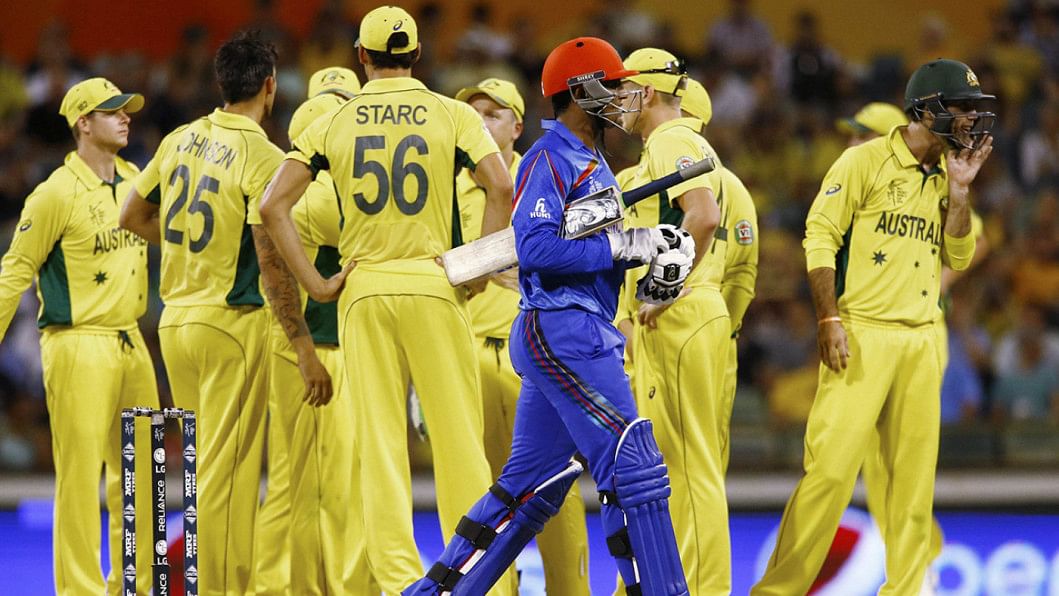 MATCH 26: AUSTRALIA VS AFGHANISTAN
Australia 417/5 (50 Overs)
Afghanistan
142 (37.3 ov)
Australia hauled a massive -run victory against Afghanistan today at the Waca, Perth in the 26th match of the ICC World Cup 2015 today.
David Warner was awarded Player of the Match award for his fantastic knock of 178 runs.
Australia laid a concrete foundation on the 260-run partnership of Warner, 178, and Steven Smith, 95, after the early loss of opener Aaron Finch.
Australian batsmen flashed at everything and eventually ended up amassing the total egged on by an 88 blaze of Glenn Maxwell from 39 balls.
Both Dawlat and Shapoor Zadran picked two Aussie wickets.
In reply, Afghans lost their top-order batsmen before the end of 25th over.
Nawroz Mangal and Najibullah Zadran scored 33 and 24 runs respectively for the associated nation.
Mitchell Johnson picked up four wickets for 22 runs while Mitchell Starc and Josh Hazlewood picked two wickets each.
Dawlat Zadran and Shapoor Zadran claimed two wickets apiece. Hamid Hasan and Nawroz Mangal claimed one each, what was a punishment innings for Afghanistan most of the time.
Australia Team
DA Warner, AJ Finch, MJ Clarke*, SPD Smith, GJ Maxwell, MR Marsh, BJ Haddin†, JP Faulkner, MG Johnson, MA Starc and JR Hazlewood
Afghanistan Team
Javed Ahmadi, Usman Ghani, Nawroz Mangal, Asghar Stanikzai, Samiullah Shenwari, Mohammad Nabi (Capt), Najibullah Zadran, Afsar Zazai (wk), Dawlat Zadran, Hamid Hassan and Shapoor Zadran