How Barca cope sans Messi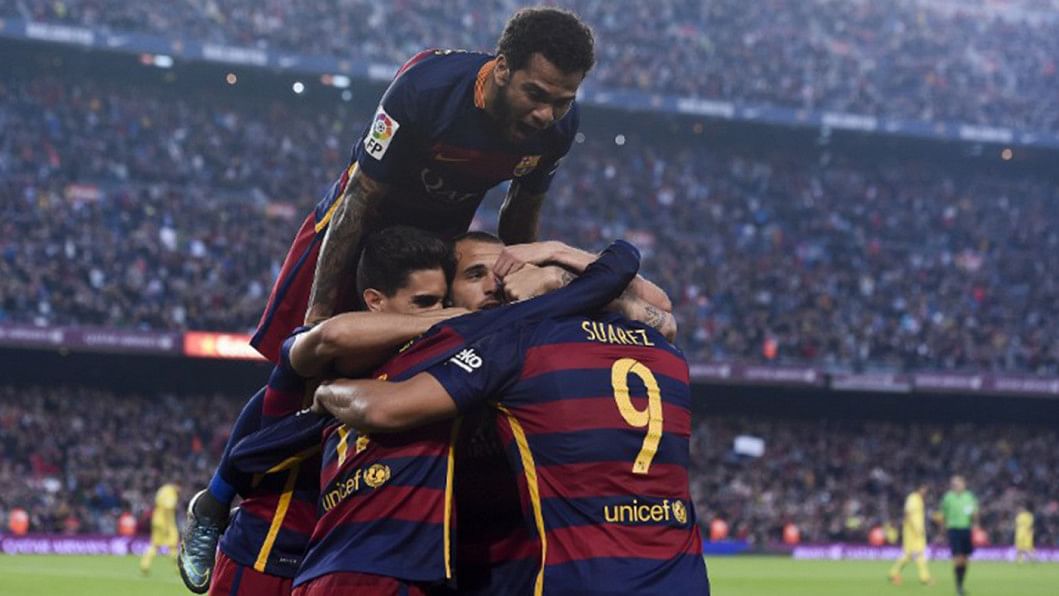 -For the past six years, El Clasico has been billed very simply as Lionel Messi versus Cristiano Ronaldo
-Lionel Messi might miss the Saturday's encounter due to injury
-Barcelona possess the league's two top goal scorers even without their wonderful Argentine No. 10
-Neymar and Suarez have scored Barcelona's last 17 league goals between them
-Suarez epitomised Liverpool's unlikely title charge in 2013-14, and leads the line for Uruguay
-Neymar was always Santos' key man and became Brazil's technical leader
-For all the emphasis on teamwork and collective harmony, Barcelona have generally based their side hugely around Messi over the past few years
For the past six years, El Clasico has been billed very simply as Lionel Messi versus Cristiano Ronaldo.
There was a brief period when relations between Pep Guardiola and Jose Mourinho became extraordinarily tense and the managers therefore became the focus, but otherwise Europe's biggest game has been about Europe's two biggest players.
This Saturday's meeting, the first of the season, probably will see Messi miss out through injury. So advantage Real, right? Not exactly.
Amazingly, Barcelona possess the league's two top goal scorers even without their wonderful Argentine No. 10. Even more significant, both Neymar and Luis Suarez have been playing the best football of their Barcelona careers.
The statistics demonstrate the spectacular form of the team's two "other" South American forwards.
Quite incredibly, Neymar and Suarez have scored Barcelona's last 17 league goals between them. It has reached the point where Messi, the man almost certain to win yet another Ballon d'Or in two months' time, has barely been missed, and while it's important to consider the work of Luis Enrique in all this, it really has been about the partnership of Neymar and Suarez.
"Partnership" is the key word. Things weren't destined to go swimmingly without Messi, for these are two extraordinarily talented footballers who'd been accustomed to playing a starring role.
Neymar was always Santos' key man and became Brazil's technical leader almost as soon as he'd made his debut; Suarez epitomised Liverpool's unlikely title charge in 2013-14, and leads the line for Uruguay, too.
Playing second fiddle doesn't come naturally to either but that was always going to be the case when joining a side that had Messi.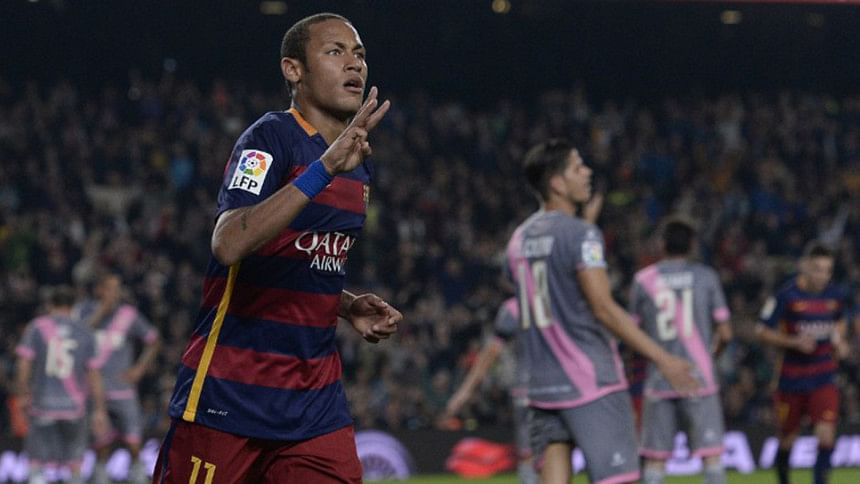 For all the emphasis on teamwork and collective harmony, Barcelona have generally based their side hugely around Messi over the past few years.
While Guardiola's early Barcelona was more of a proper team, towards the end of his reign things became too one-dimensional. In 2011-12, Guardiola's final season at Barca, Messi hit a staggering 50 league goals with the next player on the list, Alexis Sanchez, managing only 12.
That's a ludicrous drop-off but the most amazing thing is that Messi also recorded 16 assists, second-most in La Liga that season behind Mesut Ozil. This was still Messi's team.
Other Barcelona forwards have had to accept this. Some, like Pedro Rodriguez, did so without any complaint, whereas others like David Villa and Alexis Sanchez struggled with the shift in role despite often performing well.
Zlatan Ibrahimovic was frustrated that his position was changed to accommodate Messi centrally, and yet can't help marvelling at how good he was.
"Messi is awesome, f---ing unbelievable," Ibrahimovic says in his autobiography. "In the team, the play revolves around him, which is natural really." Even when complaining that he's not the star of the show, Ibrahimovic understands the reason why.
Both Neymar and Suarez have played supporting roles at Barca. Initially, Neymar played a selfless left-sided role and helped to create space for Messi in the centre. Then, Suarez arrived to play as a centre-forward, getting through lots of lateral running to help Messi (now back on the right) and Neymar cut inside.
In Messi's absence, there was a danger Suarez and Neymar would be competing to prove themselves the side's stand-in key man.
Instead, it has been the complete opposite. Neymar and Suarez have been combining more than ever, frequently interchanging positions naturally and combining in dangerous areas.
Even Barcelona's teammates have remarked on the selflessness of the combination.
"It's magnificent," Gerard Pique said in a recent interview for The Telegraph. "For example, when one is scoring a lot and the other is not scoring -- Neymar, the other day, he gave the penalty to Luis Suarez. When you see this kind of attitude, it means a lot because the only problem when you have players of this magnitude is the ego."
Maybe creating a triumvirate of genuinely world-class players has proved the answer, for footballers tend to be conscious of their teammates' qualities. For example, there was a period during the early days of Brendan Rodgers' Liverpool when Suarez was extraordinarily selfish, shooting from ludicrous angles and distances when his forward colleagues were waiting in the centre unmarked.
Then again, those teammates were an extremely young Raheem Sterling and a plainly not good enough Suso. When paired alongside players he respects and appreciates, though, Suarez seems to serve as the ultimate team player.
It's also worth highlighting the role of Barcelona's "third" attacker during Messi's absence -- Munir or Sandro have taken turns to play on the right flank. Neither are as competent as Pedro, but they share his appreciation of Barcelona's philosophy.
Both have taken up the right positions and made the correct runs to get the best from the star duo, while also encouraging Dani Alves to overlap and provide some right-sided width.
There's a sense Suarez and Neymar are currently operating outside Barcelona's conventional system, essentially given license to do their own thing because it's working so well.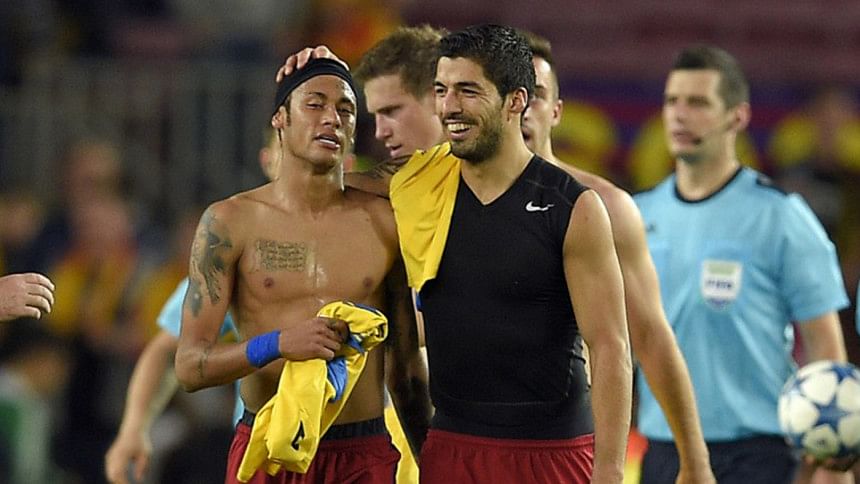 When Suarez headed in the equaliser in an eventual 3-1 win over minnows Eibar last month at the Camp Nou, for example, Neymar was a couple of yards behind him, ready to apply the finish, too.
That probably shouldn't happen in Barcelona's system, which places great emphasis upon players covering space evenly.
Working outside those rules is entirely justifiable with the goal-scoring record of these two, of course, but others have been providing enough discipline to make sure things don't become too fragmented.
It's not unusual for other Barcelona players to shine without Messi. A couple of years ago, the Argentine was out injured for a home meeting with Mallorca but Sanchez and Cesc Fabregas turned in their best performances of the campaign in his absence, the former scoring two and the latter bagging a hat trick.
When Messi returned, others reverted to supporting roles and were more subdued although the team overall was naturally better off.
The same will probably happen once Messi returns this time, and this period without Messi might have strengthened Barca overall in the long run. We knew Neymar and Suarez worked for Messi.
Now that we know Neymar and Suarez work brilliantly together as well, it has made Barcelona's all-star front three even more dangerous.
For this weekend, though, Neymar and Suarez must prove Barcelona can win El Clasico without the rivalry's all-time top scorer.