Bangladesh Open Int'l Badminton
Hosts turn spectators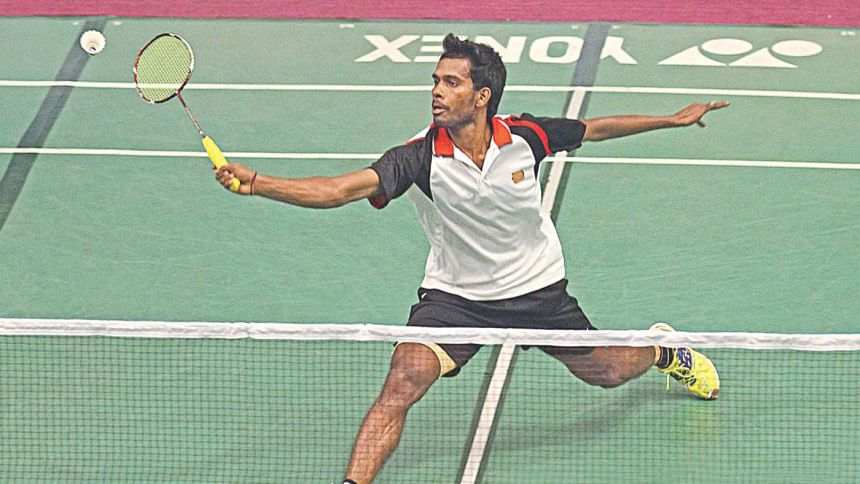 Two Bangladeshi shuttlers got walkovers against their Indian counterparts in singles rubbers yesterday while all the other Bangladeshi male participants were knocked out on the opening day of the Yonex-Sunrise Bangladesh Open International Badminton Challenge at the Shaheed Tajuddin Indoor Stadium in Paltan.
Moajjem Hossain and Abdullah Al-Masrafi got through to the second round, thanks to the walkovers, while the more established names of local circuit, including defending Bangladesh Games champions Ayman Ibne Zaman, Enamul Haque and Rais Uddin bit the dust.
Ayman, who had shot into limelight after upending Enamul Haque in the last Bangladesh Games in 2013, lost against former Indian No. 1 Chetan Anand in straight sets (10-21, 16-21).
Ayman said lack of practice was the reason behind his meek surrender.
"We have hardly had any practice since the end of the first division six months ago. Even having a coach and training for three to four months is not enough for a tournament like this. We need long-term coaches and long-term training," said the young shuttler.
"I have fared better against better Indian opponents in the past. If I were amidst training, I would have done much better," Ayman felt.
Ayman, however, felt confident about Bangladesh's chances of winning medals in the upcoming South Asian Games in India next year.
Anand, the man who knocked Ayman out in the first round, felt players like Ayman have talent, but they need to be patronised to do well at the international circuit.
"He is good, but he still needs to work a lot on his game. He needs to play in foreign tournaments and he needs to attack a lot instead of just rallying because nowadays the game has changed," said India's former No.1 shuttler, who has started an academy for grooming young shuttlers in Hyderabad recently since reducing his participation at international events.
"The scenario for badminton in India is changing fast. Thanks to the success of Saina (Nehwal) and a few others, badminton gets more media coverage as well as state and corporate patronisation these days. Now more and more shuttlers get the opportunity to play in events abroad," added Anand.
A total of 19 first-round rubber in men's singles took place on the opening day of the tournament. Among the other Bangladeshis, Enamul lost against Malaysia's Satheishtharan (4-21, 16-21) and Rais lost against Sourabh Varma of India (9-21, 17-21).
The first round of women's singles will take place today.