'Home ground' helps Simmons feel wide awake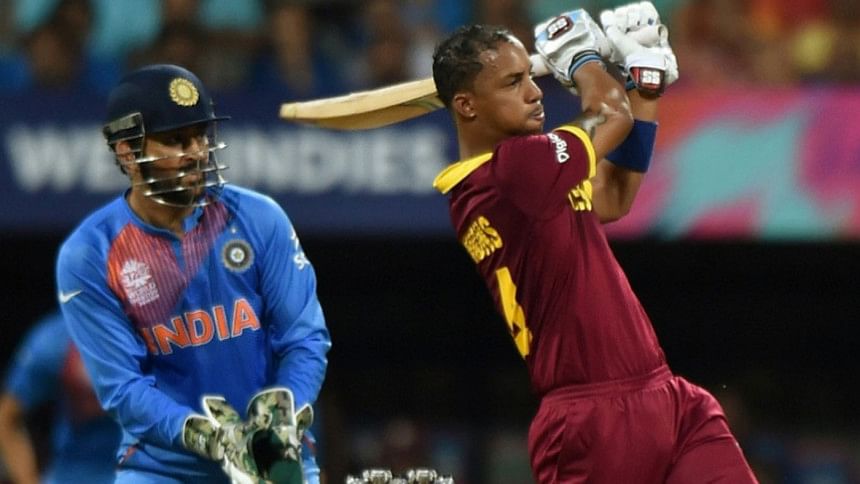 It's an amazing life Lendl Simmons leads. One day he is lounging at his home in the Caribbean, watching the World T20 from afar. Then last Sunday Clive Lloyd, West Indies' chairman of selectors, calls him immediately after Andre Fletcher has done a hamstring while West Indies slip against Afghanistan. Lloyd is simple and direct with Simmons: are you fit and confident to walk into the World T20 campaign as a replacement for Fletcher? Walk into the most important match West Indies have played so far in the tournament?
Simmons gets his feet off the sofa in his home in Trinidad and tells Lloyd he is in. He lands in Mumbai on Tuesday to join the West Indies squad. He has taken two flights, flown across the continents and straightaway hit training. He must be weary, no?
Little wonder then that the first questions Simmons is asked immediately after his match-winning performance deals with whether has he had enough sleep. Simmons smiles and assures every one that he had enough rest.
"I was very rested for this game," Simmons said before happily breaking down his sleep timetable in the short time he has been in India. "I slept on both flights. I came here and I slept the night. In the morning I had practice. After that I slept from 3-10pm. Slept again from 12pm-4pm. So I was very rested."
According to Simmons one big advantage he had was the familiarity with the venue, which is the home ground of Mumbai Indians, the franchise he plays for in the IPL. "I was coming here. I was to leave on Friday to come to Mumbai to get ready for the IPL. I saw it as an opportunity to come and get ready for the IPL as well. Seeing this is my home ground as well I know the conditions, think I read it well."
With his IPL experience and having watched Virat Kohli and MS Dhoni earlier in the evening, Simmons said he already knew what his plan was. "When I went out to bat I had a clear mind of what I wanted to do because we had a target to chase. But before the game I was a bit nervous. I was under a bit of pressure as the guys said I came here for a job. But in all it was good. We had a target to chase. And we got there."
Asked exactly at what point he felt West Indies had wrested control from India, Simmons's surprising response was never. "At no point I thought that we had it under control because as when a wicket falls you never know," Simmons said.
But what made the chase easier for West Indies, Simmons revealed, was India's "suspect" bowling. According to Simmons, in the absence of spin from the pitch and the reluctance of Dhoni to give the ball to his premier spinner R Ashwin, West Indies found it easier to find a way out despite the early loss of Chris Gayle and Marlon Samuels. "The bowling was suspect. They had Nehra and Bumrah, two fast bowlers, but not express pace," he said.
Right from the first day in India, West Indies have spoken about how each of the 15 players is a match-winner in the squad. How each one needs to take the responsibility to take over the responsibility if the other fails. So when Gayle was bowled by Jasprit Bumrah and Samuels erred in his shot selection, West Indies did not panic even as the Indian fans danced merrily imagining their team contesting for the crown against England at Eden Gardens on Sunday evening.
"India will certainly be aware that is not a one-man show in this team because Chris Gayle did not get off tonight but we still managed to get over the line and it was a big total. Seeing that he did not perform and we were still able to put up a fight and win the game with balls to spare shows a lot of character from our players."
Simmons did have the customary word of caution going into the final that they could not be overconfident against England. But he was not shy declaring that there was more than one man in the dressing room who could stand up if the others failed. "Every one of our players is a match-winner in our team: Sammy to bat, Bravo to bat, Russell came in, he played his part, Ramdin still to bat. We have a lot of batting power and any total anyone makes we can chase it. We always back ourselves to chase totals."
Simmons' voice is soft. At times you have to strain to hear him. In comparison to the other powerful batsmen in the team, Simmons is short, lanky, less muscular. But with bat in hand Simmons loses that softness. He can pack a punch and demolish bowling attacks without blasting the ball hard. On Thursday evening he quietly silenced the Wankhede faithful to their utter shock and despair. They had had come to watch Kohli. They had come to watch Dhoni. They had come to watch Gayle. They went back having watched a gem from Lendl Simmons.