Siddikur opens up six-stroke lead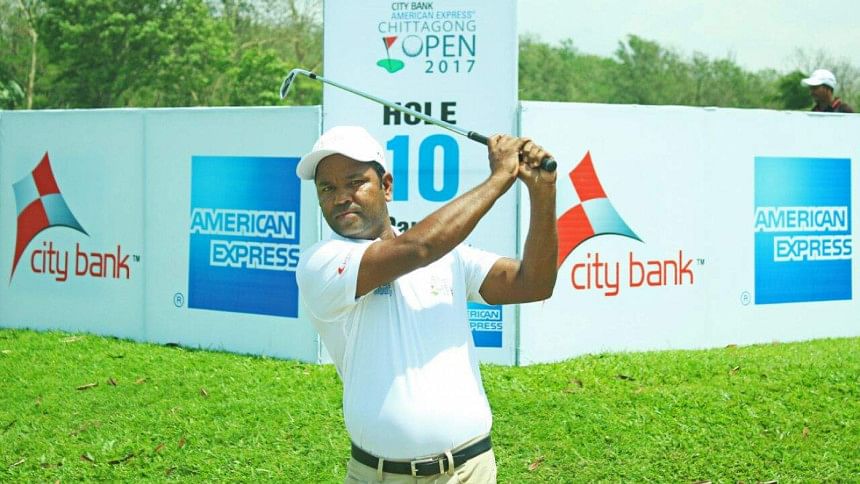 Bangladesh's Siddikur Rahman raced into a six-stroke lead after the second day of the City Bank American Express Chittagong Open yesterday. The two-time Asian tour winner began the day one stroke off first place, but he carded a blistering six-under-par (66) to open up the considerable lead with a nine-under-par (135) at the Bhatiary Golf and Country Club.
The Indian quartet of Shamim Khan (72), Sanjeev Kumar (71), Khalin Joshi (70) and Harendra Gupta (72) were tied for second alongside Sri Lankan Anura Rohana (72) with scores of three-under-par.
The leaders of round one, Samarth Dwivedi and Honey Baisoya of India, both slipped to eighth after carding three-over-par (75).
Starting the day tied for third place, Siddikur returned three straight birdies from the fifth hole onwards, before carding three more on the 10th, 11th, and 13th. A bogey on the 15th was the only blemish, but Siddikur restored the six-stroke lead with another birdie on the 18th and final hole.
"I'm really enjoying playing here in Chittagong. The Bhatiary Golf & Country Club has a challenging layout and is one of my favourite courses. The City Bank American Express Bangladesh Open will go a long way in further popularizing golf in the country," Siddikur said.
"I had a decent start in round one, but really got my game going today. I struck it well and also took my chances on the green. I have a healthy lead at the moment but won't take anything for granted as there is a lot of golf still to be played. I would love to do well here in front of my home crowd this week," added the five-time champion in the Indian circuit.
Md Jakiruzzaman Jakir (70) was the next-best Bangladeshi golfer, finishing at seventh with a two-under-par (142).
Bangadeshi amateur Md Nobi Hossain had the highlight of the day as he hit a hole-in-one on the 17th hole. However, he missed the cut with a 19-over-par (163).