Bashundhara Bangladesh Open
Siddikur leads local hopes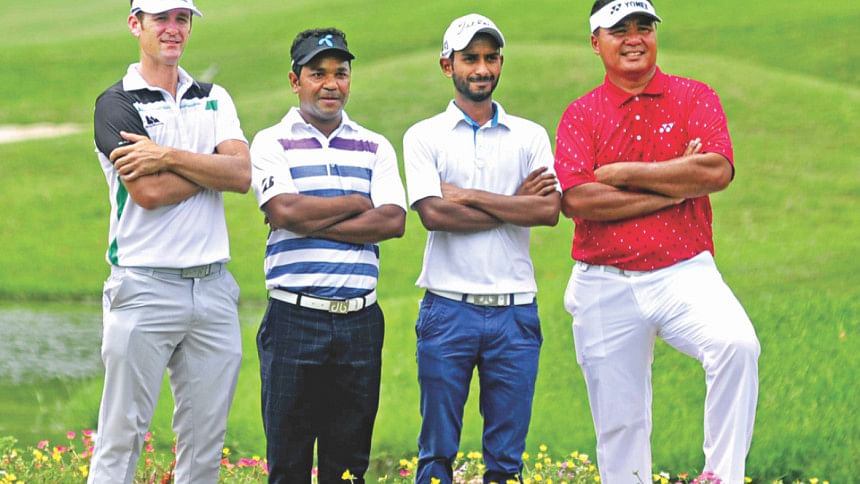 Ace golfer Siddikur Rahman is hoping to get back to winning ways in his home course of Kurmitola Golf Club (KGC) as the Asian Tour (AT) makes its debut in Bangladesh through the Bashundhara Bangladesh Open, starting tomorrow.
The two-time AT winner, who missed four cuts in five events this season, is confident of playing according to the demands of this particular course to win his first AT event in almost two years.
"While local players get an advantage due to their familiarity with the course, success also depends on experience and confidence. I am confident that if I can play according to the demand of this course, which I know very well as it is my home course, I can win it," said the 30-year-old golfer during an official press conference ahead of the 300,000-dollar event.
Siddikur has had a torrid time in the second half of last season and so far this season, struggling with a nagging back-strain, which ruled him out of quite a few events, and a slight wrist injury of late. But the ace golfer believes he has recovered completely and is mentally and physically fit to take the challenge.
"Even though I didn't have any practice before yesterday (Sunday), I feel I am physically fit to play for a week. The good thing about playing in your home course is you forget every problem you had in the past," said Siddikur, hoping that his fellow KGC golfers like Jamal Hossain Mollah, Shakhawat Hossain Sohel, Mohammad Sayum, Jakiruzzaman will have a good chance due to their familiarity with the course.
Four-time AT winner Mardan Mamat of Singapore is also of the opinion that it will be difficult to take away the title from the locals golfers, who will have 31-strong representation.
"The local players have an advantage here. They know the course well and that will help them do well this week," said the 48-year-old veteran, who is riding a rich vein of form following a third place finish in Mauritius two weeks ago.
Despite the fact that weather can be extremely oppressive in this time of the year, most of the Asian golfers will not feel too out of place due to the similarity of their weather conditions. USA's Berry Henson, for one, feels the weather is quite comfortable.
"I live in Thailand so I'm used to the heat. This weather is perfect. If it stays like this all week, it will be easier for me," said the American, who boasts only one AT title he won in Philippines four years ago.
Thailand will have the biggest representation, after hosts Bangladesh, with 30 golfers including record 18-time winner Thaworn Wiratchant. The next best represented country in India with 26 golfers taking part.
Wiratchant, Siddikur and India's Digvijay Singh will tee off from the 10th hole at 7:30pm tomorrow, 10 minutes after Mamat, Rashid Khan and Chawalit Plaphol tee off from the same hole. The first tee-off of the opening round will begin at 6:30pm.
But before the big event starts, there will be a Pro-Am event involving 27 professionals and 73 amateurs at the KGC today.