Bashundhara Bangladesh Open 2015
Siddikur & co fall behind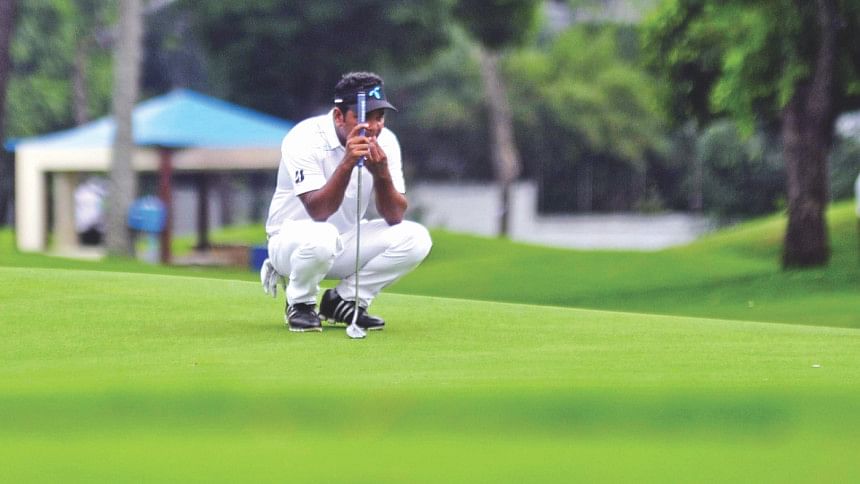 As Siddikur Rahman shaped up to swing for the approach shot on par-three 16th hole on the back nine of the Kurmitola Golf Club, a sudden noise from about thirty metres away forced him to retrieve from his swing. The two-time Asian Tour winner gave an angry look towards a pack of people from where the noise originated and then went back to his mark. Siddikur eventually missed a six-foot putter on that hole, earning his first bogey of the day after having started with back-to-back birdies. The day didn't get any better for the ace Bangladesh golfer as he traded four more bogeys for three birdies to end the first round of the Bashundhara Bangladesh Open (BBO) at one-over (72) to occupy joint 33rd position.
"The start was good but unfortunately I couldn't keep it up later. To be honest I felt a bit pressure as we are playing before the home crowd. And the rain interruptions didn't help either. But there are three days still left and I am confident that I can play my best golf in the remaining rounds," said Siddikur who felt his short game, which used to be his strength, has been letting him down off late.
Distractions from surroundings happen in all golf courses, including the most professionally-managed ones too. So whether that slight lapse in concentration or the rain-interruptions broke Siddikur's rhythm cannot be said with certainty. Or was it just a case of a lack of confidence due to a lengthy lean period is left to be answered. But one thing that is certain is that the first day of the first-ever Asian Tour event hosted in Bangladesh did not belong to the locals. Among the 26 professional and six amateur golfers from Bangladesh, Siddikur was second-best placed, along with recently-turned pro Sajib Ali and amateur Dil Mohammed, with only Dulal Hossain above them on one-under. Dulal, however, finished only 12 holes in the day, as rain interrupted twice to cut short the day's proceedings. Jamal Hossain Mollah, Nur Jamal, Badal Hossain and Mohammad Sayum were all placed at two-over (73) while the other Bangladeshis lagged behind.
The day belonged to Mardan Mamat of Singapore and Casey O' Toole of USA, who took joint lead at five-under (66). The Singaporean veteran, who has been in scintillating form lately, traded seven birdies for a single bogey to share the clubhouse lead with the American. 
"It was a long day so I'm very happy with the result. This golf course suits my game a lot. It isn't a power golf course but more a thinking course. You have to keep the ball in play and hit it straight, said the four-time Asian Tour winner.
One shot adrift off Mamat and O' Toole were Amardip Malik of India, Carlos Pigem of Spain and Rattanon Wannasrichan of Thailand, with the latter having completed 15 holes thus far.
The first round of the BBO was suspended at 6.50pm due to fading light. A total of 30 players will return today at 6.25am to complete their rounds.
SELECTED SCORES
1     Mardan Mamat (SIN)                   -5 (66)
1     Casey O'Toole (USA)                   -5 (66)
3     Amardip Malik (IND)                   -4 (67)
3     Carlos Pigem (ESP)                      -4 (67)
3     Rattanon Wannasrichan (THA)     -4  15*
20     Dulal Hossain (BAN) Par                 12*
33     Siddikur Rahman (BAN)             +1 (72)
33     Dil Mohammad (A) (BAN)           +1 (72)
33     Sajib ALI (BAN)                           +1 (72)
49     Nur Jamal (BAN)                          +2  (73)