Sandhu eyes BTI Open title
Rs 40-lac PGTI event gets underway at Kurmitola today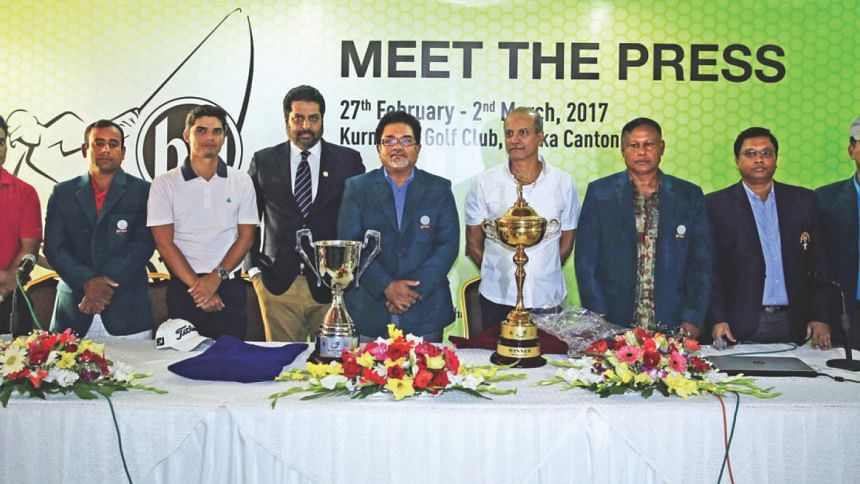 Ajeetesh Sandhu of India will try to continue his winning run and consolidate his position at the top of the Order of Merit of the Professional Golf Tour of India as the BTI Open 2017 gets underway today at the Kurmitola Golf Club.
The 28-year-old golfer from Chandigarh finished third in Noida earlier this month before winning the Golconda Masters in Hyderabad last week, and he is looking forward to the title of the BTI Open, which has a 40-lac rupee prize purse on offer.
"I believe you start every tournament with the target of winning. So my target will be the same this week," Sandhu said during a pre-tournament press conference in Kurmitola yesterday. "The course is in beautiful condition and its challenging. It was quite windy today. It will be challenging and let's see what happens at the end of the week."
The rising star of Indian golf, who has already earned a card to play the Asian Tour this season, will be challenged by some of the best golfers of the sub-continent. The 54-man Indian contingent will feature stars like Rahid Khan, Udayan Mane, Kahlin Joshi and Shamim Khan. Sri Lanka will be represented by Mithun Perera while the 59-man local professional contingent will feature the likes of Shakhawat Hossain Sohel, Jamal Hossain Mollah, Sajib Ali and Dulal Hossain. There will be six local amateur golfers from Bangladesh taking part too.
Even though last year's champion Siddikur Rahman will not be defending his title due to his busy schedule in other Asian circuits, Sohel feels the local field is good enough to keep the trophy at home. "I missed the cut in the Bashundhara Bangladesh Open because my swing was on and off. I played too many bogeys alongside birdies which is not expected from a pro," Sohel said. "However, this is my home course and I have had a good preparation. So it won't be surprising if I win the title."
Arshi Haider, chairman of BTI Holdings Ltd and ex-president of Bangladesh Professional Golf Association (BPGA) said, "We are delighted to once again be the sponsor of this international golfing event. We warmly welcome the players and officials of PGTI to Bangladesh. Last year the title challenge went down to the wire and eventually local hero Siddikur Rahman won the title. Even though he's not playing this year, we hope the tournament will be as exciting."
Uttam Singh Mundy, director of PGTI and Asif Ibrahim, president of BPGA hoped that the collaboration between the two golf bodies will strengthen further in coming years. Brigadier General Kamrul Islam, general secretary of BPGA, gave an elaborate presentation detailing out the activities of the organisation and its future plans.