Golf legend Arnold Palmer dies at 87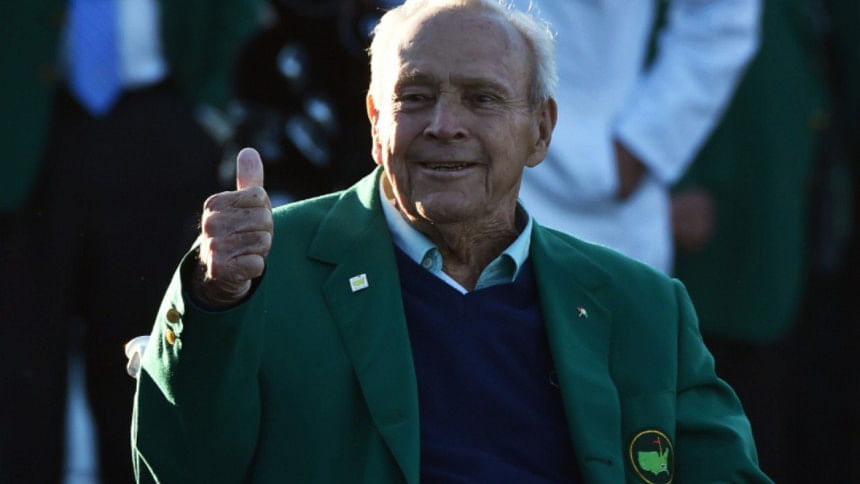 Arnold Palmer, the golf great whose charisma and common touch drew a legion of fans known as "Arnie's Army" and propelled the game into the mainstream, died Sunday at the age of 87.
Palmer's longtime assistant Doc Griffin confirmed the player known as "The King" had died at University of Pittsburgh Medical Center Presbyterian Hospital.
No cause of death was immediately given, although the Pittsburgh Post-Gazette reported he had undergone cardiac tests.
"We just lost one of the incredible people in the game of golf and in all of sports," 18-time major champion Jack Nicklaus said.
"He has always been a fighter and he never gave up on anything. He didn't give up even now. Maybe his body did, but I know Arnold's will and spirit did not."
Palmer captured seven major tournaments during his illustrious career, taking The Masters four times (in 1958, 1960, 1962 and 1964), the British Open twice (in 1961 and 1962) and the US Open once (in 1960).
His go-for-broke style, raw athleticism and unorthodox swing enthralled fans, and he became one of golf's first television superstars, helping make the sport accessible to a much wider audience.
His rise -- along with that of Nicklaus and Gary Player -- set the stage for the sport's huge broadcast rights fees and prize money riches, which were later enhanced by the success of Tiger Woods.
"Thanks Arnold for your friendship, counsel and a lot of laughs," Woods said on Twitter. "It's hard to imagine golf without you or anyone more important to the game than the King."
Palmer looked frail when he joined fellow icons Player and Nicklaus for the ceremonial first tee shot at the Masters in April.
For the first time in 10 years, he didn't swing a club, instead sitting in a chair to watch the spectacle.
'Made golf sexy'
Although Palmer's presence around the game had become less regular in recent years, today's young stars were aware of the iconic player's impact.
"Let's be honest, it's kind of a nerdy sport," Australia's Jason Day said this year. "Arnold Palmer made golf sexy."
Palmer, born September 10, 1929, was the son of the club professional and greens superintendent at Latrobe Country Club. Palmer started caddying at 11 and went on to work almost every job at the club.
Fans identified with his blue-collar background, and he never forgot his roots even as he piloted his own jet to charity functions and business meetings and became a friend of presidents and corporate big-wigs.
"Palmer went to bed at night with charisma. And the next morning he woke up with more," legendary Sam Snead once said.
Palmer attended Wake Forest University on a golf scholarship. At age 24, he won the 1954 US Amateur at the Country Club of Detroit.
Extraordinary, generous
Later that year, Palmer turned pro. In a career that spanned more than six decades, he won 62 PGA Tour titles, putting him at fifth on the Tour's all-time victory rankings.
He led the PGA Tour money list four times, and was the first player to win more than $100,000 in a season.
He played on six Ryder Cup teams and was the winning captain twice, and launched a business empire with the help of Mark McCormack, founder of pioneering sports marketing company International Management Group.
In 1974, Palmer was one of the original inductees into the World Golf Hall of Fame.
Identified most strongly with the Masters, Palmer's British Open victories are credited with reviving US interest in the championship.
He never managed to complete the career Grand Slam, finishing second three times in the PGA Championship -- in 1964, 1968 and 1970.
It didn't matter to fans who treasured his humility or his rivals who knew he redefined their sport.
"Arnold transcended the game of golf," Nicklaus said. "He took the game from one level to a higher level, virtually by himself."
Former president George W. Bush, who awarded Palmer the Presidential Medal of Freedom in 2004, said that to golf lovers, "there has never been a sight quite like Arnold Palmer walking down the fairway toward the 18th green."
In 2012, Palmer was awarded the Congressional Gold Medal, landing him both of the highest honors the United States can give to a civilian.
"Here's to The King who was as extraordinary on the links as he was generous to others," US President Barack Obama tweeted, along with a picture of Palmer giving him a golf lesson in the Oval Office. "Thanks for the memories, Arnold."