Will Messi break Chelsea duck?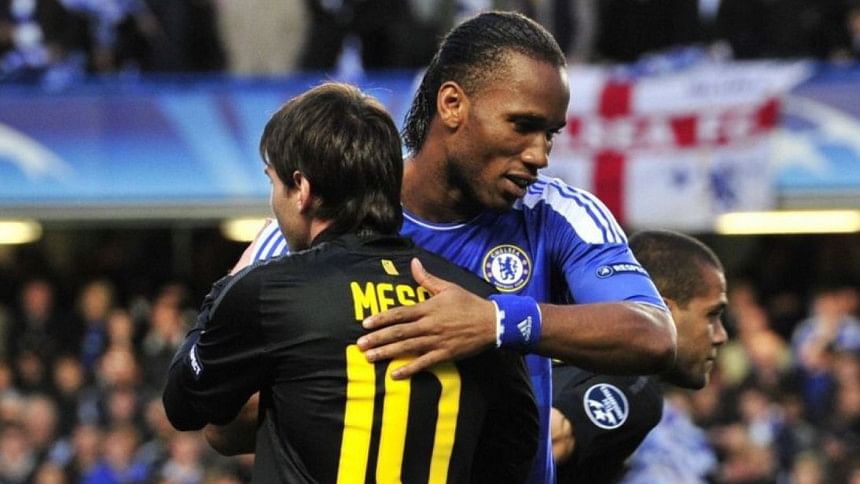 Lionel Messi has never managed to score against Chelsea in his brilliant career and he will be looking to break this streak as Barcelona face Chelsea in the last 16 of the Champions League this season.
The Argentine equalled the great Gerd Muller's record of scoring the most goals for a single club in Europe's top five leagues  after his goal against Villarreal in La Liga.
The Argentine has already scored 17 goals this season for Barcelona and will be the biggest of threats for Antonio Conte's Chelsea side.
With Barcelona and Messi set to renew old rivalries, perhaps it is an apt time to recall  what Didier Drogba said in his autobiography about the 2012 Champions League encounter against the little Argentine.
"Robbie Di Matteo did what he always did and put up a list of the opposing team's top scorers. Usually, the list would read something along the lines of Rooney - 22 goals; Van Persie - 15 and so on.
"When the Barcelona list went up, sure enough, in third place was Xavi on 14, in equal second place were Alexis Sanchez and Cesc Fabregas on 15, but we all just laughed when the top scorer came up on the screen - Lionel Messi on ... 63 goals, 14 in the Champions League alone!," Drogba wrote in his autobiography.
The Ivory Coast forward recalled that he could not quite believe the figures that were put up by his coach.
"But 63 that season? It was such a ridiculous figure that we looked at each other in disbelief and laughed - what else could we do? I even took a picture of the number because it was so outrageous."
Fortunately for Drogba, Messi missed a crucial penalty at the Camp Nou which resulted in a 2-2 draw and a 3-2 aggregate win for Chelsea in 2012 as they went on to lift the trophy.
In eight matches against the blues, Messi did not manage to find the net even once. However, the magnificent Argentine did help Barca overhaul Chelsea in the knockout rounds on two occasions -- in 2005/06 when Barca won by a 3-2 aggregate in the round of 16 and in 2008/09 season when Messi assisted Andres Iniesta's 93rd  minute strike.
Will Messi be able to break his Chlesea duck this time around?
Messi's games against Chelsea:
Semifinal - first leg         18/04/12    Chelsea - Barça    1:0 (90') vs Cech
Semifinal - second leg    24/04/12    Barça - Chelsea    2:2 (90') vs Cech
Semifinal - first leg         28/04/09    Barça - Chelsea    0:0 (90') vs Cech
Semifinal - second leg    06/05/09    Chelsea   Barça    1:1 (90') vs Cech   
Group A   18/10/06    Chelsea   Barça    1:0 (90') vs Hilario
Group A    31/10/06    Barça - Chelsea    2:2 (90') vs Hilario
Last 16 - first leg         22/02/06    Chelsea - Barça    1:2 (90') vs Cech
Last 16 - second leg    07/03/06    Barça - Chelsea    1:1 (25') vs Cech