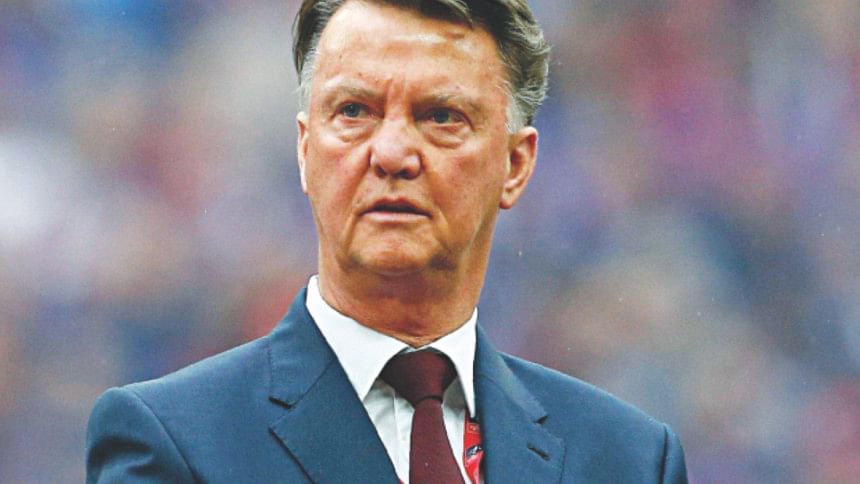 Louis Van Gaal's time as manager of Manchester United appeared to be nearing its end on Monday, amid reports that agreement on a severance package was all that stood in the way of his exit from Old Trafford.
Both Van Gaal and leading employment lawyer Paul Gilroy were seen entering United's Carrington training ground on Monday following reports that former Chelsea manager Jose Mourinho was poised to replace the Dutchman.
Gilroy's clients have included David Moyes, whose sacking as United manager paved the way for Van Gaal's appointment.
There has yet been no official confirmation from United, 20-times English champions, about the position of Van Gaal, who still has a season remaining on his three-year contract.
But James Ducker, the northern football correspondent of Britain's Daily Telegraph newspaper, tweeted Monday: "Paul Gilroy QC finalising Van Gaal's severance package now...£5m pay off."
The BBC said that United would make a statement about Van Gaal at 1:00pm local time (1200 GMT) but an hour later there was still no word from the English football giants.
British media have been awash with reports of Van Gaal's demise, after a leak from an unknown source spread as Manchester United lifted the FA Cup on Saturday.
The Dutchman cryptically commented, "It's over" as he left the squad's Cup final hotel on Sunday, but it was not clear whether he was referring to his tenure or United's season.
The BBC said Van Gaal had not been informed whether he was staying for next season, although it said Saturday's 2-1 win over Palace at Wembley was believed to have been his last game in charge of United.
Van Gaal himself was defiant after Saturday's Cup final.
"I show you the cup and I don't discuss it with my friends of the media, who already sacked me for six months," the 64-year-old said.
"Which manager can do that, what I have done?"
Despite winning their first trophy since the great Alex Ferguson's retirement in 2013, Van Gaal's United didn't challenge for the Premier League title and failed to qualify for the Champions League.
Fans were also unhappy with the brand of football their team played under Van Gaal.
United scored just 49 league goals this season, their lowest return for 26 years and many supporters felt Van Gaal's approach ran counter to the club's traditional attacking style.
Mourinho, once Van Gaal's assistant at Barcelona, saw his second spell as Chelsea manager end with the sack in December, after last season's champions made a miserable start to the their Premier League title defence.
United captain Wayne Rooney accepted this term's performance had not been good enough by the standards expected at Old Trafford.
"He has been under pressure," Rooney said of Van Gaal. "I think we all have.
"That's part of playing for Manchester United and managing Manchester United -- it is a massive club."