Thai fans mob Foxes
Thai fans mobbed newly crowned English Premier League champions Leicester City Wednesday as they began a global publicity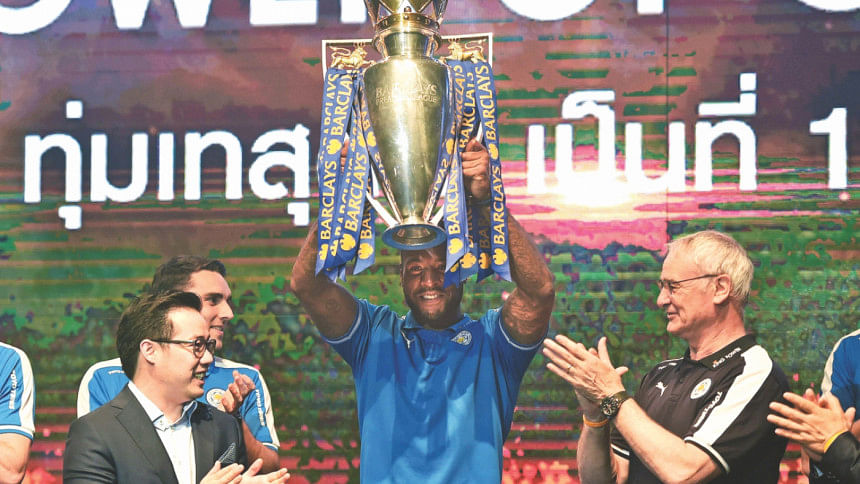 Thai fans mobbed newly crowned English Premier League champions Leicester City Wednesday as they began a global publicity blitz after their fairytale title triumph.
They also hoped to banish the memory of a sex tape scandal that marred a visit a year ago to the homeland of their billionaire owner.
Scores of Thai fans -- dubbed the "Siamese Foxes" -- and a frenzied local media pack swarmed the champions at Bangkok's main airport on Wednesday morning, greeting them with requests for selfies and chants of "Leicester City, Leicester City!"
Manager Claudio Ranieri, captain Wes Morgan and goalkeeper Kasper Schmeichel led the team, beaming as they made a choreographed Thai bow -- or "wai" -- with garlands of jasmine around their necks.
But star players Riyad Mahrez, Jamie Vardy and Danny Drinkwater were not among the Wednesday morning arrivals, with the two English players called up this week for international duty.
Football-mad Thailand has fallen for Leicester after the astonishing success story of a club with deep links to the kingdom.
The Foxes are owned by well-connected but publicity-shy Thai billionaire Vichai Srivaddhanaprabha.
His duty-free King Power brand is emblazoned across the shirts of the team, whose home ground in the English Midlands is named the King Power Stadium.
Speaking at a press conference later Vichai's son, Aiyawatt -- or 'Top' -- vowed to spend on "amazing" new summer signings.
But "we're not going to spend crazy money and ruin everything we have created," said Top, who is the club's vice-chairman.
His family's shrewd investment in players and club facilities has already brought a massive return on their $57 million initial outlay.
Now they can look forward to global visibility for a duty-free brand little-known outside of Thailand.
Most Thais knew little about the one-time minnows before Vichai bought the club in 2010.
But Thais are readily changing -- or at least doubling-up -- their allegiances from perennial English favourites Manchester United and Liverpool.
"Now I'm half Liverpool, half Leicester," Max Akkhapracha, a 20-year-old student dressed in Foxes' kit, told AFP.
"It was a very exciting season, winning the premier league was just amazing."
Ahead of the tour, Top warned his players to be on their best behaviour in a kingdom whose wild nightlife belies a deep-seated social conservatism.
A tour last summer ended in a public relations disaster for the King Power family.