TC Sports, Manang to battle for spot in final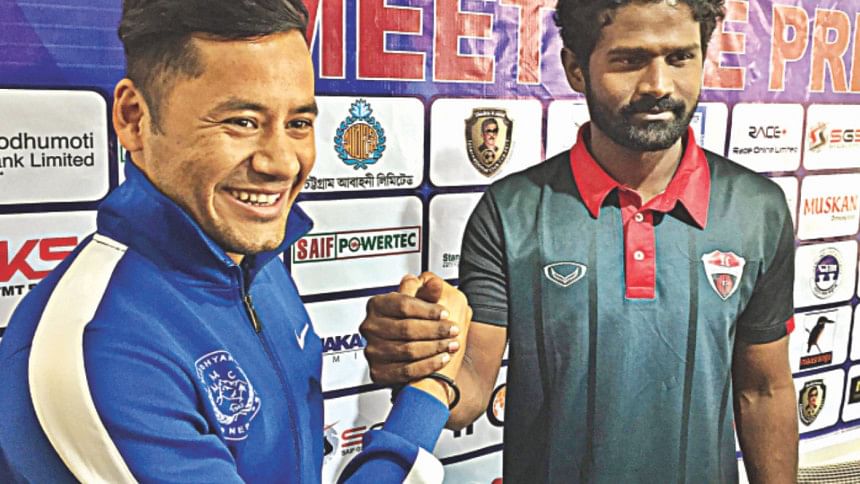 TC Sports Club and Manang Marshyangdi Club are looking forward to battling it out for a spot in the final of the Sheikh Kamal International Club Cup as the two foreign outfits lock horns in the first semifinal at the MA Aziz Stadium today.
The match will get underway at 6:30pm with private satellite channel, Maasranga TV, telecasting live from the venue.
TC Sports Club of Maldives have been tipped as favourites against their Nepalese opposition in today's encounter after their impressive performances in the group stage, where they played three matches and notched two successive wins before playing out a 1-1 draw against Pocheon Citizen FC. On the other hand, Manang Marshyangdi Club were a bit lucky in securing the last-four place, going through after Mohammeden's win over Shaheen Asmayee FC which saw Manang's head-to-head record make the difference.
"I know it won't be an easy game for us but we are prepared to show the same consistency that we displayed in the last three matches," said TC Sports Club coach Mohammad Nizam at the pre-match press conference yesterday.
"Our target is simple: to win the match. They [Manang] are definitely a strong side and should not be underestimated," added the 42-year-old coach.
Although TC Sports' squad is comparatively youthful -- they have 12 teenage players -- Nizam is happy with the way his charges implemented the game plan in the three group-stage matches.
"Since the confirmation of our participation, I have been providing information to the players and I am lucky to have some experienced players along with younger players and they are all up for the semifinal, so I don't need to make them understand what challenge lies ahead of them. I am really happy that the boys are ready for the semifinal," said the former Maldivian footballer.
TC Sports have scored four goals in three games and conceded only once, which is clear evidence of their rock-solid defense as well as their lethal finishing.
"I will rely on each and every part of our squad. If you talk about the players, I have trust and confidence on each and every player," hoped Nizam.
On the other hand, Manang coach Chhiring Lopsang Gurung believes that the match between the subcontinent outfits will be a tough one and the spectators will get their money's worth.
Although Chhiring seemed less confident than his counterpart, he was optimistic of giving the Islanders a run for their money.
"A coach hopes to win every match. I think we will give them good fight because both teams are favourites to win the match," said Chhiring, who has eight national players in his side compared to TC Sports' three.
As the Maldivians are more of a physical presence than the Nepalese side, Chhiring may consider capitalising on the break through their striking pair of Olasemi Samson and Afeez Olawale Oladipo, while Rohit Chand is the key player who will play in those long balls to the foreign strikers.
"We are not equal physically with the Maldivian club and everything depends on how the tactics work. So we will do our best to capitalise on the opportunities. We have watched them and are mulling what strategy to play to destroy the Maldivian side's plan," revealed Chhiring.