TC Sports Club in final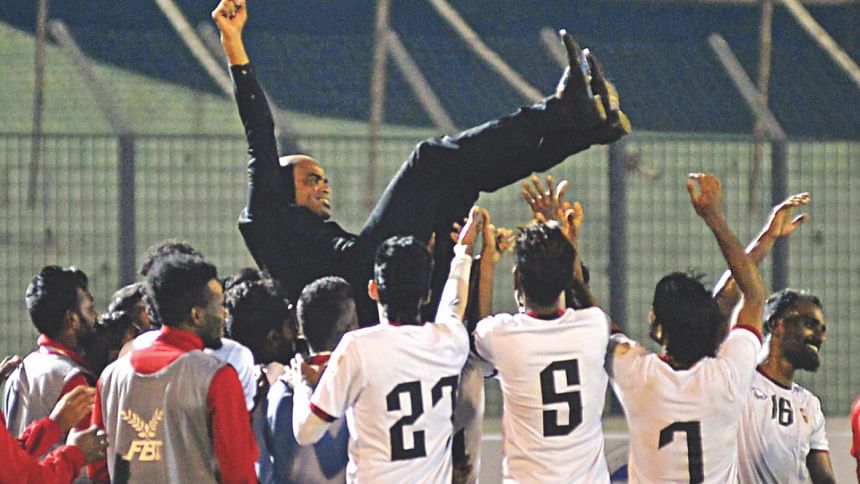 A fortunate strike from Nafiu Ali took TC Sports Club to the final of the Sheikh Kamal International Club Cup tournament in their maiden international appearance when the Maldivian club handed a single goal defeat to Nepal's Manang Marshyangdi Club at MA Aziz Stadium yesterday.
TC Sports Club, the runners-up of Maldivian Premier Football League, will play the final on March 3 against the winners of today's second semifinal between Chittagong Abahani and Pocheon Citizen FC.
The South Asian outfits presented an entertaining game, fighting neck to neck and creating a few scoring chances before TC Sports Club, thanks to a mistake by Nepalese goalkeeper Dinesh Thapa, rode on their luck to victory.
The way the match progressed it was tough to predict the outcome, with both sides creating chances while squandering them at the same time and so it would be no surprise if Manang Marshyangdi had progressed instead. The performances of the two South Asian outfits actually reflect the improvement of Maldives and Nepal football in the sub- continent.
During the first half, TC Sports Club came close twice but forwards Olgabemino Olasemi Samson and Nafiu Ali wasted both opportunities while Manang Marshyangdi also produced two good scoring opportunities but failed to cash in on those chances as well.
After resumption, both teams kept up their tempo, playing attacking football. At one point, Manang was denied by Nepalese goalkeeper Nimbu Kumar Kiran who stood tall under the post. Later, Kiran brilliantly saved a close-range header from Rohit Chand while Nigerian striker Oladipo drove wide, much to the relief of Kiran.
TC Sports Club got better as match progressed as they started to control the pitch with better movement. Winger Azzam Mohammed found the breakthrough when he whipped in a cross from the right for Nafiu Ali with hesitating Manang goalkeeper Dinesh Thapa trying to fist it away but all for nought as the ball embraced the back of the net after bouncing off Nafiu's chest in the 83rd minute.
Manang Marshyangdi Club had a great opportunity to level the margin during stoppage time but Oladipo drove wide on the edge of the six-yard box, foiling any chance to take the game to extra time. 
TC SPORTS CLUB 1 - 0 MANANG

NAFIU ALI 83'