UEFA Euro 2016
'Sports terrorists' bring new chaos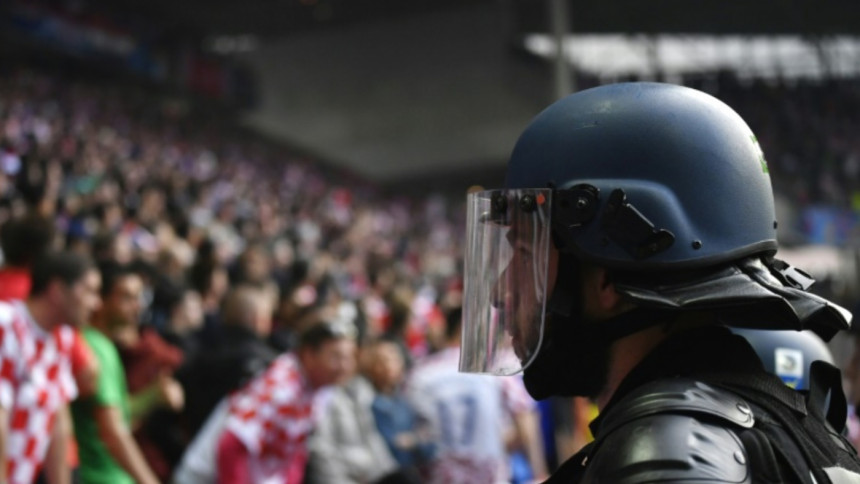 Croatian fans who hurled flares on the pitch to halt their country's Euro 2016 match against Czech Republic were branded "sports terrorists" as the showcase tournament suffered new troubles.
UEFA said an investigation would be opened and even the country's President Kolinda Grabar-Kitarovic slammed the violent fans as "enemies of Croatia."
Less than a week after Russian fans tried to attack England rivals inside the Marseille stadium, the European Championship finals suffered a double blow.
After the incidents flares and terrace fighting at the Croatia-Czech Republic game, Turkish fans lit flares and threw firecrackers on the pitch at Nice after their side lost to Spain.
Meanwhile, the Russian government maintained its offensive over the treatment of its fans in France.
President Vladimir Putin said "I truly don't understand how 200 of our fans could beat up several thousand English." But 20 Russians detained near Marseille were to be expelled on Saturday.
UEFA threatened Russia with expulsion from the tournament if their fans caused more stadium trouble at the tournament. Europe's governing body will now be under pressure to take a tough line on Croatia, which was a repeat offender during Euro qualifying.
At least 10 flares thrown from among Croatian supporters in the Saint Etienne stadium landed on the pitch in the 86th minute. One steward appeared to be hit.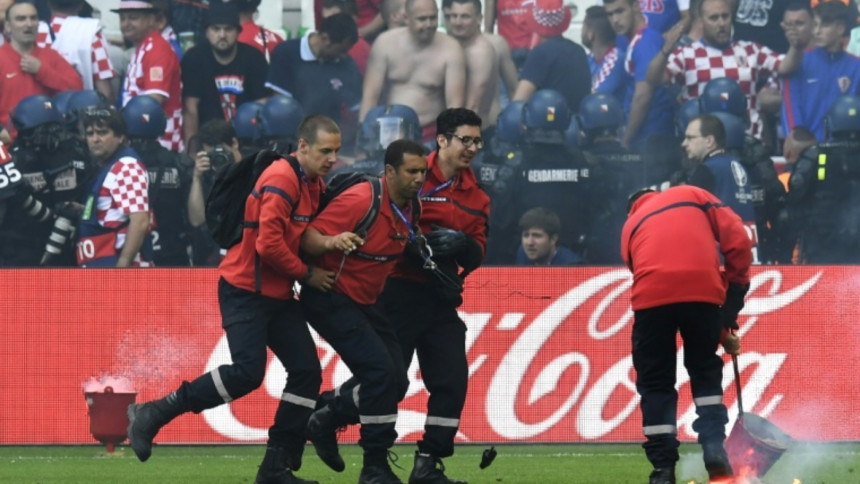 'Enemies'
Croatia were leading 2-1 when English referee Mark Clattenburg halted proceedings. Captain Darijo Srna ran to the Croatia corner to appeal for calm, but punches were then thrown between fans and stewards cleared the section.
When the game resumed, Czech Republic scored an equalising goal to finish 2-2.
A UEFA spokesman said an official inquiry would be launched on Saturday. Croatia already face punishment over a firework thrown on the pitch and a fan who got on to celebrate during the country's first Group D game against Turkey.
Barcelona midfielder Ivan Rakitic, who scored Croatia's second goal, apologised for the fans' behaviour.
"We have to say sorry to UEFA, the people at the match and all the people around the world who love football."
Croatia's fans have built up a track record of trouble in recent years. They drew a Nazi swastika symbol on a pitch before a Euro qualifier against Italy last year.
"I hope these people are identified and punished," said Croatia's coach Ante Cacic.
"These people are really scary, that is why I call them hooligans. These are not fans, these are sports terrorists."
The country's president called the fans "enemies of Croatia" and "haters of their own squad and country."
Grabar-Kitarovic pledged the fans involved would be held accountable. "Shame on you!" she declared on her Facebook page.
UEFA ordered the country to play two Euro qualifying matches behind closed doors, deducted a point and fined the federation 100,000 euros over the swastika drawn before the home game against Italy on June 12 last year.
In November 2014, Croatia's qualifying match in Italy was halted for 10 minutes because flares were thrown on the pitch engulfing the Milan San Siro stadium in smoke.
Swastika
UEFA then ordered Croatia to close an 8,000 section of their ground for their next game and fined the federation 100,000 euros.
Croatia has caused the second major episode of stadium turmoil at Euro 2016 after Russian fans attacked English counterparts in the Marseille stadium last week.
A 'suspended disqualification' still hangs over the Russian team. The fans are also paying for street battles with England counterparts in Marseille before the game which left 35 injured, two gravely.
A court in Marseille on Thursday jailed three Russian fans for up to two years for their role in the street violence. Twenty other fans are to be expelled on Saturday on a flight from Nice to Moscow.
The troubles spread to Nice where Turkey could also face sanctions after their fans lit banned flares and lobbed firecrackers on the pitch after their side lost 3-0 to Spain, their second straight defeat.
Seven people were arrested inside the stadium for thrown the pyrotechnics. Three Turkish-origin French nationals were arrested trying to take flares into the stadium.
The 11 Spanish fans accused of attacking a corner store manager in Nice's old town were suspected ultra-nationalists, French police said. One had a swastika tattoo on his leg.
A Nice court on Friday ordered three local fans accused of attacking Northern Ireland supporters to be held in jail while they await trial in case they cause more trouble during Euro 2016.
The brawl erupted outside an Irish pub on June 11 where several hundred Northern Ireland fans had gathered ahead of their match against Poland the next day. Nine people were injured in the intense three minute battle in which bottles, glasses and other objects were thrown.