Bangladesh Premier League 2014-15
Sk Jamal keep title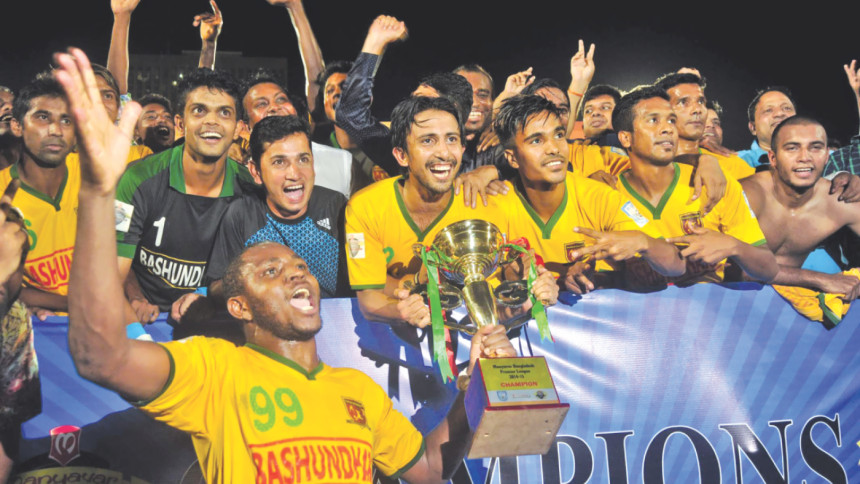 Sheikh Jamal Dhan-mondi Club retained the Bangladesh Premier League title with two matches left as they handed a 3-2 defeat to falling giants Mohammedan Sporting Club in an entertaining encounter at the Bangabandhu National Stadium yesterday.
Their 14th win in 18 matches provided Sheikh Jamal an unassailable lead in the 11-team table with 45 points and the third title in five seasons for the new leviathans of Bangladesh football.
This is also the third trophy of the season for the cash-rich Dhanmondi outfit after the Federation Cup and Bhutan's King's Cup.
Sheikh Jamal in 2010 splashed the cash by roping in a host of national stars as well as quality foreign players. The impact was instant as they lifted the professional league title in their debut season before repeating the feat in the 2013-2014 season.
A youthful Mohammedan, who were in second position with 34 points from 18 outings, gave the star-studded Sheikh Jamal a run for their money after a come-from-behind 2-1 lead, before Gambian midfielder Landing Darboe struck the winner for Sheik Jamal from a 'controversial' free-kick on the edge of the box to send the club officials into raptures.
Having survived two curling free-kick from Mohammedan's Habibur Rahman Shohag, Sheikh Jamal took the lead against the run of play when Nigerian hitman Emeka Darlington smashed a glancing header on a Mamunul Islam corner kick in the 33rd minute.
But the lead lasted only six minutes as Mohammedan bit back as national winger Jewel Rana levelled the margin with a clever chip over goalkeeper Shahidul Alam Sohel in the 39th minute, while Guinean marksman Ismail Bangoura headed Arup Kumar's cross home to give Mohammedan a lead at the break.
Haitian Wedson Anselme equalized by heading an Emeka cross home in the 55th minute and Landing struck the winner in the 74th minute after referee Mizanur Rahman blew his whistle for foul at the edge of the box following a face-to-face tackle between Mohammedan's Sohel Rana Jr and Sheikh Jamal's Emeka Darlington.
"All credit goes to the players, who have worked hard throughout the season. We deserved the league title," said captain Mamunul Islam.
"Some extraordinary performances are needed to win the league title and we had those against Sheikh Russel and Mohammedan.
"It is always a sweet memory to win a third league title and we want to deliver it again next season," said an ecstatic Mamunul, who was a member of Sheikh Russel's treble-winning outfit and played for Abahanni during one of their four professional league titles.
Nigerian coach Joseph Afusi gave all credit to the players and set his new target as qualifying for the final round of the AFC Cup, with Sheikh Jamal set for the play-off qualifiers in Kyrgyzstan from August 13 to 15.