Serious explosives in attack on Dortmund bus: police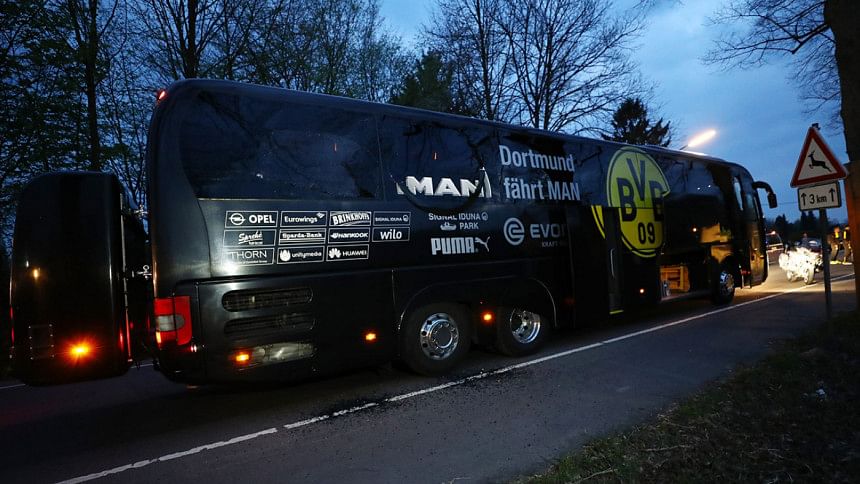 German police said "an attack using serious explosives" was launched on the Borussia Dortmund soccer team's bus on Tuesday, leaving one player injured.
Defender Marc Bartra was taken to hospital. The bus was hit by three blasts from devices planted in bushes at the roadside close to the team's hotel, as the vehicle made its way to a quarter-final first leg Champions League game at home to AS Monaco. The match was called off and rescheduled for Wednesday.
"The bus turned into the main street, when there was a huge boom, a real explosion," Sky television quoted Dortmund goalkeeper Roman Burki as saying.
"I was sitting in the back row next to Marc Bartra, hit by fragments ... after the bang, we all ducked."
Dortmund police said in a message on Twitter: "After the initial investigation, we assume that this was an attack using serious explosives."
The stadium, which is the largest in Germany and holds more than 80,000 spectators, emptied quickly and without incident.
"The explosive devices were placed outside the bus. Several windows were broken," a police spokesman said. The incident was in the Hoechsten district in the south of the city of Dortmund.
Bartra, 26, joined Dortmund for eight million euros ($8.5 million) last year from Barcelona, after coming through the Catalan club's youth system. He has made 12 appearances for the Spanish national team.
Borussia Dortmund's managing director Hans-Joachim Watzke was quoted as telling Sky: "The whole team is in a state of shock."
Police added: "Currently there is no evidence of a threat to the visitors at the stadium."
AS Monaco goalkeeper Danijel Subasic told Croatian newspaper 24sata: "We are currently in the stadium, in a safe place, but the feeling's horrible."
Dortmund and UEFA later said that the match would go ahead on Wednesday at 1645 GMT (1845 local time).