'Scorpion' volley was instinctive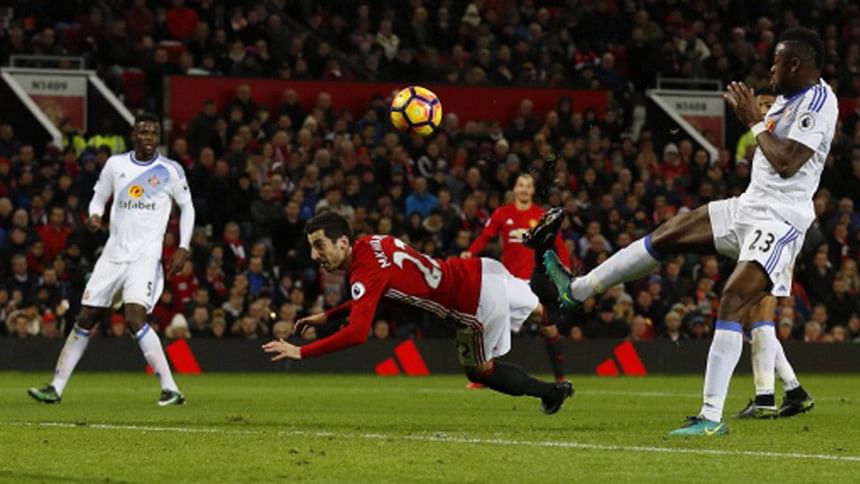 Henrikh Mkhitaryan said his spectacular 'scorpion kick' volley in Manchester United's 3-1 victory over Sunderland on Monday had been a matter of instinct taking over.
The Armenian playmaker sealed victory at Old Trafford by diving beneath Zlatan Ibrahimovic's right-wing cross and flicking the ball past goalkeeper Jordan Pickford with his right heel.
The goal, reminiscent of former Colombia goalkeeper Rene Higuita's famous 'scorpion kick' save against England in 1995, was allowed to stand despite an apparent offside.
"I was expecting the ball in front of me, but I was already in front, so I got it behind me," Mkhitaryan told MUTV.
"So the only thing I could do, it was a chance to hit it with the back-heel. I did it and I succeeded."
Mkhitaryan came on as a second-half substitute, having previously spent two games on the sidelines with an ankle injury sustained during United's 1-0 win over Tottenham Hotspur.
His injury came just as he was establishing himself in United's first team and manager Jose Mourinho was delighted to see the former Borussia Dortmund star back in action.
"I have to watch back on TV because I didn't yet, but it looked for me phenomenal," said Mourinho, whose side drew level on points with fifth-place Tottenham in the Premier League table.