School football from May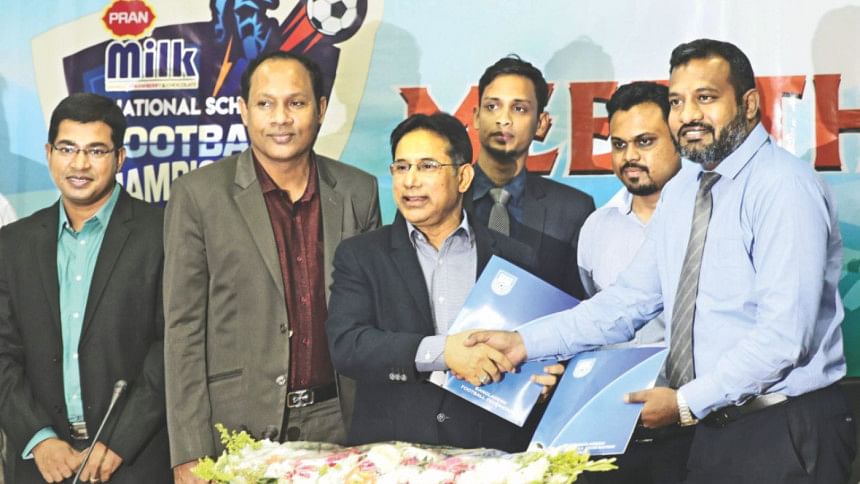 After a six-year hiatus, the National School Football Championship is all set to return as Pran Milk Dairy came forward to sponsor the championship, which begins next month with the participation of 56 schools from across the country.
The participating schools will be split into seven zones, with two groups in each zone, and play round-robin matches to decide the zonal champions, who will advance to the eight-team final round in Dhaka.
Despite the country-wide demands to begin grassroots and youth development following the national team's shock defeat to lightweights Bhutan and the dearth of quality footballers, the Bangladesh Football Federation (BFF) still seemed negligent about the school tournament, which was originally scheduled for February last year.
But now, with financial help and goods from Pran Milk Dairy and Good Luck, the game's local governing body has come forward to reinstate the competition from the first week of May. Apparently though, the BFF could have done this earlier as Tk 90 lakh was approved for the tournament under the FIFA Forward project.
Regardless of the generous grant at their disposal, the BFF only seem interested in involving district schools in the tournament even though the last edition in 2012 saw many upazila level schools participate.
"If we can hold the school football regularly, the district league will get players from school tournaments and one day, those footballers will get places in the national football team," said school committee chairman Bijon Barua at a press conference yesterday.
The BFF did not reveal how much they already received from Pran Dairy Milk and Good Luck for this edition but did disclose that there is an estimated budget of Tk 60 lakh.