Reus sidelined for months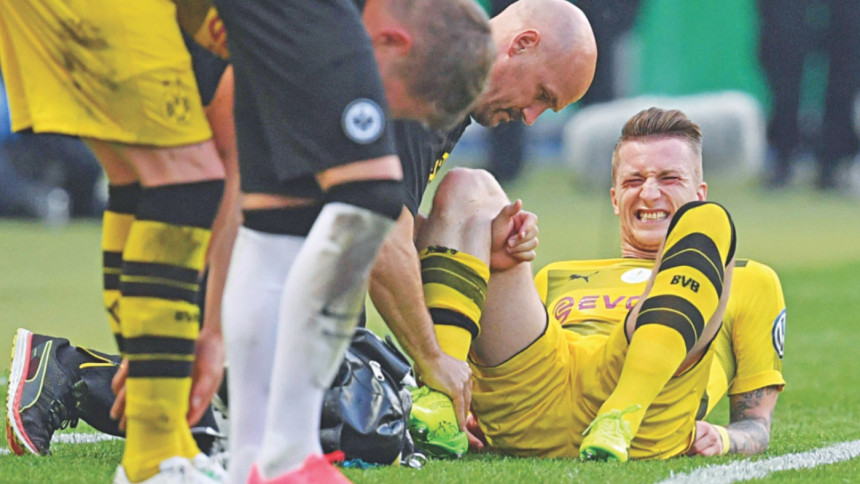 Marco Reus' injury misery continued Monday when Borussia Dortmund confirmed the winger partially tore his cruciate ligament in Saturday's German Cup final - a set-back which could sideline him for months.
"In the coming days, there will be further tests and a decision will be made on the necessary treatment," said Dortmund in a statement.
"Borussia Dortmund will not be able to make a precise prediction about his possible downtime and we wish our 'cup winner' a speedy recovery."
Reus, who turns 28 on Wednesday, suffered the injury in the first-half of Dortmund's 2-1 German Cup final win over Eintracht Frankfurt in Berlin on Saturday.
With his leg heavily strapped, he ran on after the final whistle to celebrate with the team.
"Perhaps I have 'a bit' of a cruciate injury, but I can take that, I'm just really happy," he beamed after the cup win.
Dortmund's cup win was the first title of Reus' career, but bad luck has blighted him in recent years and Monday's news is a fresh set back for the Germany star.
He had already been left out of Germany's plans for next month's Confederations Cup in Russia to get himself fit for the 2018 World Cup.
Torn ankle ligaments in a warm-up match saw him miss Germany's triumph at the 2014 World Cup final.
After the groin injury which ruled him out of Euro 2016, a heel problem in November and a torn hamstring in March, this is Reus' fourth injury this season.