Ramos sees reverse in fortunes as Real's record run ends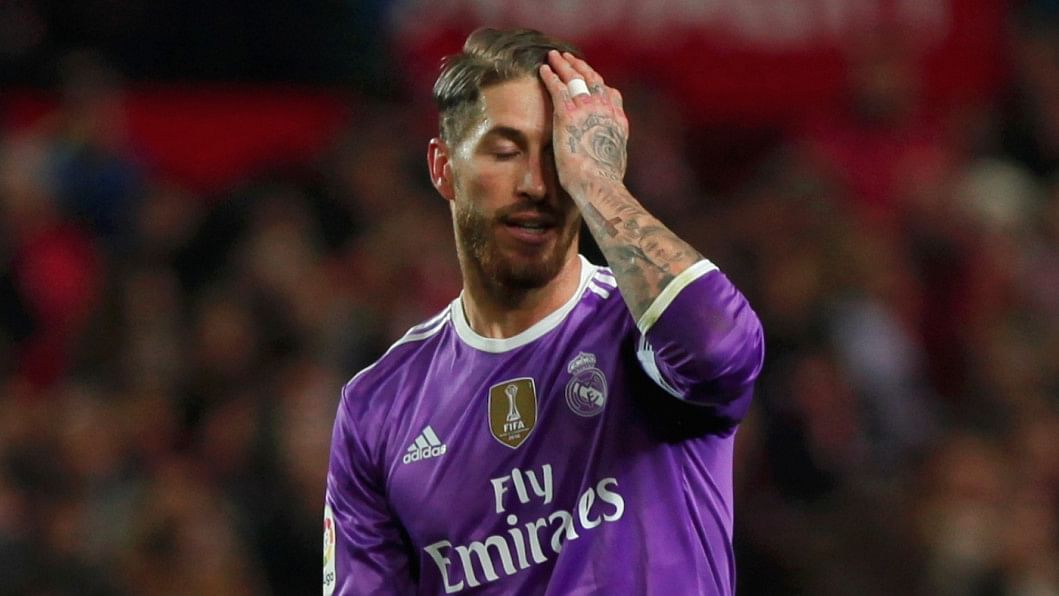 Sergio Ramos has so often been Real Madrid's man of the moment but the captain saw the tables turn as his own goal helped his former club Sevilla to a 2-1 win over the La Liga leaders on Sunday, ending a record-breaking 40-game unbeaten run.
The Real defender's reputation for rescuing his team in their hour of need took a twist when he headed Pablo Sarabia's floated free-kick past his own goalkeeper Keylor Navas in the 85th minute to cancel out Cristiano Ronaldo's penalty.
His lapse sparked a late surge from Sevilla, who won with an added time strike from Montenegro forward Stevan Jovetic. He joined Sevilla on loan only last week from Inter Milan after an unhappy spell and an unsuccessful two years at Manchester City.
Locally born Ramos made his debut for Sevilla in 2004 before joining Real a year later aged 19 for 27 million euros ($28.70 million). He was reminded of the bitterness fans still harbour over his departure when on Sunday he arrived at the Sanchez Pizjuan to banners reading: "This will never be your home."
Ramos had further riled Sevilla supporters three days earlier for goading a section of the stadium after scoring a penalty in Thursday's 3-3 draw in the King's Cup, prompting Real to release a statement defending him, but the home fans predictably delighted in his misery after the own goal.
"This is always one of the most difficult stadiums to play in but when I go on to the pitch I try and forget about these things. The own goal was just one moment, overall this was one of my best ever performances for Real Madrid," Ramos said.
"We didn't relax, we didn't know how to manage the game and everything changed with one free-kick. We didn't kill the game off but we can leave here with our heads held high. We can't blame anyone, when we lose we all lose."
Real had the chance to go five points clear of Barcelona and seven ahead of Sevilla but instead saw their lead cut to a point over Jorge Sampaoli's second-placed side and two ahead of Barca, although they have played one game fewer than both sides.
Real manager Zinedine Zidane said his side still had plenty to be positive about despite surrendering their remarkable unbeaten record run, with a King's Cup quarter-final first leg with Celta Vigo coming up in midweek.
"I don't think this will affect us although we'll find out on Wednesday. We have to digest this defeat because no-one likes losing, especially after playing this well for 85 minutes, but we have to accept it," said Zidane, who defended Ramos.
"I'm very proud of our captain, he may have scored the own goal but it doesn't matter, that's football. All we can do is congratulate Sevilla and think about the next game."