Manchester City hailed as Premier League greats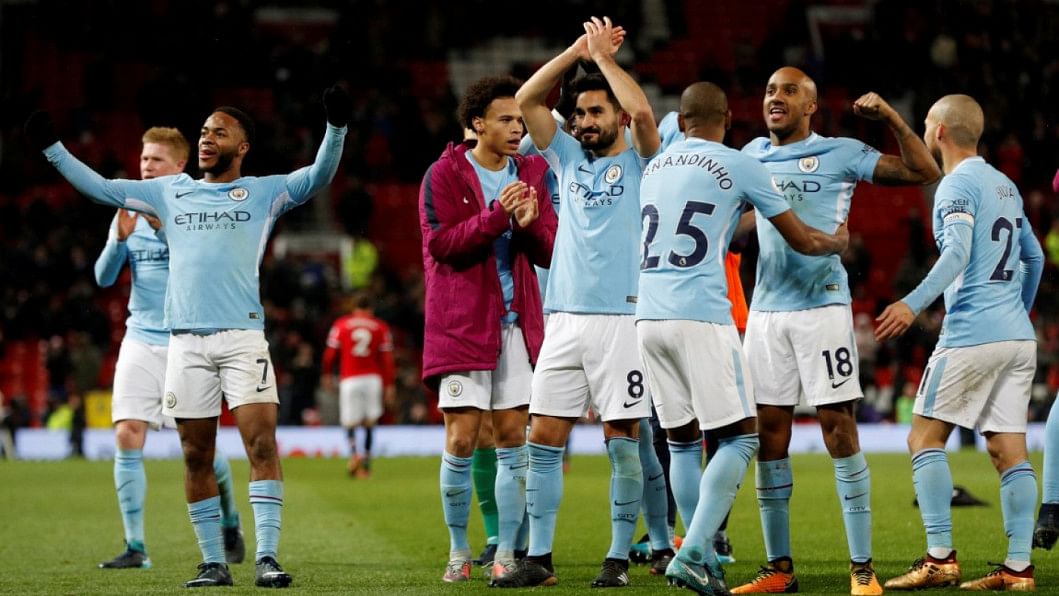 Pep Guardiola's Manchester City are being widely hailed as one of the best sides in Premier League history after they set a stunning new record of 15 straight wins.
In its 25-year history, the Premier League has boasted a series of outstanding sides including Manchester United's treble-winners, Arsenal's "Invincibles" and Jose Mourinho's powerful Chelsea side in his first stint at the club.
But Guardiola's team -- even though they have not won any silverware yet -- are smashing record after record as they sprint towards the Premier League title, leaving allcomers a distant speck in their rear-view mirror.
Wednesday's 4-0 win at Swansea took them clear of Arsenal's 14 consecutive victories under Arsene Wenger between February and August 2002.
Their 49 points from 17 games is the best-ever start to an English top-flight campaign, bettering the record of Tottenham's great double-winning side of 1960-61 -- when a win was worth just two points.
BBC commentator Jonathan Pearce believes the current City side is at the top of the tree.
"There have been great teams in the modern era but, in terms of fluent football and as an irresistible force, Manchester City are the best the Premier League has ever seen," he said.
"I've never seen a team in all my years play like this."
When asked whether City are one of the best sides we have ever seen, former England captain and TV pundit Alan Shearer agreed.
"I don't think there is any doubt about that, and top players in that team, with hunger and desire to put in a performance week in, week out," he said. "It has to has to be admired."
Chastened Swansea manager Paul Clement described the pain of watching his side try to compete with Guardiola's free-flowing team.
"At times it was horrible to be on the sideline watching that, seeing my side trying but suffering for long periods," he said.
"They're not the games that will decide our season but it was hard to watch at times because they were so dominant. For me, one of the best sides I've ever come across. So many good athletes, so many intelligent footballers and it's really hard to pin them down."
Guardiola, who managed a Barcelona side widely regarded as one of the finest club sides in history, is aware of his team's place in the English game.
"In history there were amazing things like Liverpool in the 80s and Manchester United with Sir Alex Ferguson or Chelsea with Jose Mourinho," he said. "There were some amazing teams.
"But we are the first ones to win 15 in a row. If we win the title it will just be a record and this record will be broken, but of course it will not be easy."
Pochettino looking forward to City clash
Mauricio Pochettino reflected with satisfaction on Tottenham Hotspur's 2-0 win over Brighton and Hove Albion despite the slightly fortunate nature of his side's goals.
Serge Aurier's freakish first goal for Tottenham after 40 minutes broke the deadlock at Wembley on Wednesday, his cross going straight into the net to break Brighton's dogged resistance.
A deflected header by Son Heung-min three minutes from time sealed three points that took the London club into fourth place in the Premier League at the expense of Liverpool, who drew 0-0 at home to West Bromwich Albion.
Pochettino will head to Premier League leaders Manchester City in an optimistic mood, saying: "I am a positive person. I am happy we won and the three points are so important for us.
"What is going to happen on Saturday? Who knows? I am going to Manchester to try to win and thinking that we can win.
"We have had three victories in a row -- one in the Champions League, two in the Premier League -- and it's important for us to feel we can get higher in the table because the season is still so long.
"You start to lose when you start to think in a negative way. We are going to enjoy it because it's a fantastic challenge to play against Manchester City.
"We are going to play against, I think this year, the best team in England and one of the best teams in Europe.
"I want it to excite the players. I want to play against teams with managers like (Pep) Guardiola who are the best. I am so excited, so motivated, so happy that we are playing a team that is the best."
The only negative note struck by Pochettino came when he was asked whether Dele Alli had been unhappy to start on the bench.
"Come on," said the Spurs manager. "With Tottenham it's a specialism to create problems.
"He was on the bench and played 20 minutes. How would any player react? Sure, no-one is happy to be on the bench. That is football. Better to talk about Son deserving to score. He's happy."
'Two poor goals'
Pochettino welcomed the performance of Erik Lamela on his first start since October 2016 following two operations on a troublesome hip, but admitted fortune had been with his side in Aurier's goal.
"Yes, of course, (the luck) helped a lot," said the Argentinian, whose side trail third-place Chelsea by four points.
"When the opponent is so deep and plays only to defend, it's not easy. The team created a lot of chances and deserved to score before (Aurier's goal), but that's football.
"We fought hard and I'm very happy with the victory and the performance generally was good."
Promoted Brighton defended resolutely, but never seriously looked like avoiding defeat after going behind.
"You know it's going to be a difficult evening and you know you're going to have to defend well, but we conceded two poor goals," said Chris Hughton, the Brighton manager and former Tottenham defender.
Brighton have taken only one point from their past five matches and are now only three points above the relegation places.
"We went through a really good period and we're now in a difficult one, but we have to accept that that can happen and was always going to at some point," Hughton said.
"What defines you is how you come through that. It's a disappointed changing room, which is good to see, but it's my job to channel that positively."