'Neymar leaving was painful because of our friendship'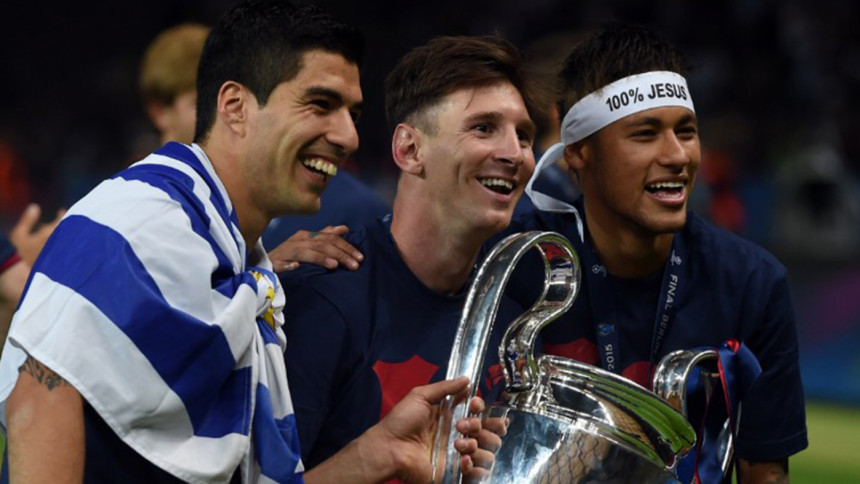 In an exclusive interview with Barcelona newspaper SPORT, Barca's star forward Luis Suarez reveals that neither he nor Lionel Messi wanted Neymar to leave and it was painful for the duo because of the relationship they had with Neymar.
Neymar had recently visited the duo at Barcelona's Ciutat Esportiva Joan Gamper over the weekend to catch up with his old teammates and the trio still has a special relationship off the pitch.
The flamboyant Brazilian was a charming character in the Barcelona dressing room and he revered Lionel Messi even as he was initially daunted by the presence of so many great stars in the Barca squad.
By Neymar's own admission it was difficult to adjust at first and he had said: "The first month was very difficult and I was embarrassed to speak to Messi, as these guys were idols to me."
However, Neymar became a favourite among the Barca players soon enough and friendship bloomed. Luis Suarez and Lionel Messi became his best friends on the team. The trio formed the most potent strikeforce in the world and won the coveted treble (La Liga, Champions League and Copa Del Rey) in Neymar's second season at Barcelona.
The friendship and brotherhood between Neymar, Messi and Suarez was why it was so difficult to see Neymar leaving Barcelona, Suarez has now revealed in an interview.
Asked if Neymar sought advice from Messi and him about leaving, Suarez said: "More than advice, we [Messi and I] tried to do what would benefit the team.
"But we never said 'Don't go [to PSG] because you won't be happy.'"
Suarez also said that they never tried to stop Neymar but only suggested that they wanted the Brazilian to stay.
"We said we didn't want him to go, but that he was free to do what he wanted. Because of the friendship we have, it was painful that he left."
While MSN formed a deadly trio on the pitch, Suarez clarified that Neymar is missed more off the pitch because of his vibrant character.
"We miss Ney a lot on the pitch, but more off it, because he was special. He's good with the jokes and we had a lot of fun. He transmits happiness and joy all of the time. He was important for us. He's playing for another team now but I don't hold it against him, it's the opposite. I tried to convince him to stay because I think this [Barcelona] was the best place for him, but it's a decision he had to take.