Xhaka scores twice in potential Arsenal farewell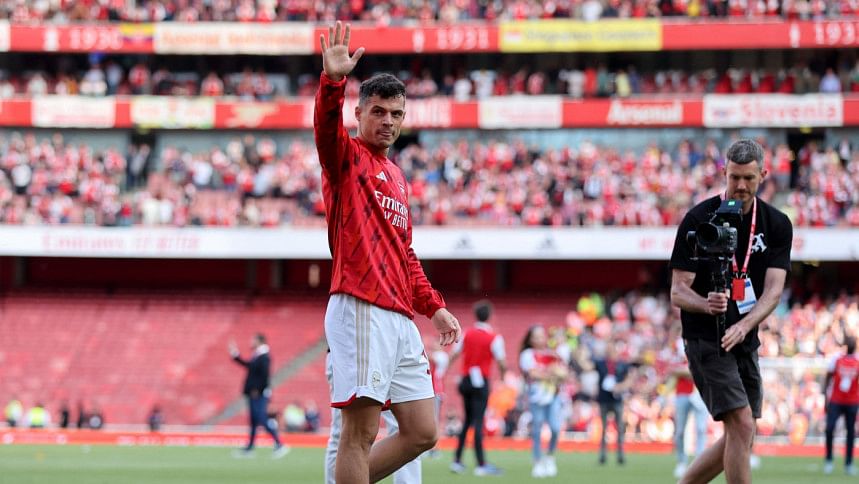 Granit Xhaka marked his potential farewell appearance for Arsenal with two goals as the Premier League runners-up finished the season with a 5-0 rout of Wolves on Sunday.
Xhaka is reportedly set to join German club Bayer Leverkusen in the close-season after seven years in north London.
If the Swiss midfielder does leave the Emirates Stadium, he went out on a high after scoring twice in the first half.
While Xhaka's impending departure had yet to be confirmed, the huge cheer that greeted his name before kick off added to the feeling this was his final Arsenal outing.
The supporters' fond farewell was evidence of Xhaka's remarkable turnaround after he infamously swore at the crowd during a 2019 match with Crystal Palace - an incident that saw him stripped of the captaincy.
"Well deserved. He's had an incredible season," Arteta said.
"I think one year back I spoke to him and I told him 'there's a question mark on you, you have to deliver more, you have to be better'.
"He went back and he started to train the next day. He came back in preseason four kilos less, fit, with this (focused) face and really willing to do it. He's been exceptional.
"He's been a key part of the team, the success of the team and I'm so happy everybody is appreciating what he's done."
Bukayo Saka, Gabriel Jesus and Jakub Kiwior were also on target to ensure Mikel Arteta's men went into the off-season on an uplifting note after the agony of their failed title bid.
"It's been a really emotional year and a very special season. The team and our people deserved to end it in a good way so I'm really happy," Arteta said.
"It was one of my big dreams to connect again with the soul of this football club - that's our people. We have done that and there's no discussion about it.
"We want to deliver together success and the destination has to be trophies and success for this club, but we have to enjoy the journey together and especially the company."
Last weekend's defeat at Nottingham Forest had handed the title to Manchester City after the Gunners choked away their lead in the final weeks of the season.
Xhaka opened the scoring against Wolves in the 11th minute with a close-range header from Gabriel Jesus's cross.
After a group celebration with his team-mates, the Swiss international held his hands out in a thank you gesture to the home fans in the Clock End.
Xhaka scored again three minutes later when Wolves captain Max Kilman sliced the ball into his path for a cool finish from six yards.
He celebrated his ninth goal of the season, the best tally of his career, by running over to embrace injured midfielder Mohamed Elneny, the only player still at the club from when he joined in 2016.