Why Saudi's billion-dollar football binge is race against time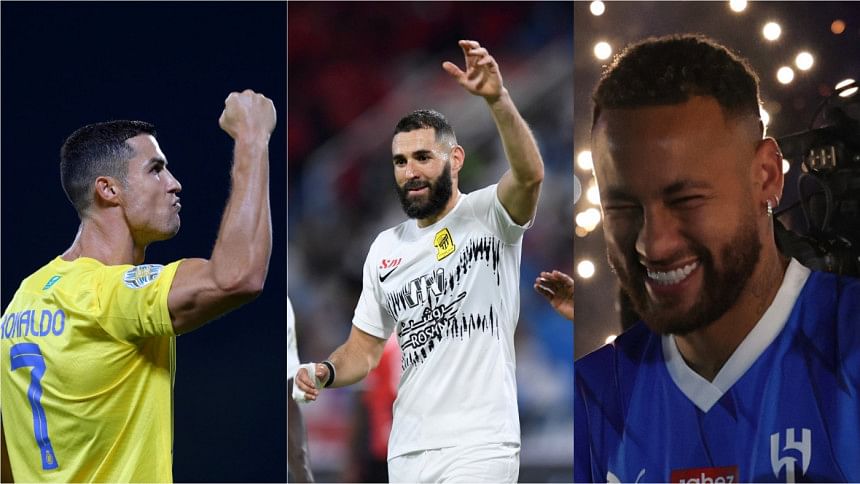 As star footballers line up to take Saudi money, it is easy to forget this is a phenomenon that stretches back decades. Only now, the stakes are much, much higher.
Read about a Brazilian player being greeted by thousands of fans and whisked off in a Rolls-Royce to banquet with royalty, and Neymar springs to mind.
But this describes the arrival of Rivelino, who signed a lucrative contract with Al-Hilal in 1978 -- 45 years before Neymar, his modern-day equivalent, did the same this month.
"In addition to receiving a new Mercedes Benz and a reported $10,000-a-month living allowance, Rivelino will be housed in one of the spare palaces of Prince Khaled Al Saud," the Washington Post wrote at the time.
Similar luxuries -- adjusted to current prices -- are being lavished on Neymar, Cristiano Ronaldo, Karim Benzema and the other late-career superstars who have joined the Saudi Pro League this year.
This summer's transfer fees alone top $830 million, without counting the players' eye-watering wages, or Ronaldo's January signing in a deal which is said to net him 400 million euros over two-and-a-half years.
To suddenly spend at this scale and speed is unknown in football, and dwarfs Saudi's scattered acquisitions such as Rivelino, legendary coach Mario Zagallo, Roberto Donadoni and Hristo Stoichkov down the years.
More than vanity or "sportswashing" the country's highly criticised human rights record, however, the Saudi spree is part of an existential push: reshaping the economy before oil revenues decline.
"This project is part of a transformation project that's moving this country where it wants to go," Carlo Nohra, the Saudi Pro League's recently hired chief operating officer, told AFP.
'This is totally different' 
If Saudi Arabia, the world's biggest oil exporter, is not new to spending big on footballers, things are very different this time around.
The current football project is part of Vision 2030, de facto ruler Crown Prince Mohammed bin Salman's ambitious drive to break Saudi's dependence on oil wealth.
"There was a push to bring big names" in the 1970s, Saleh al-Khalif, Al-Riyadiah newspaper's deputy editor-in-chief, told AFP.
"Rivo (Rivelino) came and some other Tunisian players who played well in World Cup 1978. But the experience was eventually a failure."
"It depended on the honour members of the clubs, not a government plan or spending," he said, referring to the royals bankrolling teams independently.
"It was not sustainable so it didn't survive. This is totally different from the current push."
These days, Saudi Arabia is investing hundreds of billions in everything from NEOM, a futuristic new city on the Red Sea, to tourist resorts and entertainment for the masses, including football.
The plan is to diversify sources of income for the desert country of 32 million, where two-thirds of the Saudi population is under 30 -- but time is of the essence.
OPEC, the oil cartel of which Saudi is a prominent member, has projected global consumption will peak around 2040, implying revenues will then flatten and decline.
"Saudi Arabia is up against the clock," Simon Chadwick, professor of sport and geopolitical economy at Paris's Skema Business School, told AFP.
"Saudi Arabia has 20 years to diversify. In the meantime they're being exposed to oil-price fluctuations.
"They've got to move fast, they've got to move strategically, they've got to move effectively."
'Bread and circus' 
Packed crowds watching Ronaldo is quite a turnaround for a staunchly conservative country where women were banned from stadiums until 2019.
"Cynics will say what are the reasons behind it," said Ali Khalid, sports editor of Riyadh-based Arab News, pointing to talk of "sportswashing".
"But a lot of it is they're bringing to their people, who for a long time had no access to any entertainment of that level, they're bringing the best of it."
According to Nohra of the Saudi Pro League, "the main objective is how can we turn the sport into a sport that inspires, that engages, that entertains the Saudi people.
"That's what drives it."
But the investments in football, Formula One, golf and music festivals and more may be about more than encouraging people to spend, Chadwick said.
"At the heart of this I think is the security of the ruling family," said Chadwick.
"The investment in football, it's bread and circus for the 21st century.
"It's, 'Give the people what they want and hopefully they will leave you alone'. They won't question you, they'll support you."