When a farmer's boy dared to dream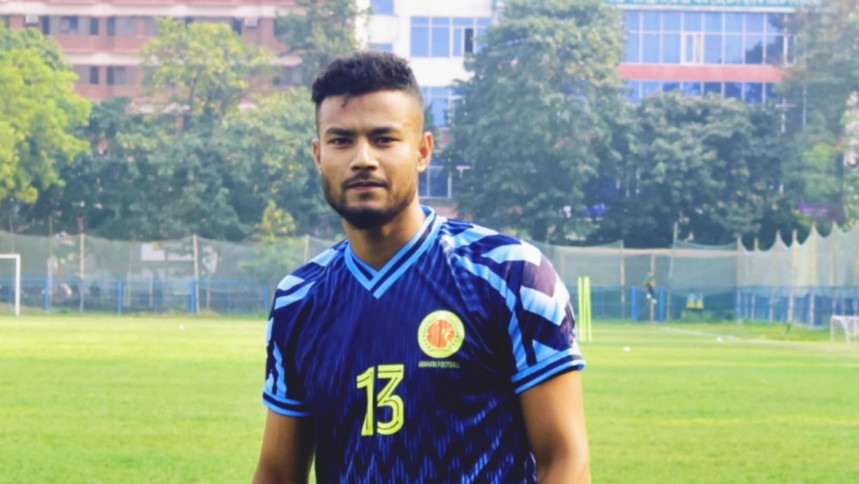 This particular story begins from around 2018, even though the protagonist's story was set into motion much earlier. It was around four years ago when Abu Saied, son of an average farmer, had refused to succumb to his father's demands at a pivotal juncture of his life and, instead, chose the more risky road, one that is less traversed by, a route which is all but forbidden to most as the long and arduous trek through the forest of dreams happens to be filled with thorny uncertainties.  
Back then, many may have deemed the decision would likely lead to a wild goose chase but the farmer's kid from Nilphamari knew deep down that he had, at least, packed the most essential element in his backpack: the courage to become a national footballer.
Fast forward to present, Saied, now 22 years old, sees his quest advancing to fruition as he was picked for the preliminary squad of Bangladesh national football team for next month's FIFA friendly match as well as for the Asian Cup Qualifiers.
A defensive midfielder as per profile, he has been a regular member of six-time champions Abahani's playing eleven in the ongoing Bangladesh Premier League (BPL). Quite understandably, Saied is overwhelmed, to say the least, to have gotten a call in the 21-member preliminary squad.      
"Every player has a dream to play for the national football team and I was no different ever since I started playing football.
"I'm thrilled to get the call in the preliminary squad and now eagerly wait to train under the new coach of the national team," Saied expressed his reaction to The Daily Star before reporting to the national camp on Tuesday.
He exudes the confidence of a player with immense self-belief, and his understanding of his own game verifies it.
"I think I've been called to the national fold because of my ability to release long balls, the ability of my defensive roles, and the capacity of snatching the ball from the opponents before beginning the offensive transition immediately."
Saied is not a stranger when it comes to representing his country at the national level as he has featured in the U-18, U-19 and U-23 Bangladesh teams. One still might wonder though, where he would have been had he accepted the imposed-will of his family to join the Bangladesh Army instead of following his heart's compass.   
[Related read: From minimum wage to Joga Bonito stage]
"When I got selected for the U-19 national team, one of my maternal uncles, who is in the Bangladesh Army, advised my parents that I might be able to join the Bangladesh Army due to my height," Saied recalled the crucial junction on the quest of chasing his dream.
"I had to go to the trial of the Bangladesh Army in Bogura against my will but I returned home after only 10 days.
"But they [Army officials] liked me very much and kept calling my father to get me enrolled in the army and my father also kept pressuring me to join there."
It was as if Saied had hit a brick wall, for there seemed to be no escape from that point. Then, intervened his parents' other half: his mother.     
"It was my mother, who then gave me the absolute freedom to do whatever that I felt was good for me. Then I joined the Bangladesh U-19 team, defying my father's will. It was such a tough time for me. I think, at that time, I made the right decision to chase my dream," said the lad from Nilphamari.   
"Now my father also appreciates my decision although my football-crazy father, who once watched the football matches all across the town, had initially backed me to become a footballer," said Saied, as he continued to brief on his genesis phase.
"I participated in the Bangabandhu Gold Cup primary school tournament and everyone praised my performance and kept telling my father that I might be a good footballer in future. Later, I participated in the trial of the Bangladesh national U-16 team in order to get selected for Upazlia district, division level before securing a place in a 30-member squad in Dhaka.
"However, I missed the opportunity to make the cut into the final squad following a severe illness just a few days before the team's departure for the SAFF U-16 Championships."
Saied later went on to represent Bangladesh U-18 and U-19 and U-23 teams. After being selected for Bangladesh national U-19 team, the promising midfielder was roped in by Farashganj Sporting Club to play in the 2018 BPL. Title-aspirants Saif Sporting Club then secured their guy next season and contracted Saied to stay at the helm until 2021. This season, the rising star carried on his natural progression as he landed in Abahani, a traditional sporting powerhouse of the country.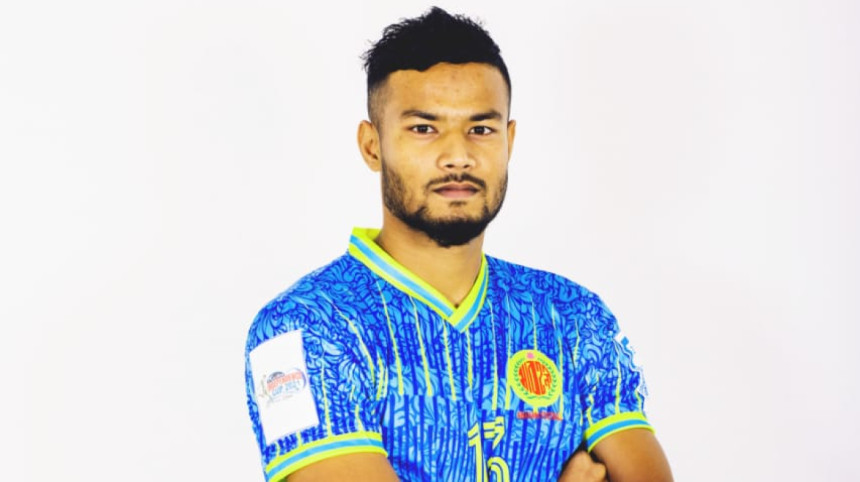 The well-built midfielder now aims to put his all, with the sole focus of securing a place in Bangladesh's final squad for FIFA friendlies and Asian Cup Qualifiers.
"My strong points are that I can play first to last minute with the same rhythm and stamina. I know the players like Jamal Bhuiyan, Atiqur Rahman Fahad, Masuk Mia Jonny are no doubt good players in my position but I believe if I put my best, I can achieve something better," said Saied with a deadly determination, fit for a dreamer. 
[Related read: 'My daughters were born as pearls in a poor household']