'We're back', says Mueller after Bayern return to league summit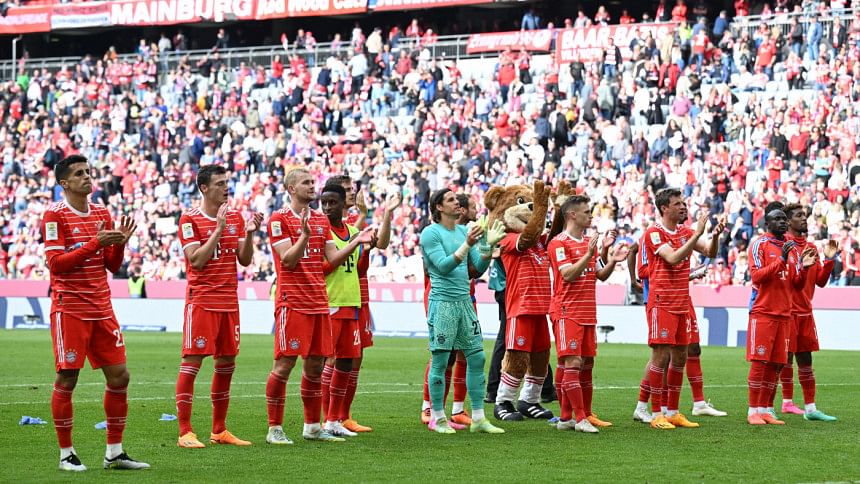 Bayern Munich captain Thomas Mueller said his side would win the Bundesliga title this season, after a 2-0 win over bottom club Hertha Berlin on Sunday sent them top of the table.
Serge Gnabry and Kingsley Coman scored late to snare all three points for the Bavarians, who are now one point clear of Borussia Dortmund with four matches to go.
Dortmund were held 1-1 at lowly Bochum on Friday and the title race is now in Bayern's hands.
"We'll get that thing (trophy) again, you can write that," said Mueller, who came on as a second-half substitute.
"We're back!"
The win was just Bayern's third in eight matches under coach Thomas Tuchel, who was brought in after the sacking of Julian Nagelsmann in late March.
The club have been knocked out of both the Champions League and the German Cup.
"It wasn't a spectacular win, but it was a deserved win," Tuchel said.
"With 34 games in a season, you'll get a few of those -- and that was one of them today."
Tuchel told DAZN Bayern players had an "extra emotional conversation" during the week about turning the season around.
"We need everything. Sometimes you need a little bit of fire, which we had this week...
"When a new manager comes in in April, it's not like everything just runs smoothly."
Bayern play two of their remaining matches at home, one of which is against German Cup holders RB Leipzig in the penultimate week of the season, who sit in fifth place.
Dortmund, who have the best home record of any side in the Bundesliga this season, play three of their last four games at home.
Tuchel also backed the out-of-form Sadio Mane, who missed a header against Hertha, to recreate his Premier League form in a Bayern shirt.
"That was a classic Sadio situation, he's strong with his head and usually he scores those, but that's the way it is at the moment.
"He's scored a bunch of goals in the most difficult league in the world, that's why I will always have confidence in him."